You are here
Trump, France's Macron to discuss Iran nuclear deal next week
By Reuters - Apr 21,2018 - Last updated at Apr 21,2018
WASHINGTON, United States — US President Donald Trump and French President Emmanuel Macron will discuss the Iran nuclear agreement at the White House on Tuesday, although discussions with European countries on addressing US concerns about the 2015 deal were "not quite done yet", a senior administration official said on Friday.
The official told reporters at a briefing that Trump would also discuss other issues with Macron, including the joint military strike on Syria this month following a suspected chemical weapons attack near Damascus.
Iranian President Hassan Rouhani said on Saturday that Iran's atomic agency was ready with "expected and unexpected" reactions if the United States pulls out of the multinational nuclear deal, as Trump has threatened to do.
"Our atomic energy organisation is fully prepared ... for actions that they expect and actions they do not expect," Rouhani said, without elaborating in a speech carried by state television, referring to a possible decision by Trump to leave the accord next month.
The deal reached between Iran, the United States and five other world powers put curbs on Iran's nuclear programme in exchange for sanctions relief.
Trump has called the agreement one of the worst deals ever negotiated. In January he sent an ultimatum to Britain, France and Germany, sometimes referred to as the E3, saying they must agree to fix what the United States sees as the deal's flaws or he would refuse to extend the critical US sanctions relief that it entails.
"The Europeans, E-3 in particular, have been working hard in trying to address some of our most important or prominent concerns having to do with Iran's ballistic missile program, for example, the sunset clause in the JCPOA and so on," the senior administration official said, referring to the agreement by its acronym. "That work is not quite done yet."
US disarmament ambassador Robert Wood said on Thursday that Washington had been having "intense" discussions with the three European allies ahead of the May 12 deadline, when US sanctions against Iran will resume unless Trump issues new "waivers" to suspend them.
Iran has said it will stick to the accord as long as the other parties respect it, but will "shred" the deal if Washington pulls out.
"Iran has several options if the United States leaves the nuclear deal. Tehran's reaction to America's withdrawal of the deal will be unpleasant," Iranian state TV quoted Iranian Foreign Minister Mohammad Javad Zarif as saying in New York.
Rouhani said his government intended to prevent instability in the foreign exchange market after a possible Washington exit from the nuclear accord when the central bank this month slapped controls on markets.
"This was a preventative blow against any American decision on May 12. They fully hoped to ... cause chaos in the [foreign exchange] market. I promise to the people that the plot of the enemy has been thwarted, and whether or not the nuclear deal remains in effect, we will have no problem," Rouhani said.
On April 9, Iran moved to formally unify the country's official and open market exchange rates and banned money changing outside of banks, after its currency, the rial, plunged to an all-time low on concerns over a return of crippling sanctions.
Related Articles
Apr 25,2018
BEIRUT/BRUSSELS — Western envoys said on Wednesday that Britain, Germany and France were nearing a package to put to President Donald Trump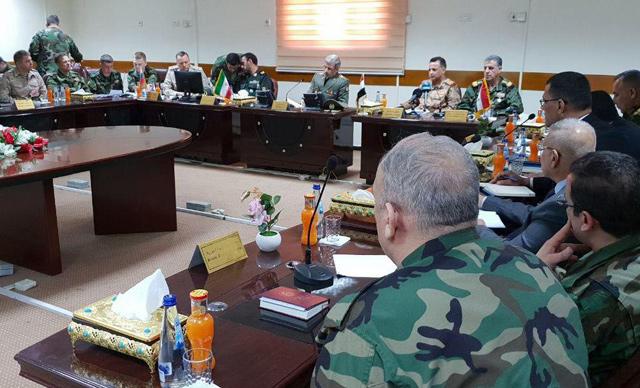 Apr 22,2018
NEW YORK, United States — Iran warned on Saturday that it is ready to "vigorously" resume nuclear enrichment if the United States ditches th
May 10,2018
WASHINGTON/PARIS — Dismayed European allies sought to salvage the international nuclear pact with Iran on Wednesday after President Donald T
Newsletter
Get top stories and blog posts emailed to you each day.