You are here
Tunisia in low-key commemoration of its revolt
By AFP - Dec 17,2015 - Last updated at Dec 17,2015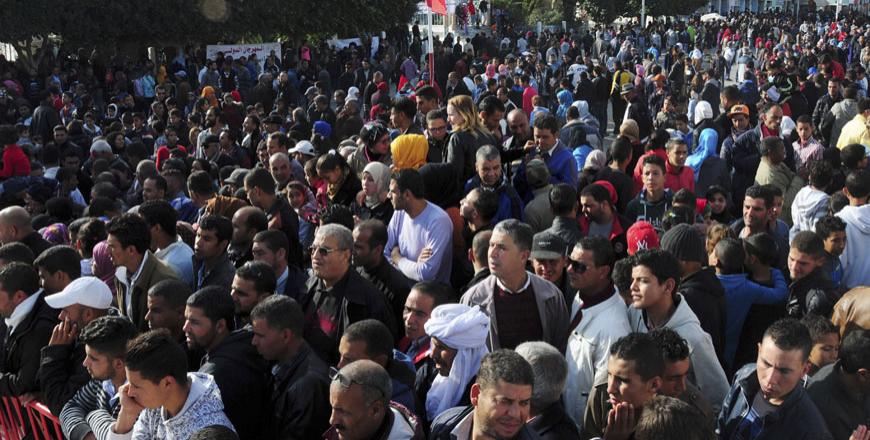 Tunisians gather to mark the fifth anniversary of the Tunisian revolution in Sidi Bouzid, on Thursday (AP photo)
SIDI BOUZID, Tunisia — Tunisia marked five years Thursday since the start of its revolution, with the prime minister vowing no return to "tyranny" and a small protest held in the birthplace of the uprising.
"Tunisia has definitely broken with tyranny, with no possible return to it," Habib Essid said in a statement.
On December 17, 2010, Mohamed Bouazizi, a 26-year-old university graduate who eked out a living as a fruit seller, set himself on fire to protest police harassment and unemployment in the central town of Sidi Bouzid.
His act, from which he died the next month, ignited the 2011 revolt that toppled dictator Zine Al Abidine Ben Ali and spread to several Arab states, bringing down other autocratic regimes.
But five years on, Thursday's commemoration was low-key, with disillusionment rife as graduate unemployment remains high and the country grapples with a growing extremist threat.
The Daesh terror group has claimed three major attacks this year, including two against tourists that have dealt a blow to the country's economy.
A small crowd watched a horse show on Thursday in the centre of Sidi Bouzid, where Culture Minister Latifa Lakhdhar announced that a "museum of the revolution" would be opened.
A few dozen protesters gathered in front of the governor's office calling for "Work, freedom and national dignity", one of the main slogans during the 2010-2011 uprising.
"Five years have passed and still our demands have not been met," protester Ramzi Hamzaoui told AFP.
Regional Governor Mourad Mahjoubi called for patience.
"We have gone through a very difficult period," he said. "Today, we have a development strategy and we will work. It's difficult, but young people must be patient."
In 2012, an angry mob chased then president Moncef Marzouki away from a commemoration in the town, and no leaders attended the following year.
Tunisia has doggedly pursued its democratic transition since Ben Ali's fall.
The country successfully adopted a new constitution in January 2014 and held legislative and presidential elections at the end of last year.
A quartet of organisations who helped save Tunisia's transition through dialogue between Islamists and their secular rivals was awarded the 2015 Nobel Peace Prize.
"Freedom, our major achievement," trumpeted the daily La Presse on the anniversary.
But "if the revolution has led to freedom of expression and public participation, a lot remains to be done to ensure lasting social peace and sustained economic growth."
On a visit to the town, Houcine Abassi, secretary general of the Tunisian General Labour Union, a member of the Nobel quartet, said that "apart from freedom, none of the slogans of the youth of Sidi Bouzid has been achieved".
"Five years on, Sidi Bouzid is still suffering from poverty and injustice," he said.
Related Articles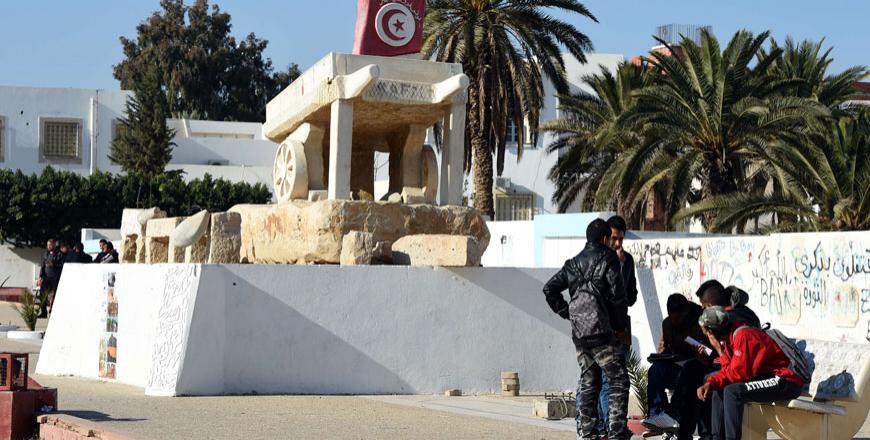 Dec 16,2015
SIDI BOUZID, Tunisia — A giant portrait of the Tunisian street vendor who started a revolution watches over the town where he set hims
Jan 10,2018
TUNIS — More than 200 people have been arrested and dozens hurt during clashes in several parts of Tunisia, the interior ministry said Wedne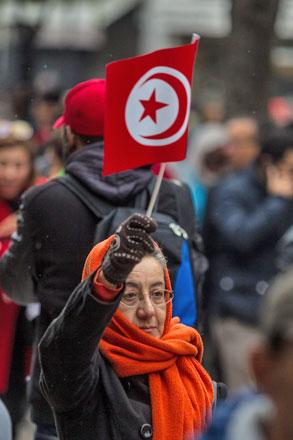 Jan 10,2017
TUNIS — Tunisia's transition to democracy after its 2011 revolution has hit a roadblock, the electoral commission chief said Tuesday, critic
Newsletter
Get top stories and blog posts emailed to you each day.