You are here
Tunisia PM defends policies in face of unrest
By AFP - Jan 27,2016 - Last updated at Jan 27,2016
Tunisian Prime Minister Habib Essid gives a speech during a plenary session at the parliament in Tunis to discuss the ongoing wave of social unrest in Tunisia, on Wednesday (AFP photo)
TUNIS — Tunisian Prime Minister Habib Essid defended his government on Wednesday before parliament, faced with unemployment and poverty at the root of the worst social unrest since the 2011 revolution.
"We have tried, as far as possible, to improve the situation," he told a special parliamentary session on last week's protests that led to clashes with security forces in which dozens of people were injured, mostly in the disadvantaged centre of Tunisia.
"We could make people calm down by telling them, 'We are going to create 1,000 jobs', but we want to tell the people the truth," he said.
"We've started to find solutions. We don't have solutions for everybody, but we do have some solutions," the prime minister said, without giving specifics.
"The responsibility [to find solutions] lies not only with the government," said Essid, urging opposition parties and civil society to join forces with his administration to address people's demands.
A nationwide nightime curfew was imposed on Friday after the protests, which started in the central town of Kasserine where an unemployed man died of electrocution during a January 16 protest over the lack of economic prospects in the region.
The unrest, the worst since the revolution five years ago that ousted longtime dictator Zine Al Abidine Ben Ali, spread to several other towns and to Tunis where shops were burned and looted in one suburb.
While Tunisia is considered a rare success story of the 2011 regional uprisings known as the Arab Spring, the authorities have failed to resolve the problems of social exclusion and regional inequalities.
Apart from the economic damage wrought by political instability in post-Ben Ali Tunisia, two militant attacks last year targeting foreigners killed 60 people, battering Tunisia's vital tourism industry.
The recent social unrest echoes the public anger that erupted after the death of young fruit seller Mohammed Bouazizi in the central town of Sidi Bouzid in December 2011.
Bouazizi set himself on fire in protest at unemployment and police harassment, sparking the uprising that toppled Ben Ali — whose rule was tainted by graft accusations — and inspiring the Arab Spring revolts.
Related Articles
Jan 23,2016
TUNIS — Tunisian Prime Minister Habib Essid pleaded Saturday for people to be "patient" after a wave of protests against poverty and unemplo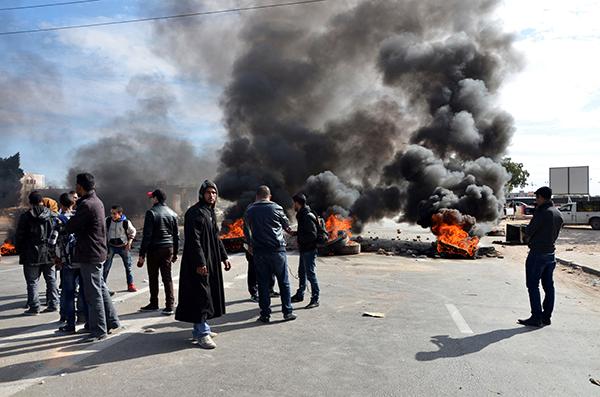 Jan 22,2016
KASSERINE, Tunisia — Fresh protests over unemployment and poverty in central Tunisia on Thursday raised fears of growing social unrest five
Feb 12,2015
Just two days after confidently promising economic reforms to match Tunisia's transition to democracy, new Prime Minister Habib Essid was forced to say he would roll back a new tax after police shot dead a man protesting it.
Newsletter
Get top stories and blog posts emailed to you each day.