You are here
Turkey says EU funds not being actively used for needs of Syrian refugees
By Reuters - Dec 30,2017 - Last updated at Dec 30,2017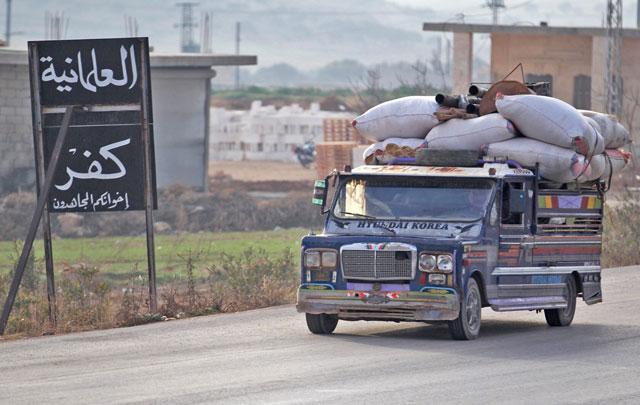 Displaced Syrians from a village in southern Idlib drive past a sign reading in Arabic: 'Secularism is infidelity' as they head on the Damascus-Aleppo motorway towards the northern part of the rebel-held province on Friday (AFP photo)
ISTANBUL — A substantial portion of the funds promised by the European Union (EU) to help Syrian refugees in Turkey is still not being used actively to meet their needs, Turkey's EU Ministry said on Saturday.
Of the 6 billion euros ($7.20 billion) agreed upon in two deals in 2015 and 2016, only 1.78 billion euros has been transferred to Turkish ministries and international organisations responsible for implementing the projects, the ministry said in a statement.
"While Turkey has used more than $30 billion of its national funds for the needs of Syrians who have been in Turkey for approximately seven years, a substantial amount of the 3 billion euros promised by the EU in November 2015 has effectively not been used in the field."
Of the 1.78 billion euros transferred so far, it said 1.3 billion went to international organisations, 270 million to the ministry of education, 120 million to the ministry of health, and 12 million to the ministry of the interior.
Yet that did not equate to the funds being actively used to meet the needs of Syrian refugees, the ministry said.
"Unfortunately, the spending mechanism of the EU funds are not working fast," it said.
In the past, Turkey has argued it would be easier to give the money directly to the government — something the EU rejects, saying it always channels humanitarian aid through specialised agencies and non-governmental institutions so it goes directly to those in need.
In return for funds for Syrian refugees, visa-free travel and revitalised EU accession efforts, Turkey agreed to cooperate in stopping migrants crossing the Aegean Sea to Greece and take back those who do not qualify for asylum.
However, relations between Turkey and the West deteriorated in the past year. EU officials have said Turkey has a long path ahead of it before becoming a member of the bloc or being granted visa-free travel.
Related Articles
Aug 02,2016
ISTANBUL — Turkish President Recep Tayyip Erdogan on Tuesday lashed out at the European Union for dragging its feet in releasing promised fu
May 24,2016
ISTANBUL — President Recep Tayyip Erdogan on Tuesday warned the European Union that the Turkish parliament would block laws related to the l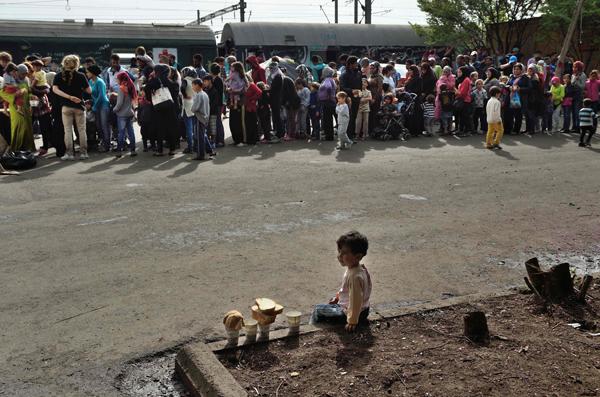 Apr 19,2016
ISTANBUL — Turkish President Recep Tayyip Erdogan warned the European Union Tuesday it needs Turkey more than Ankara needs the bloc, as tens
Newsletter
Get top stories and blog posts emailed to you each day.