You are here
Turkey stops registering Syrian refugees — HRW
By AFP - Jul 16,2018 - Last updated at Jul 16,2018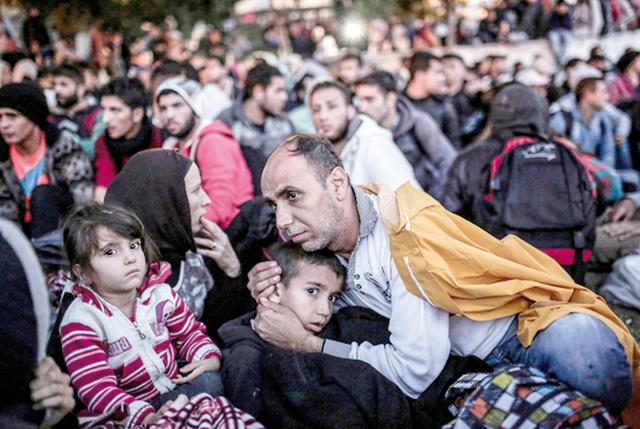 Migrants and refugees wait at Istanbul's Esenler station for buses to the Turkish-Greek border on September 16, 2015 (AFP photo)
Ankara — Turkish authorities have stopped registering "all but a handful" of newly-arrived Syrian refugees, depriving them of essential services and putting them at risk of deportation, Human Rights Watch said on Monday.
Turkey is hosting some 3.5 million refugees from the Syrian civil war and its generosity since the conflict broke out in 2011 has won international praise. But there have been growing social tensions over their continued presence.
A Turkish official contacted by AFP said in response to the HRW report that "we have always welcomed Syrians and we still welcome them", adding "people who are in Turkey have access to all the services they need".
HRW said that the suspension of registration — a key step for newly-arrived refugees — "is leading to unlawful deportations, coerced returns to Syria, and the denial of healthcare and education".
It described the suspension of registration as "Turkey's latest effort to deny new asylum seekers protection", adding that Turkey's border with Syria was now effectively "sealed-off".
The registration suspension applied to nine provinces on or near the Syrian border and Istanbul, it added.
HRW noted that since late August 2015 "only registered Syrians who obtain a special travel permit have been allowed to travel within Turkey".
Its associate refugee programme director Gerry Simpson said that the EU, which was keen to limit the refugee flow to Europe, was "turning a blind eye to Turkey's latest steps to block and discourage people fleeing Syria".
Turkey, meanwhile, has been assisting refugees return to areas in northern Syria where the Turkish army and allied Syrian rebels ousted extremists and Kurdish militias in military operations.
"We never deport to Syria", added the Turkish official. "Some Syrians are choosing to go back to areas liberated by Turkey".
Newsletter
Get top stories and blog posts emailed to you each day.