You are here
Two frontrunners emerge in Tunisia's presidential vote
By Reuters - Nov 22,2014 - Last updated at Nov 22,2014
TUNIS — Tunisians vote on Sunday in a presidential election pitting an ex-official from the days of autocrat Zine El Abidine Ben Ali against a rights activist appealing to the spirit of the 2011 revolt that ousted him.
Beji Caid Essebsi, an 87-year-old former Ben Ali official, prefers to invoke the memory of Habib Bourguiba, Tunisia's first post-independence leader, as a reference for the secular, modern state-building he advocates for the North African country.
His main rival, current President Moncef Marzouki, casts Sunday's vote as a ballot against the return of one-party era figures like Essebsi, whose victory he says would be a setback for the 2011 revolt that ended Ben Ali's rule.
More than 25 candidates are in the running, but Essebsi and Marzouki lead the field. If neither wins the more than 50 per cent, a run-off round between them will be held in December.
Sunday's vote follows the October general election when Essebsi's Nidaa Tounes Party won the most seats, besting the Islamist Party Ennahda that won the first free poll in 2011.
Essebsi, who was Ben Ali's parliament speaker and foreign minister in Bourguiba's government, has cast himself as a statesman to fix Tunisia's troubles and finish its transition.
"The state has been absent from recent years, we are going to bring back its prestige, but with the guarantees of freedom," Essebsi told supporters at a Tunis rally.
But his party's front-runner status worries critics who see risk in the return of Ben Ali "remnants" and domination of politics just like the times of former president's RCD Party.
Essebsi dismisses such concerns, saying most former Ben Ali officials were not tarnished by the abuses and corruption of his rule from 1987 to 2011. But Marzouki disagrees.
"There is a real danger of power being in one party's hands," Marzouki told his supporters at a rally. "This fight is clear between the revolutionary forces and the old regime,"
The presidential vote will be one of the last steps in Tunisia's often unstable path to full democracy.
Tunisia has mostly avoided the chaos that followed the Arab Spring uprisings of 2011 across the region mainly because its political rivals have managed to reach compromises.
After months of bitter, sometimes violent, clashes over the role of Islam in politics, Tunisia has now emerged as a model for compromise and democratic progress in a troubled region.
A new Nidaa Tounes-led government will be formed after the presidential ballot. But the narrow gap between it and Ennahda in parliament will mean tough post-election negotiations over the new administration.
Ennahda has not put forward a candidate or backed anyone, so its supporters will be key to the outcome of the vote.
"The current political context is extremely favorable to Essebsi, owing to Islamist party Ennahda abstaining from supporting any of the presidential hopefuls," said Eurasia Group's Riccardo Fabiani.
Related Articles
Dec 08,2014
Moncef Marzouki and Beji Caid Essebsi are to face off on December 21 in Tunisia's second round of presidential voting to decide who leads the nation that sparked the Arab Spring.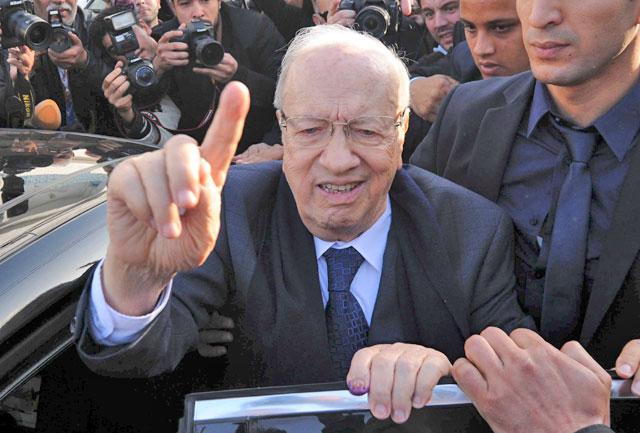 Dec 23,2014
Tunisia's presidential vote has been hailed as a landmark, but some veterans of the 2011 revolution fear the victory of an 88-year-old from the old guard will bring a return to repression.
Dec 31,2014
Anti-Islamist Beji Caid Essebsi, 88, was sworn in Wednesday as Tunisia's first freely elected president vowing to work for national reconciliation, four years after an uprising that sparked the Arab Spring.
Newsletter
Get top stories and blog posts emailed to you each day.