You are here
UAE summons Qatar envoy over cleric's 'insults'
By AFP - Feb 02,2014 - Last updated at Feb 02,2014
ABU DHABI — The UAE summoned the Qatari ambassador on Sunday to protest against remarks made by a Muslim Brotherhood-linked cleric who slammed the Emirates for jailing Islamists, the foreign ministry said.
The summons was the first of its kind by a member of the six-nation Gulf Cooperation Council — Bahrain, Kuwait, Oman, Qatar, Saudi Arabia and the United Arab Emirates — against another GCC state since the bloc's formation in 1981.
Qatar's ambassador to the UAE, Fares Al Nuaimi, was summoned to the foreign ministry in Abu Dhabi and handed "an official letter of protest" over "insults" by cleric Yusef Al Qaradawi, WAM news agency reported.
Qaradawi, an Egyptian-born Muslim scholar, wields huge influence through his regular appearances on Al Jazeera television from his base in exile in Qatar, where he has lived for decades.
He is a staunch backer of Egypt's deposed Islamist president Mohamed Morsi, unlike the UAE which supports the interim government installed in Cairo by the military that overthrew Morsi last July 3.
In a weekly Friday prayers sermon in Doha last month, Qaradawi lashed out at the UAE, accusing it of "standing against Islamist regimes, punishing its leaders and putting them in jail".
His comments came just days after the UAE jailed a group of 30 Emiratis and Egyptians to terms ranging from three months to five years for forming a Muslim Brotherhood cell.
The Brotherhood is banned in much of the region, and the UAE, Kuwait and Saudi Arabia pledged billions of dollars in aid to Egypt after the overthrow of Morsi, who hails from the Islamist organisation.
Qatar, however, has backed the Brotherhood in several countries swept by the Arab Spring uprisings of 2011, and has criticised Cairo for banning the group and launching a deadly crackdown against it.
On Saturday, Qatari Foreign Minister Khaled Al Attiyah disavowed Qaradawi's remarks, saying "they do not reflect Qatari foreign policy" and insisting that ties between the two nations are "strategic in all aspects".
But the UAE foreign ministry said that response "did not reflect a decisive stance rejecting Qaradawi's speech", and therefore Abu Dhabi had to take "an unprecedented measure" and summon Doha's envoy.
Related Articles
Feb 03,2014
UAE-Qatar relations remain strong despite Doha's ambassador being summoned over remarks by a cleric linked to the Muslim Brotherhood, Abu Dhabi's Crown Prince Sheikh Mohammed Bin Zayed Al Nahyan said Monday.
Jan 04,2014
Egypt's foreign ministry said it summoned Qatar's ambassador on Saturday to protest Doha's criticism of the military-installed government's crackdown on the Muslim Brotherhood.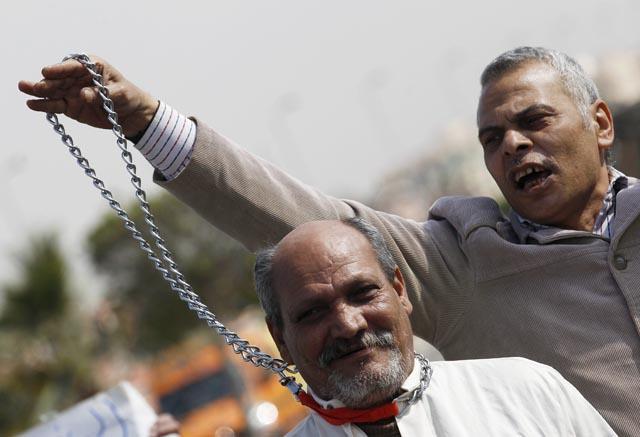 Feb 05,2014
Egypt's foreign ministry said on Tuesday it had summoned Qatar's chargé d'affaires to demand the extradition of Yousef Al Qaradawi, one of the most influential Sunni Muslim clerics in the Middle East.
Newsletter
Get top stories and blog posts emailed to you each day.