You are here
UN calls on Syria warring sides to stop targeting civilians
By AFP - Nov 19,2017 - Last updated at Nov 19,2017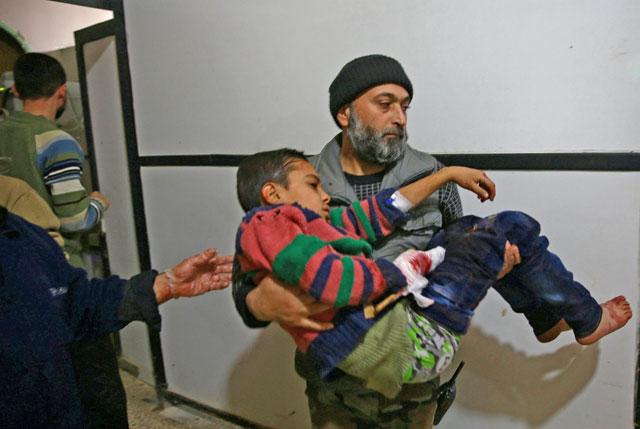 A man carrying a wounded child is seen in Douma Hospital after heavy shelling in the rebel-held besieged town of Douma, eastern Ghouta in Damascus, Syria, on Sunday (Reuters photo)
DAMASCUS — The United Nations on Sunday called on Syria's warring sides to stop targeting civilians in the capital Damascus and nearby neighbourhoods, where escalating bombardment has killed dozens in recent days.
Rebel groups and regime forces are locked in a cycle of tit-for-tat attacks around Damascus and in the opposition-held enclave of Eastern Ghouta.
On Sunday, UN coordinator for humanitarian and development affairs in Syria Ali Al Zaatari called on "all warring sides to avoid targeting civilians".
"For days, there have been daily reports about civilians being killed and others being severely wounded, in addition to warehouses, hospitals and schools being put out of service during the exchange of shellfire, particularly in Damascus and Eastern Ghouta," Zaatari said.
His comments in Arabic came in a statement e-mailed to AFP.
Government forces have escalated their bombardment of Eastern Ghouta, an opposition stronghold outside Damascus, since hardline rebel group Ahrar Al Sham attacked a military base in the area last week.
Since Tuesday, heavy artillery fire and air strikes on Eastern Ghouta have killed at least 66 civilians including 13 children, according to the Syrian Observatory for Human Rights.
At least 281 people have been wounded, the Britain-based monitor said on Sunday.
Rebel groups meanwhile have fired rockets into Damascus neighbourhoods, killing at least 16 people since Thursday, the observatory said.
The toll included two people killed by rocket fire on Sunday.
"The United Nations hopes for an immediate ceasefire and the establishment of secure humanitarian corridors to evacuate wounded, sick, and elderly people, as well as children, as soon as possible from areas seeing hostile operations," Zaatari said.
He called for the delivery of humanitarian assistance to those who need it across the country.
Eastern Ghouta is supposed to be part of a "de-escalation zone" under a deal between Russia, Iran and Turkey aimed at reducing the level of violence.
President Bashar Assad's forces have besieged Eastern Ghouta since 2013, making humanitarian conditions in the area, where some 400,000 people live, extremely dire.
Meanwhile, top diplomats from Iran, Russia and Turkey met on Sunday in Antalya to discuss the civil war in Syria ahead of a three-way summit in the Russian city of Sochi on Wednesday.
Turkish Foreign Minister Mevlut Cavusoglu met with his Russian counterpart Sergei Lavrov and Mohammad Javad Zarif of Iran and in the southern Turkish city for the closed-door meeting, an official said.
In a statement afterwards, Lavrov called the meeting "very productive" and said the envoys had agreed on "all the main issues", without further details.
The meeting comes as violence is diminishing in Syria's six-year war although a political solution still seems out of reach.
Moscow, Tehran and Ankara are sponsoring the so-called Astana peace talks, named for the Kazakh capital where they are regularly held, which calls for the creation of "de-escalation" zones in key areas of Syria.
Although Turkey has supported rebels looking to overthrow Assad's government, it has muted its critiques of the Syrian regime, which is backed by Russia and Iran.
"Thanks to the Astana talks, we have allowed the ceasefire to take hold on the ground with the hope of 'de-escalation' zones," Cavusoglu told Turkey's Anadolu news agency.
He said it was now time to focus on combating the Daesh terror group fighters while "putting more emphasis on the political process" for ending the Syrian war.
But Cavusoglu said Turkey still remained opposed to any talks involving the Kurdish YPG militia of the Democratic Union Party, which formed the backbone of the campaign to push Daesh fighters out of Raqa, Syria, last month.
The YPG, now part of the US-armed Syrian Democratic Forces, emerged from the same leftist movement as the PKK Kurdish separatists fighting in Turkey, which considers it a terrorist group.
'Turn the page'
Cavusoglu also said the envoys had discussed a deployment of Russian and Iranian forces to secure the "de-escalation zone" near Syria's Idlib Province "as soon as possible".
The province is largely held by a jihadist group formerly affiliated with Al Qaeda, even though Syrian forces recaptured the neighbouring city of Aleppo late last year.
Zarif, speaking on Iranian television, said he was hoping for "a good summit on Monday and to turn the black and bitter page on terrorism in Syria."
Russian President Vladimir Putin will host Turkey's Recep Tayyip Erdogan and Iran's Hassan Rouhani for the Sochi summit, where talks on reducing violence and ensuring humanitarian aid are on the agenda.
According to the Anadolu news agency, Putin and Erdogan have already met five times this year and spoken by telephone 13 times.
Erdogan last met Putin for talks in Sochi on November 13, agreeing on the need to boost elements for a lasting settlement.
Related Articles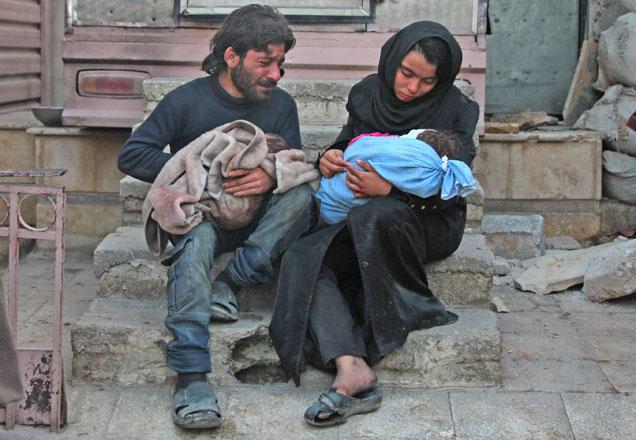 Jan 10,2018
ANKARA — Turkey called on Russia and Iran on Wednesday to pressure Syrian authorities to halt a military offensive in Syria's rebel-held Idl
Oct 30,2017
ASTANA, Kazakhstan — A fresh round of peace talks seeking to end Syria's war opened in the Kazakh capital Astana on Monday, as part of a Mos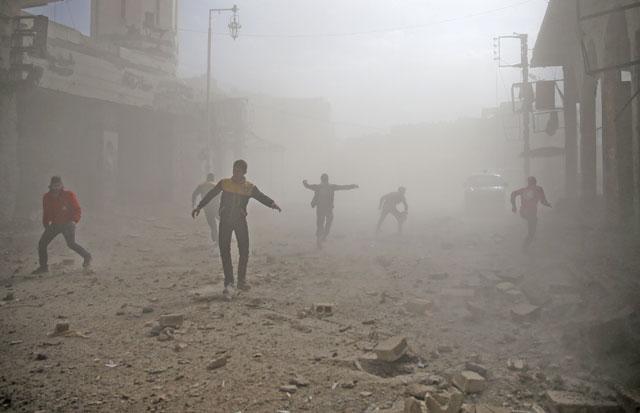 Feb 06,2018
BEIRUT — The United Nations called on Tuesday for an immediate humanitarian ceasefire in Syria of at least a month, as heavy air strikes wer
Newsletter
Get top stories and blog posts emailed to you each day.