You are here
UN concerned over new West Bank demolition plans
By AFP - Feb 22,2017 - Last updated at Feb 22,2017
Palestinian children and their mother, from the Abu Ramouz family, sit on the rubble of their house that was demolished by Israeli army bulldozers in the Arab East Jerusalem neighbourhood of Beit Hanina on Wednesday on the grounds that it was built without a construction permit (AFP photo)
OCCUPIED JERUSALEM — The United Nations raised concerns Wednesday over newly announced demolition plans in a Palestinian Bedouin village in the occupied West Bank that threaten dozens of buildings including a primary school.
Israeli officials have over the past week issued dozens of demolition orders threatening "nearly every structure" in a part of the village of Khan Al Ahmar, the UN said.
The United Nations humanitarian coordinator for the Palestinian territories, Robert Piper, visited the village where the primary school is among 140 structures at risk of demolition.
"Khan Al Ahmar is one of the most vulnerable communities in the West Bank struggling to maintain a minimum standard of living in the face of intense pressure from the Israeli authorities to move," he said in a statement.
"This is unacceptable and it must stop."
Israel says the buildings were built without permits.
The UN says such permits are all but impossible to obtain for Palestinians.
"In the past days construction termination warrants were served to illegal buildings in Khan Al Ahmar," Israel's defence ministry body responsible for the Palestinian territories said.
"The enforcement will take place in coordination with state directives and required legal certifications."
Israel has occupied the West Bank for 50 years in contravention of international law.
A number of traditionally nomadic Bedouin communities are based east of Jerusalem, where rights groups fear demolitions could eventually clear the way for further Israeli settlement construction.
This could partly divide the West Bank between north and south while further isolating the territory from Israeli-occupied East Jerusalem, which the Palestinians see as their future capital.
The UN says there are 46 communities in the central West Bank at risk of forcible transfer, ousting approximately 7,000 residents.
Related Articles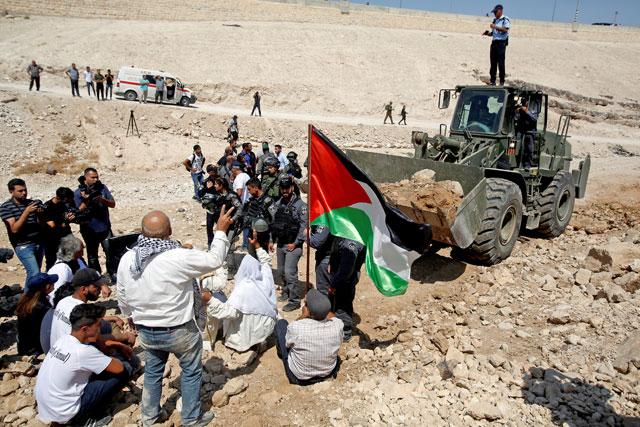 Sep 24,2018
KHAN AL AHMAR, West Bank — Israel on Sunday told residents of Khan Al Ahmar, a Bedouin village in the occupied West Bank slated for demoliti
May 24,2018
OCCUPIED JERUSALEM — Israel's supreme court ruled on Thursday in favour of demolishing a Palestinian Bedouin village in the occupied West Ba
May 30,2018
Khan Al Ahmar, Palestinian Territories — A British minister on Wednesday made a last-gasp call to Israel not to raze a Palestinian bedouin v
Newsletter
Get top stories and blog posts emailed to you each day.