You are here
UN urges 'humanitarian pause' for Yemen
By AFP - Dec 05,2017 - Last updated at Dec 05,2017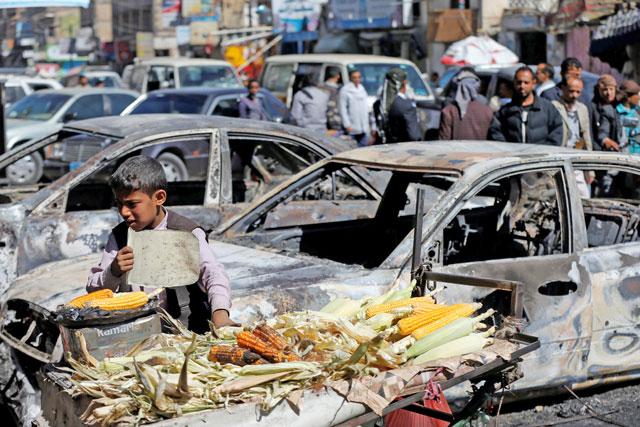 A boy sells grilled corn near cars damaged during recent clashes between Houthi fighters and forces loyal to Yemen's former president Ali Abdullah Saleh in Sanaa, Yemen, on Tuesday (Reuters photo)
GENEVA — The UN on Tuesday called for a "humanitarian" truce in air strikes and fighting in Yemen as it seeks to deliver aid to people trapped in the capital Sanaa.
As the UN Security Council prepared to discuss Yemen on Tuesday, several international aid agencies chimed in to condemn a surge in violence in the war-torn country, and demanded unimpeded access to civilians.
"I... sent a message asking for a truce, a peace pause, a humanitarian pause, for the parties to stop shooting, stop fighting, stop air strikes, so the people can go to hospitals, can go to seek safety... and go to also find a place for water and food," UN humanitarian coordinator Jamie McGoldrick told reporters in Geneva by phone from Sanaa.
"Our ability to get to people over the last five days has been impeded because of the air strikes, because of the fighting, and our life-saving support activities were blocked," he said.
McGoldrick's statement came a day after Yemen's Houthi rebels killed former president Ali Abdullah Saleh as he fled the capital following the collapse of their uneasy alliance.
For the five previous nights, heavy fighting had rocked Sanaa, leaving at least 234 people dead and 400 wounded, according to the International Committee of the Red Cross.
After the assassination, Saudi-led warplanes pounded the capital before dawn on Tuesday as the rebels moved to consolidate their control over the city.
"What happened... because of our inability to move in the city during the five days — the UN agencies, Red Cross and NGOs — we were unable to do our life-saving treatments," McGoldrick said.
"Now the uncertainty continues and despite what happened yesterday, we do not know if we can start doing our operations or whether we have to wait for some time," he added.
Yemen's war has left thousands dead since 2015, sparking what the United Nations now labels the world's worst humanitarian crisis, and has deepened tensions between Middle East rivals Saudi Arabia and Iran.
McGoldrick said a UN team would travel to Riyadh "quite soon".
Saudi Arabia imposed a blockade on Yemen's ports after a Houthi missile was intercepted near Riyadh airport on November 4.
The blockade has been eased only partially despite repeated calls from the UN.
Five major international NGOs meanwhile demanded in a statement an "immediate cessation of hostilities" in Yemen, as well as "full and unfettered humanitarian access to people in need".
The fighting and air strikes have left "thousands of people in fear, trapped in their homes and without any possibility to access humanitarian assistance", the statement said.
Signed by Care, Action Against Hunger, Handicap International, Doctors of the World and Acted, the statement said the warring parties should respect their obligations under international law and "ensure full protection" of civilians.
Related Articles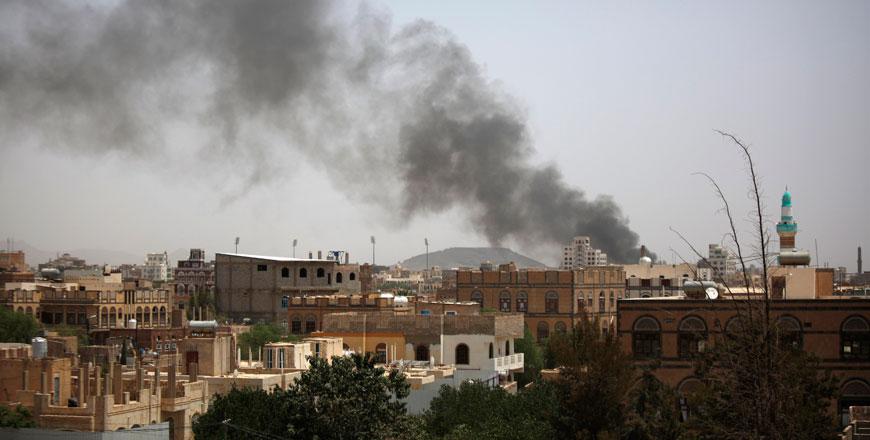 Jul 12,2015
SANAA — A UN-proposed Yemen humanitarian truce got off to a shaky start Saturday after Saudi-led coalition warplanes struck rebel positions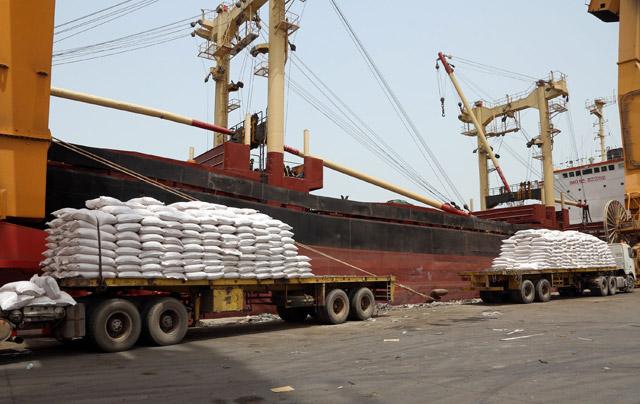 Jul 06,2017
SANAA — Aid groups have pulled resources from the fight against malnutrition to battle cholera in Yemen, raising the risk of famine as they
May 17,2015
A UN envoy called for an extension of a five-day humanitarian ceasefire in Yemen which expired late Sunday as the Houthi Shiite rebels boycotted political talks in Riyadh.
Newsletter
Get top stories and blog posts emailed to you each day.