You are here
US-backed fighters elated over front-row seats to Raqqa fall
By AFP - Sep 25,2017 - Last updated at Sep 25,2017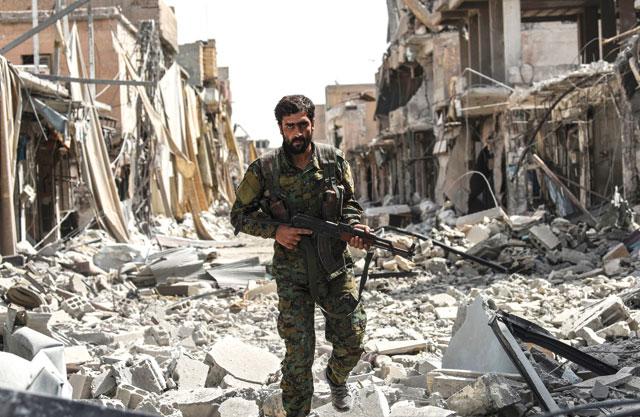 A member of the Syrian Democratic Forces walks through the debris in the old city centre on the eastern frontline of Raqqa on Monday (AFP photo)
RAQQA, Syria — For three years, Syrian-Kurdish fighter Sevger Himo has been itching to witness the Daesh terror group's demise. Now, in the heart of Raqqa city, he has a front-row seat.
The US-backed Syrian Democratic Forces (SDF) say they have entered "the final stages" in their offensive for Daesh's notorious Syrian bastion.
After cornering the extremists in a handful of positions in Raqqa's city centre, they are now pressing their assault in streets strewn with rubble and neighbourhoods reduced to piles of smashed concrete and metal.
"When we were fighting Daesh in Kobane three years ago, we always used to talk about how the capital of the caliphate is Raqqa," says Himo, a local commander with the Kurdish People's Protection Units (YPG), which make up a bulk of the SDF.
Sitting cross-legged on a rooftop in the heavily damaged northeastern district of Rumeilah, Himo says he has a personal stake in seeing this blistering battle through to its end.
Alongside other YPG fighters, Himo faced off against Daesh in late 2014 in Kobane, a strategic town on Syria's northern border with Turkey, then in the town of Manbij to the south.
"We used to tell each other, 'Daesh sent reinforcements, support, and equipment from Raqqa!'" he says.
"Now we're in the centre of Raqqa and it's a completely different feeling," Himo says.
'The centre of it all'
Daesh extremists overran Raqqa in early 2014, using public squares for punishments like beheadings and lashings.
With backing from the US-led coalition, the SDF — an alliance of Arab and Kurdish fighters — began chipping away at the broader province of Raqqa last year before breaking into the city in June.
The fighting has destroyed much of the city, with rows of crumbling buildings punctuated with a damaged refrigerator or lone tea kettle to signal that someone once lived there.
A headless, dusty body of an alleged Daesh fighter lies on the side of a main thoroughfare.
"Daesh has collapsed. Every battle we've waged, we've gained experience against them," Himo says between barking orders into his walkie-talkie.
After seeing fellow YPG fighters lose life and limb in the battle against Daesh, he is anxious to declare victory over Raqqa.
"We need to pay back this debt for those we know that died or were wounded. Raqqa is the centre of it all."
Sitting nearby, local SDF commander Abdullah, a slight man in his 50s, nods enthusiastically.
"We want to rescue our friends and family from this black filth. I lived under Daesh — I was imprisoned under them, accused of being an agent, and whipped by them in front of the mosque," says Abdullah.
'Religion as armour'
Abdullah joined the SDF soon after its forces ousted Daesh from his home village of Karamah, about 100 kilometres southeast of Raqqa, in March.
"We're advancing and there's no going back. They tried to use religion as armour but it won't work," he tells AFP.
On Sunday, his units were advancing on a group of Daesh fighters in a heavily mined area around a cemetery in the centre of Raqqa, about 500 metres to the west.
Abdullah and Himo have both set their sights on Al Naim — a large roundabout to the west where Daesh carried out mass executions.
"I'll race you to it. Whoever gets their first can plant the flag," Abdullah says, his straight white teeth beaming from underneath a black moustache.
"Hopefully in the coming days you'll see the joy, the songs. There will be indescribable happiness."
In the rubble-covered street below, fighters from the Manbij Military Council — which fights under the SDF's command — prepare for a push towards Daesh positions around the cemetery.
"In a few days, we hope Raqqa will be liberated. The next phase will be difficult, but our morale is excellent — 100 per cent," says Abu Abdo Al Sheikh, the MMC's local chief.
Many of the MMC's members once battled government troops — a sign of the complexity of Syria's conflict, which erupted in 2011 with anti-government demonstrations that evolved into a multi-front war.
"I haven't been fighting this war for six years to go home now," he says, before gesturing for his fighters to get ready for an advance.
Related Articles
Aug 13,2017
RAQQA, Syria — US-backed forces now have the Daesh terror group militants surrounded in central Raqqa, a Syrian Kurdish commander said, but
Apr 13,2017
BEIRUT — US-backed forces fighting the Daesh terror group in Syria launched a new phase of their offensive on Thursday, a statement said, bu
Aug 16,2017
RAQQA, Syria — The inexperienced fighters in an Arab group battling to take Raqqa back from Daesh are playing a secondary role to hardened K
Newsletter
Get top stories and blog posts emailed to you each day.