You are here
US-backed forces to attack Syria's Deir Ezzor soon — SDF official
By Reuters - Aug 26,2017 - Last updated at Aug 26,2017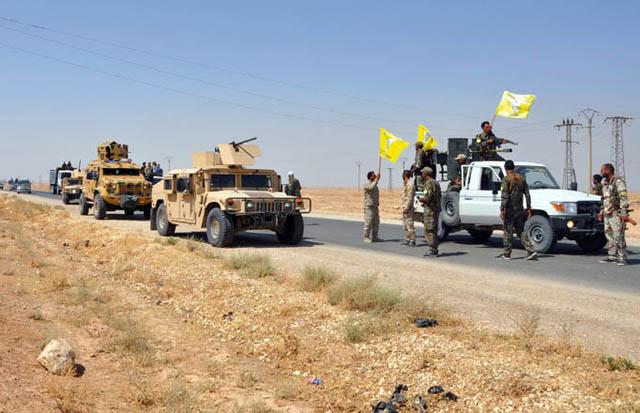 Members of the Deir Ezzor Military Council, a coalition of Arab tribes and fighters that belongs to the broader US-backed Syrian Democratic Forces, ride in armoured vehicles near the town of Shadadi, about 60 kilometres south of the northeastern Syrian city of Hassakeh, on Friday (AFP photo)
BEIRUT — US-backed forces in Syria will soon launch an offensive to oust the Daesh terror group militants from Deir Ezzor province, their last major foothold in the country, an SDF official said on Friday.
The Syrian Democratic Forces (SDF) could start its assault on Deir Ezzor "within several weeks" in parallel with an ongoing battle for nearby Raqqa city, Ahmed Abu Khawla told Reuters.
The SDF alliance of Kurdish and Arab militias has been fighting Daesh inside Raqqa since June after a months-long advance on the city, backed by air strikes and special forces from the US-led coalition.
As Daesh has come under pressure in Raqqa, many of its forces have fallen back on the towns and cities further east along the Euphrates in Deir Ezzor province.
Syrian government forces are fighting their own campaign in a different part of the province, which borders Iraq.
"The operation to liberate Deir Ezzor will begin very, very soon," said Khawla, who heads the Deir Ezzor military council that fights under the SDF banner.
Col. Ryan Dillon, a spokesman for the US-led coalition, said its focus remained on Raqqa.
Khawla said military plans were ready, and that his unit had already "entered Deir Ezzor territory and liberated several towns".
The military council included 4,000 fighters, mostly Arabs and mostly from the province, he said. They had taken part in all the SDF offensives and were now fighting in Raqqa.
Nearly 800 fighters from Deir Ezzor's tribes said on Thursday they had defected from the Syrian Elite Forces, an Arab group fighting alongside the SDF in Raqqa, to join Khawla's council.
The Syrian army is advancing along the south and west bank of the Euphrates towards Deir Ezzor city. The SDF is mostly on the river's north and east bank, where Raqqa lies.
Damascus has shored up its rule over much of the country's populated west with the help of Russian air power and Iran-backed militias.
Now it is marching east towards Deir Ezzor and the vast desert bordering Iraq.
That advance has on occasion brought its forces and allies into conflict with the US military and the groups it backs.
But the rival campaigns have mostly stayed out of each other's way, and the US-led coalition has stressed it is not seeking war with Damascus.
Daesh controls most of Deir Ezzor province, and has besieged the government-held pocket of the provincial capital city for years.
In addition to the United Nations, the Syrian government and its Russian ally have made aid drops into the encircled zone, where residents lack food and medicine.
UN Syria humanitarian adviser Jan Egeland said there was concern for the civilians in the enclave and others in Daesh territory as military offensives approach Deir Ezzor.
"We're also concerned also for our lifeline to the people inside Deir Ezzor [city], some 90,000 people and they only have our air drops," he said in Geneva on Thursday.
Related Articles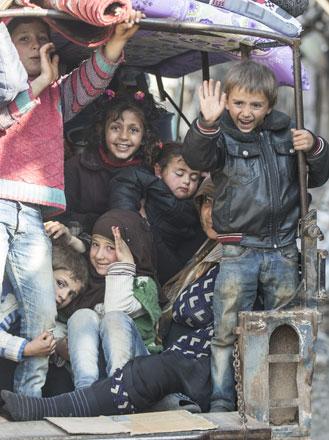 Mar 06,2017
BEIRUT — US-backed Syrian militias cut the last main road out of Daesh-held Raqqa on Monday, severing the highway between the group's de fac
Sep 17,2017
BEIRUT — US-backed militias said they came under attack on Saturday from Russian jets and Syrian government forces in Deir Ezzor province, a
Jun 05,2017
BEIRUT — US-backed Syrian militias said they seized a major dam on the Euphrates River from the Daesh extremists on Sunday, their latest gai
Newsletter
Get top stories and blog posts emailed to you each day.