You are here
US has 'concerns' over Russian missile system — US official
By AFP - Nov 25,2015 - Last updated at Nov 25,2015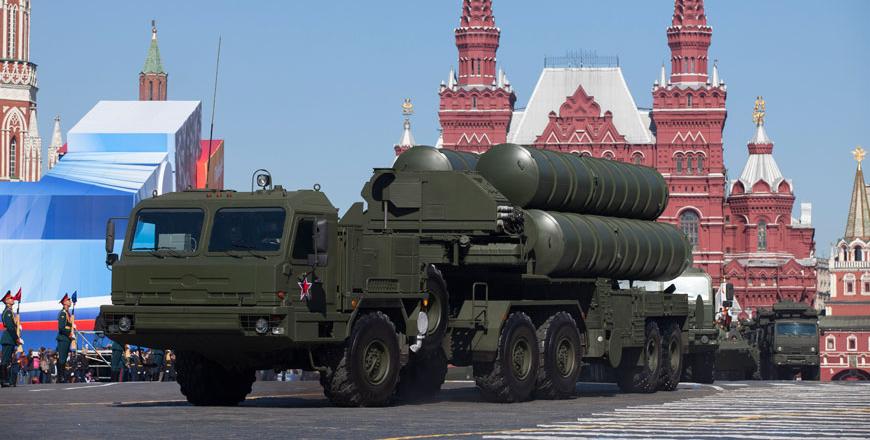 In this May 7, 2013 file photo, a Russian S-400 air defence missile system makes its way through Red Square during a rehearsal for the Victory Day military parade in Moscow, Russia (AP photo)
WASHINGTON — Russia's announcement it is deploying its most hi-tech air defence system to its base in Syria is raising "significant concerns" for the US military, a US official said Wednesday.
Russia says it is sending S-400 anti-aircraft missiles to Latakia in northwestern Syria, in a move that comes after Turkey shot down a Russian fighter jet in the increasingly crowded air space along the border on Tuesday.
The S-400 missiles have a range of about 400 kilometres posing a potential threat to US-led coalition planes, and adding yet another dangerous element to an already volatile mix of competing military interests in Syria.
"It's a capable weapons system that poses a significant threat to anyone," a US official speaking on condition of anonymity told AFP. "There are significant concerns related to air operations in Syria."
The United States has for more than a year been leading a coalition that has flown more than 8,000 bombing runs against Daesh targets in Syria and Iraq.
Russia, too, is dropping bombs in Syria but these are mainly in different parts of the country from where US and coalition planes are flying.
Russia and the US-led coalition have agreed on a set of guidelines aimed at ensuring pilots stay out of each other's way, but the prospect of batteries of Russian anti-aircraft missiles arriving in Syria is nonetheless raising eyebrows in the Pentagon.
Another US official, also speaking anonymously, said the S-400s "shouldn't" affect coalition flights.
"We are not going to interfere with [the Russians'] operations and they are not going to interfere with ours. There's no reason for us to be targeting each other," the official said.
He also noted that Russia in the past week has delivered more than 30 T-90 and T-72 tanks to Latakia. It was not clear if these were for use by the Russian military or will be provided to forces loyal to President Bashar Assad.
On Tuesday, Turkey shot down a Russian aircraft along the Syrian border, and rebels killed one of the pilots as he parachuted down after ejecting from the plane.
A second pilot was rescued by Russian and Syrian special forces.
A Russian rescue helicopter was also destroyed by rebels, who apparently used a US-made TOW missile.
The prospect that Syrian rebels used US weaponry to kill a Russian further raises concerns that the Syria conflict could devolve into a proxy war.
Related Articles
Apr 05,2016
AMMAN/BEIRUT — Rebels shot down a second Syrian warplane in less than a month on Tuesday and reportedly captured its pilot in an area near A
Aug 19,2014
Armed groups in Syria have an estimated several hundred portable anti-aircraft missiles that could easily be diverted to extremists and used to destroy low-flying commercial planes, according to a new report by a respected international research group. It cites the risk that the missiles could be smuggled out of Syria by terrorists.
Oct 16,2017
OCCUPIED JERUSALEM — Israel's military carried out an air strike on an anti-aircraft battery in Syria on Monday after it fired towards its p
Newsletter
Get top stories and blog posts emailed to you each day.