You are here
US hits Russians with sanctions for meddling in US election
By Reuters - Mar 15,2018 - Last updated at Mar 15,2018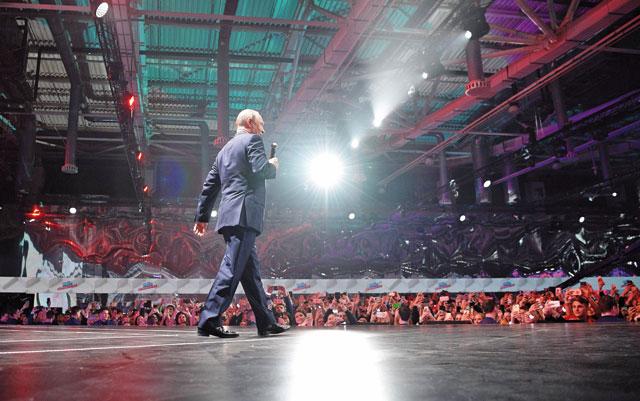 Russian President Vladimir Putin arrives to give a speech at a youth forum 'Russia, Land of Opportunity' in Moscow on Thursday. Russia will vote for president on March 18 (AFP photo)
WASHINGTON — The United States slapped sanctions on Russian individuals and entities for US election meddling and cyber attacks, but put off targeting oligarchs and government officials close to President Vladimir Putin, prompting lawmakers in both parties to say President Donald Trump needs to do much more.
With the United States under pressure to act, the actions announced by the US Treasury Department — targeting 19 individuals and five entities including Russian intelligence services — represented the most significant steps taken against Moscow since Trump assumed office in January 2017.
The United States also joined Britain, Germany and France in demanding that Russia explain a military-grade nerve toxin attack in England on a former Russian double agent, and Trump said "it certainly looks like the Russians were behind" the incident.
But congressional critics called the administration's action a woefully inadequate retaliation for Russia interference in the 2016 US election and cyber attacks stretching back two years that targeted the US power grid including nuclear facilities.
"The sanctions today are a grievous disappointment and fall far short of what is needed to respond to that attack on our democracy let alone deter Russia's escalating aggression, which now includes a chemical weapons attack on the soil of our closest ally," said Adam Schiff, the top Democrat on the House of Representatives Intelligence Committee.
"Today's action, using authorities provided by Congress, is an important step by the administration. But more must be done," Republican House Foreign Affairs Committee Chairman Ed Royce added.
Trump has faced fierce criticism in the United States for doing too little to punish Russia for the election meddling and other actions, and special counsel Robert Mueller is looking into whether Trump's campaign colluded with the Russians, an allegation the president denies.
Sixteen of the Russian individuals and entities sanctioned were indicted on February 16 as part of Mueller's criminal investigation.
"They didn't hit Putin's power structure and they didn't team up with Europe," Brian O'Toole, a senior fellow at the Atlantic Council think tank and a former senior adviser at the Treasury Department's Office of Foreign Assets Control, said of the administration's actions.
A senior administration official told Reuters that Trump, who campaigned on warmer ties with Putin, has grown exasperated with Russian activity.
In Moscow, Deputy Foreign Minister Sergei Ryabkov said that Russia was preparing retaliatory measures, as US-Russian relations plunged again, despite Trump's stated desire for improved ties.
Thursday's announcement also marked the first time that the US government stated publicly that Russia had attempted to break into the American energy grid, which US security officials have longed warned may be vulnerable to debilitating cyber attacks from hostile adversaries.
The Treasury Department said that the sanctions were also meant to counter destructive cyber attacks including the NotPetya attack that cost billions of dollars in damage across Europe, Asia and the United States. The United States and Britain, last month, blamed Russian military for that attack.
Trump has frequently questioned a January 2017 finding by US intelligence agencies that Russia interfered in the 2016 campaign using hacking and propaganda in an effort eventually aimed at tilting the race in Trump's favor. Russia denies interfering in the election.
But Treasury Secretary Steven Mnuchin was unequivocal in saying that Thursday's action by his department "counters Russia's continuing destabilizing activities, ranging from interference in the 2016 election to conducting destructive cyber-attacks."
"Putin constantly attacks our friends. So, President Trump, are you going to get smart about the threat Russia poses to the United States and our allies?" Senate Democratic leader Chuck Schumer said.
Schiff said that only two new senior Russian officials with ties to military intelligence were included in Thursday's action and the Obama administration had already imposed sanctions in December 2016 on the other named Russian intelligence entities and individuals.
Trump told reporters during a White House event, with Irish Prime Minister Leo Varadkar, that "it certainly looks like the Russians were behind" the use of a nerve agent to attack Sergei Skripal, a former Russian double agent in England. Trump called it "something that should never, ever happen, and we're taking it very seriously, as I think are many others".
Russian government hackers since at least March 2016 "have also targeted US government entities and multiple US critical infrastructure sectors, including the energy, nuclear, commercial facilities, water, aviation, and critical manufacturing sectors", a Treasury Department statement said.
A senior administration told reporters on a conference call that Russian actors infiltrated parts of the US energy sector.
"We were able to identify where they were located within those business systems and remove them from those business systems," the official said, speaking on condition of anonymity.
Mnuchin said that there would be additional sanctions against Russian government officials and oligarchs "for their destabilising activities". Mnuchin did not give a time frame for those sanctions, which he said would sever the individuals' access to the US financial system.
The new sanctions include Russian intelligence services, the Federal Security Service (FSB) and Main Intelligence Directorate (GRU), and six individuals working on behalf of the GRU.
Related Articles
Apr 08,2017
UNITED NATIONS/MOSCOW/BEIRUT — Russia warned on Friday that US cruise missile strikes on a Syrian airbase could have "extremely serious" con
Dec 11,2016
WASHINGTON — President-elect Donald Trump dismissed a brewing storm over Russian cyber meddling in the US election, rejecting as "ridiculous
Jul 10,2017
BEIJING — From US anger over inaction on North Korea to a festering border dispute with India and the ailing Chinese Nobel laureate Liu Xiao
Newsletter
Get top stories and blog posts emailed to you each day.