You are here
'US Mideast peace plan not finalised, but efforts serious'
By Reuters - Dec 14,2017 - Last updated at Dec 14,2017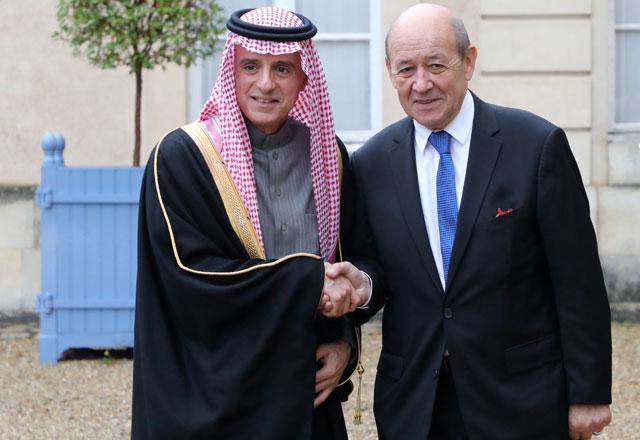 Saudi foreign affairs minister, Adel Al Jubeir (left), is welcomed by French foreign affairs minister, Jean Yves Le Drian, upon his arrival for a summit from the underfunded G-5 Sahel anti-terror coalition on Wednesday (AFP photo)
PARIS — The US administration is serious about getting a peace deal between Israelis and Palestinians, but its proposed plan is still being put together, Saudi Arabia's foreign minister said.
US President Donald Trump's decision to recognise occupied Jerusalem as Israel's capital and eventually move the US Embassy in Israel there has angered the Palestinians, who question Washington's role as a sponsor of Middle East peace.
Trump's adviser and son-in-law, Jared Kushner, is leading efforts to restart negotiations, though his bid has shown little public progress so far.
"We believe the Trump administration is serious about bringing peace between Israelis and Arabs," Saudi Foreign Minister Adel Al Jubeir, a former ambassador to the United States, told France 24 television late on Wednesday.
"They were working on ideas and were consulting with all parties, including Saudi Arabia, and they are incorporating the views represented to them by everybody. They have said they would need a little bit of time to put it together to present it."
Trump's decision to recognise Jerusalem as the capital of Israel overturned decades of US policy and ignored international consensus that the city's status should be decided only in a future peace agreement.
Israel claims all of Jerusalem as its capital, including the eastern part which it annexed after capturing it in a 1967 war. The Palestinians want the eastern part of the city as capital of a future independent state of their own.
The Trump administration argues that any credible peace plan would put the Israeli capital in Jerusalem, and that moving past the question can help unblock a peace process frozen since 2014. Washington says Trump's decision does not affect Jerusalem's borders or future status which can still be decided in talks.
Trump's aides say the peace plan could be released early next year and the US president has said he hoped for an agreed two-state deal between the two sides.
Jubeir emphasised that Riyadh continued to support a two-state solution, which Washington had indicated to the Saudis was its working proposal.
"Whether the administration's proposals are acceptable to the parties remains to be seen because I don't believe that the plan the US administration is working on has been finalised yet," he said.
Jubeir also denied the Sunni Muslim kingdom had any relations with Israel despite sharing Israel's concern about the regional influence of Shiite Iran. He repeated that Riyadh had a "roadmap" to establish full diplomatic relations with Israel should there be a peace agreement with the Palestinians.
Israel also says it is waiting for Washington to finish drawing up a peace plan.
"The Americans are preparing a peace deal. They did not tell us the details. They did not speak about a 'Deal of the Century'. Rather, they asked what we can accept, and they asked the Palestinians the same thing. And they will offer — as they put it — something creative," Israeli Intelligence Minister Israel Katz said in interview with Saudi-owned news site Elaph, published on Wednesday.
Related Articles
May 18,2017
WASHINGTON/OCUUPIED JERUSALEM — Just four months after taking office, Donald Trump will make the earliest foray into Israeli-Palestinian pea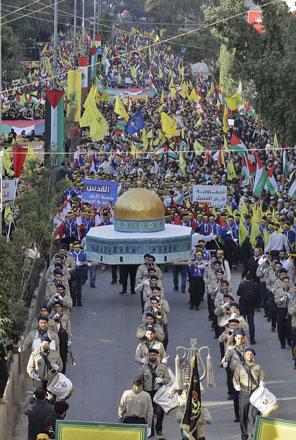 Dec 11,2017
BRUSSELS — Prime Minister Benjamin Netanyahu took his case to Europe to ask allies to join the United States in recognising occupied Jerusal
Feb 23,2018
DOHA, Qatar — Saudi Foreign Minister Adel Al Jubeir on Thursday said his country was working with the administration of US President Donald
Newsletter
Get top stories and blog posts emailed to you each day.