You are here
US sanctions Iran currency network after Trump pulls out of nuclear deal
By Thomson Reuters Foundation - May 10,2018 - Last updated at May 10,2018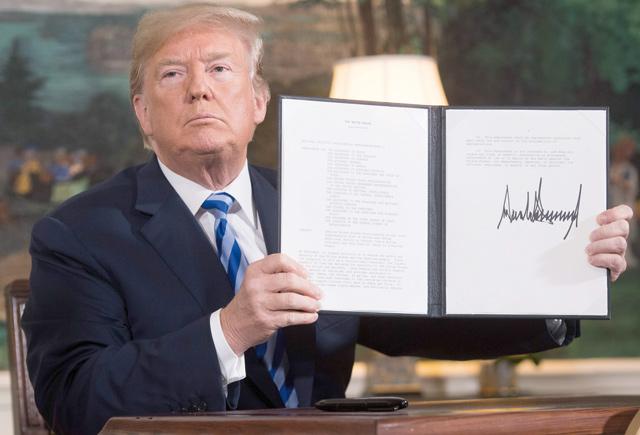 US President Donald Trump signs a document reinstating sanctions against Iran after announcing the US withdrawal from the Iran nuclear deal, in the Diplomatic Reception Room at the White House in Washington, DC, on Tuesday (AFP photo)
WASHINGTON — The US Treasury imposed sanctions on Thursday against six individuals and three companies it said had funneled millions of dollars to the Iranian Revolutionary Guard's elite Quds Force, just days after President Donald Trump withdrew from the landmark 2015 Iran nuclear deal.
The Treasury Department said it was acting with the United Arab Emirates to disrupt the network and accused Iran's central bank of actively helping the group to access US dollars held in foreign bank.
"The Iranian regime and its Central Bank have abused access to entities in the UAE to acquire US dollars to fund the IRGC-QF's malign activities, including to fund and arm its regional proxy groups, by concealing the purpose for which the US dollars were acquired," Mnuchin said in a statement.
The six individuals and three entities were sanctioned under US regulations targeting specially designated global terrorist suspects and Iranian financial activity, the Treasury said.
The crackdown comes two days after Trump withdrew from the 2015 arms accord and as US Secretary of State Mike Pompeo pushes allies in Europe, Asia and the Middle East to pressure Iran to return to negotiations over its nuclear and missile programmes.
Trump's decision has given grace periods of 90 days to six months for companies to wind down their trade with Iran.
In February 2015, Reuters reported that at least $1 billion in cash had been smuggled into Iran despite US and other sanctions. Before it reached Iran, the cash was passed through money changers and front companies in Dubai, in the United Arab Emirates, and Iraq, sources told Reuters.
The report said Iran's central bank had worked with other entities, including sanctioned Iranian companies, to find ways to obtain US dollars, including using front companies and their networks. They said the central bank had given the orders to the front companies abroad to buy dollars.
Before the 2015 nuclear deal was reached, front companies had mushroomed in Dubai to facilitate payments to Iran. The use of multiple front companies, which bought dollars from currency traders in Dubai and Iraq, was preferred as it concealed the overall size of the dollar purchasing operation.
Related Articles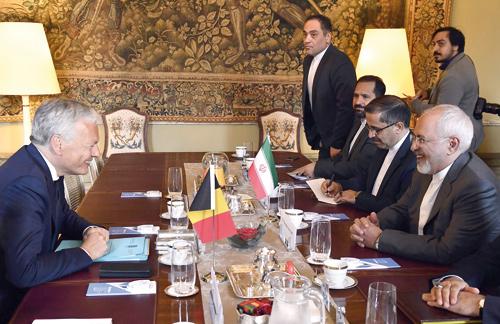 May 15,2018
BRUSSELS, WASHINGTON — Iran's foreign minister said on Tuesday that efforts to save the nuclear deal after the abrupt US withdrawal were "on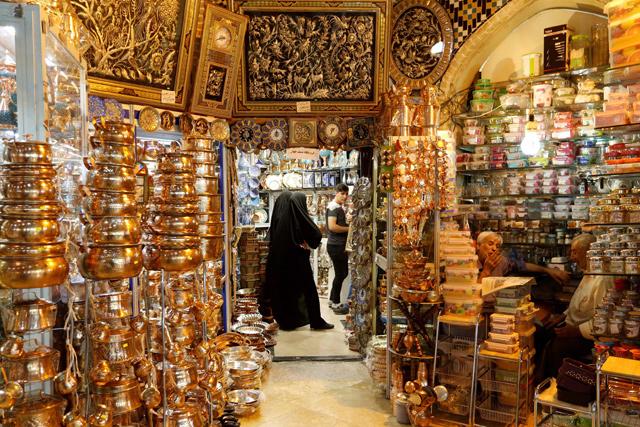 Jul 29,2018
DUBAI — Iran's currency plunged to another record low on Sunday, dropping past 100,000 rials to the US dollar as Iranians brace for August 7
May 08,2018
WASHINGTON — President Donald Trump said on Tuesday he was reimposing economic sanctions on Iran and pulling the United States out of an int
Newsletter
Get top stories and blog posts emailed to you each day.