You are here
US weighs options to speed Iraq's fight to retake Mosul
By Reuters - Feb 01,2016 - Last updated at Feb 01,2016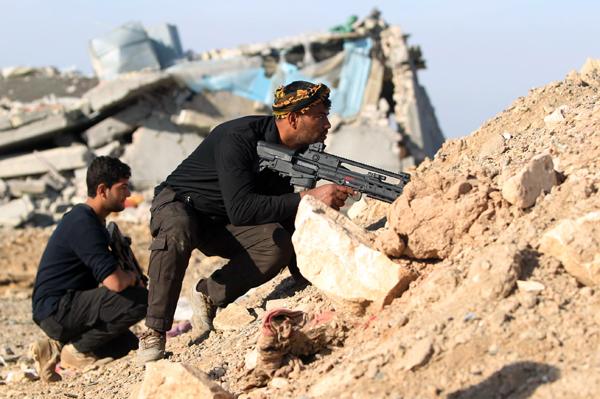 Iraqi forces keep position during clashes with Daesh militants in the eastern suburbs of Ramadi, the capital of Iraq's Anbar province, 120 kilometres west of Baghdad, on Monday (AFP photo)
WASHINGTON — The United States is willing to deploy Apache attack helicopters and advisers to help Iraq retake the city of Mosul from the Daesh terror group as it considers options to speed up the campaign against the extremist group, a top US general said on Monday.
US officials, including President Barack Obama, have said they want to accelerate the campaign against Daesh militants, and have called on allies to increase their military contributions to efforts to destroy the group in Iraq and Syria.
US Army Lieutenant General Sean MacFarland, the head of the US-led coalition battling Daesh in Iraq and Syria, said he is looking to retake Mosul as quickly as possible, but did not say whether he agreed with Iraqi estimates that it could be wrested from Daesh control by the end of this year.
"I don't want to put a date out there," MacFarland said. "I would like to get this wrapped up as fast as I possibly can."
Past steps to speed up the campaign have included the deployment of dozens of US special operations forces in northern Syria, and an elite targeting force to work with Iraqi forces to go after Daesh targets.
It could also include deployment of more military and police trainers, including from the United States. MacFarland said the US-led coalition has trained more than 17,500 Iraqi soldiers, and about 2,000 police, with another 3,000 soldiers and police in training now.
MacFarland said the proposals he is drawing up do not necessarily require the commitment of more US troops, who have largely stayed away from the front lines of combat. Instead, coalition partners could contribute troops, he said.
"As we extend operations across Iraq and into Syria ... there is a good potential that we'll need additional capabilities, additional forces to provide those capabilities and we're looking at the right mix," MacFarland said.
The United States is also ready to send Apache attack helicopters and deploy advisers to help Iraqi and Kurdish forces retake Mosul if requested, MacFarland said. US Defence Secretary Ash Carter said in December 2015, that the United States was ready to send the advisers and helicopters if requested by Iraq to help in the fight to retake Ramadi, but Iraqi officials did not ask for the extra help.
Iraqi forces retook Ramadi, a provincial capital just a short drive west of Baghdad, late last year.
"We can't inflict help on somebody, they have to ask for it, they have to want it, and we're here to provide it as required," MacFarland said. "Everything that the secretary said is really still on the table."
Related Articles
Dec 16,2015
BAGHDAD — US Defence Secretary Ash Carter and Iraqi leaders on Wednesday discussed the idea of greater US contributions to the fight against
Apr 18,2016
BAGHDAD — The United States will send more troops to Iraq, potentially putting them closer to the front lines to advise Iraqi forces in the
Dec 09,2015
WASHINGTON — The United States is prepared to deploy advisers and attack helicopters if requested by Iraq to help it "finish the job" of ret
Newsletter
Get top stories and blog posts emailed to you each day.