You are here
With wheelchairs, walking sticks, pilgrims throng Mecca for Hajj
By AFP - Sep 29,2014 - Last updated at Sep 29,2014
MECCA, Saudi Arabia — Their backs hunched, elderly Muslim pilgrims lean on walking sticks as others in wheelchairs nudge their way into Mecca's Grand Mosque where thousands of people are encircling the holy Kaaba.
"Allahu akbar" (God is greater), they chant in unison.
Most are Asian and African, among the hundreds of thousands of faithful who have descended on Saudi Arabia's holy city for the annual Hajj (the greater Muslim pilgrimage to Mecca) starting on Thursday.
The Grand Mosque, home of the cube-shaped Kaaba or "House of God" that Muslims believe was built by Abraham 4,000 years ago, was thronged Sunday for prayers and for the year-round minor pilgrimage or umrah.
With the call to prayer the crowds fall silent, many spreading their prayer rugs on roads leading to the mosque.
"I have never before witnessed such a feeling of happiness," says Aisha, 50, an Algerian pilgrim in a facemask walking hand-in-hand with her son Ahmed.
This year's Hajj comes as the authorities strive to protect pilgrims from two deadly viruses, Ebola and Middle East Respiratory Syndrome coronavirus or MERS.
While Ebola has hit Africa, most MERS cases worldwide have been in Saudi Arabia itself, home to Islam's holiest sites.
Pilgrims from Guinea, Liberia and Sierra Leone, the three nations hardest-hit by Ebola, which has killed more than 3,000 people in West Africa this year, have not been allowed in for the Hajj.
However Nigeria, where Ebola has killed eight people, was granted permission to send pilgrims to the world's largest gathering of Muslims.
"There was this scare earlier that pilgrims from Nigeria could not participate because of Ebola," Saeed Amisu tells AFP.
Like others from Nigeria, Amisu has had to complete two forms, one at home and another in Saudi Arabia, pledging that he had not visited any Ebola-hit town or contacted a patient.
Keeping disease at bay
Nigerians also underwent medical tests and their temperatures were recorded both in Nigeria and at Jeddah Airport, the main entry point for foreign pilgrims.
For prevention, "we were told to wash our hands with soap before" doing anything, Amisu says.
With so many people concentrated in such a limited area for a short time, "the Hajj season constitutes a factor increasing the likelihood of outbreaks or epidemics of infectious diseases", acting Health Minister Adel Fakieh has said.
According to Ahmed from Algeria, "there are certain nationalities we try to stay away from. We also try to keep away from closed areas and to keep wearing the face masks despite the hot weather".
No Ebola cases have yet been found in the kingdom, and health officials reported the latest MERS death on Thursday from Najran, near the Yemen border.
This year's Hajj also comes with Muslim nations drawn together by their opposition to Islamic State (IS) group jihadists.
Saudi Arabia and four other Arab states have joined Washington in targeting the militants in Syria with air strikes.
IS has seized large parts of Iraq and Syria, declaring a Muslim "caliphate" and imposing its harsh interpretation of Islamic law.
It has executed captured Iraqi soldiers, forced non-Muslims to convert and beheaded Western hostages on-camera.
Speaking after an annual military parade, Saudi Interior Minister Prince Mohammed Bin Nayef gave a reassurance that the Hajj would be secure.
He vowed the authorities would "decisively deal with this organisation (IS) and others".
Prince Mohammed is known as the kingdom's iron fist in the fight against Al Qaeda, having cracked down after deadly attacks in the country about a decade ago.
He urged pilgrims to shun "political and ideological" slogans during the Hajj, the official SPA news agency reported.
Related Articles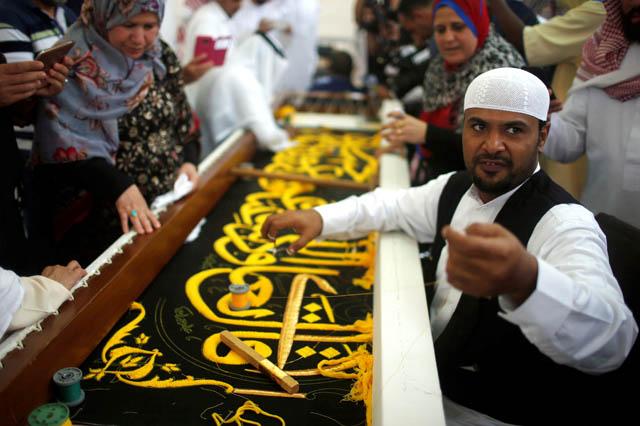 Aug 27,2017
MECCA, Saudi Arabia — Dozens of Saudi craftsmen, mostly in their 40s and 50s, are hard at work in a factory in Mecca preparing an embroidere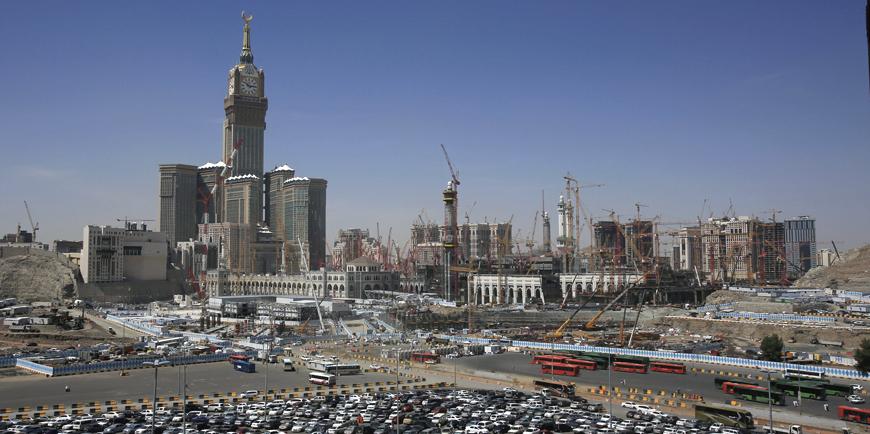 Sep 13,2015
MECCA, Saudi Arabia — The deadly collapse of a construction crane in Saudi Arabia's holy city of Mecca has highlighted the controversial pac
Aug 31,2017
MECCA, Saudi Arabia — More than 2 million Muslims from around the world began the Hajj pilgrimage at Islam's holiest sites Wednesday, a reli
Newsletter
Get top stories and blog posts emailed to you each day.