You are here
World Cup host Qatar to introduce labour complaint reform
By AFP - Mar 12,2018 - Last updated at Mar 12,2018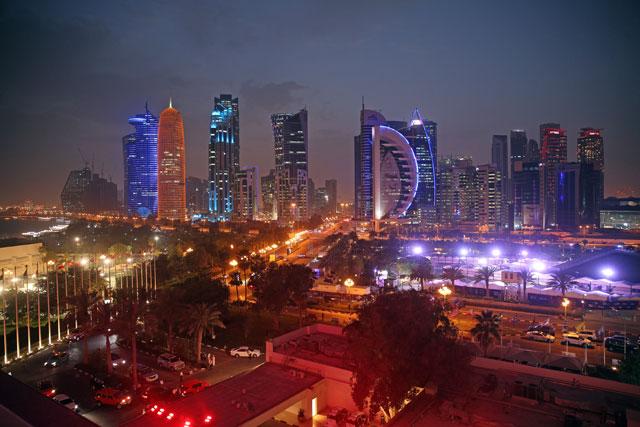 A general view of Doha, capital of Qatar, is seen as nightfall on Monday (Anadolu Agency photo)
DOHA, Qatar — Qatar on Saturday said it will introduce a labour panel to assess grievances by migrant workers later this month, a major reform agreed by the 2022 World Cup host with the United Nations.
A government spokesman confirmed to AFP reports in local Arabic language media saying that the reform would be introduced in eight days.
The spokesman said the panel would begin its work on March 18.
Labour disputes have, until now, been dealt with inside the court system, but the panel will be overseen by the labour ministry.
The panel was part of a package of wholesale reforms agreed by Qatar last November as it sought to head-off a potentially embarrassing enquiry being launched by the UN's International Labour Organisation (ILO) into alleged labour exploitation.
Other reforms announced included clamping down on passport confiscation by employers, making it easier for workers to switch jobs and the introduction of a minimum wage, which Qatar has "temporarily" set at 750 Qatari riyals ($206, 167 euro) a month.
Qatar has come under intense global pressure since winning the right to host the World Cup to overhaul its labour practices, which critics have compared to modern-day slavery.
Human rights groups have attacked the Gulf state for its "kafala" sponsorship system, which forces the country's some two million migrant workers to seek employer's consent to change jobs or leave the country.
Doha says the proposed reforms will dismantle kafala and place workers on a contractual system instead.
An ILO office will open in Qatar later this year, possibly as soon as next month.
Qatar, which is embroiled in a deepening diplomatic dispute with neighbouring countries, is spending around $500 million a week on preparing for the World Cup.
Related Articles
Mar 17,2015
Qatar has said it will push ahead with reforming its controversial "kafala" labour system, which critics have likened to modern-day slavery, without giving a timetable for when this will happen.
May 04,2015
Qatar's labour minister said Monday he hopes the country's controversial "kafala" system, which critics have likened to modern-day slavery, will be abolished before the end of this year.
Aug 15,2017
DOHA — An Arab embargo on Qatar is inflicting pain on foreign migrant workers struggling amid an oil slump and disruption of deliveries for
Newsletter
Get top stories and blog posts emailed to you each day.