You are here
Yemen allies agree to end tensions after deadly clash — officials
By Reuters - Aug 30,2017 - Last updated at Aug 30,2017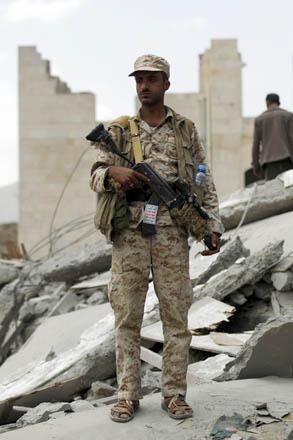 A Yemeni soldier stands on the debris of a house hit in an air strike on a residential district in the capital Sanaa on Saturday (AFP photo)
DUBAI — Leaders of the Houthi group and loyalists of former president Ali Abdullah Saleh, allies in Yemen's civil war, said on Tuesday they had agreed to ease tensions between them after three people were killed in a clash.
The violence late on Saturday between members of the Iran-aligned Houthis and Saleh loyalists marked a breakdown within the main political coalition fighting the Saudi-backed government of President Abed Rabbo Mansour Hadi in the 2-1/2-year-old conflict.
Aref Al Zouka, head of Saleh's General People's Congress (GPC), and the Houthi Ansarullah group's official spokesman Mohammed Abdulsalam led delegations at a meeting in the Yemeni capital Sanaa late on Monday.
The meeting decided to "remove all causes of the tensions that occurred in the capital Sanaa and to return the security situation to what it was before the activities last week," the two sides said in a statement.
The two fighting groups together rule northern Yemen and have maintained an uneasy alliance throughout a conflict that has killed at least 10,000 people and unleashed hunger and disease.
Saleh ran Yemen for three decades. A mass rally to commemorate his party's founding anniversary last week aroused the ire of the Houthis, who viewed it as a show of force meant to undermine them.
Tensions boiled over on Saturday night when Houthi fighters set up a security checkpoint near the home of Saleh's son and his media office.
Two Houthi fighters were killed and Yemeni media reported that an army colonel who served as a senior official in Saleh's GPC party also died.
Both sides agreed at the meeting to close ranks and to "unify efforts to confront the aggression", the statement said, referring to the Saudi-led military campaign in Yemen.
The Saudi-led coalition intervened in the war in 2015 in an effort to restore Hadi's government to power in Sanaa after the Houthis seized the capital and entered into alliance with Saleh.
Related Articles
Jan 11,2018
DUBAI — A nephew of slain Yemeni strongman Ali Abdullah Saleh, presumed dead or critically wounded in clashes with rebels last month, appear
Dec 28,2015
SANAA — Yemen's pro-rebel ex-president Ali Abdullah Saleh has rejected further peace talks with the government, saying dialogue should inste
Nov 30,2017
SANAA — Tens of thousands of Yemeni insurgent supporters rallied in Sanaa on Thursday, a day after deadly clashes between the Houthis and lo
Newsletter
Get top stories and blog posts emailed to you each day.