You are here
Bayern in no mood to repeat last year's mistakes
By Reuters - Feb 21,2014 - Last updated at Feb 21,2014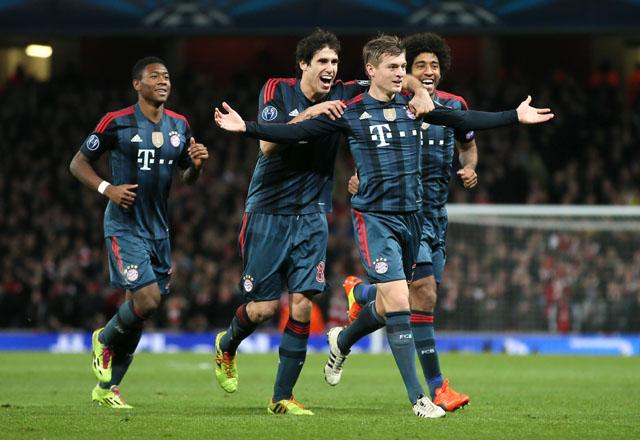 LONDON –– European champions Bayern Munich have no intention of making the same mistakes as they did against Arsenal last year when they meet in the second leg of their Champions League round of 16 tie next month.
Bayern overcame what captain Philipp Lahm described as a "huge challenge" in beating Arsenal 2-0 at the Emirates Stadium on Wednesday, with goals from Toni Kroos and Thomas Mueller after Arsenal had goalkeeper Wojciech Szczesny sent off in the first half.
A year ago to the day, Kroos and Mueller were also on the score sheet when Bayern beat Arsenal 3-1 in London at the same stage of the competition, making the second leg look like a formality.
However, Arsenal had other ideas and won 2-0 in Munich with Olivier Giroud scoring after three minutes and Laurent Koscielny four minutes from the end.
In the end Bayern survived, scrambling through on away goals, and recovered to sweep past Juventus 4-0 on aggregate in the quarter-finals and Barcelona 7-0 in the semis before beating Borussia Dortmund 2-1 in the all-German final at Wembley.
Since that 2-0 defeat to Arsenal, Bayern have scored in 51 successive matches, losing only two of them, and have built a commanding 16-point lead in the Bundesliga. Under coach Pep Guardiola, who took over from Jupp Heynckes last summer, they look even stronger than last season.
Captain Lahm, who had an outstanding match on Wednesday, said they would be taking nothing for granted in the second leg after last year's scare.
"Tonight was a huge challenge for us, especially as Arsenal played so well at the start, but in the end we can be very happy with the result," he told reporters.
"It is a good result to take back, but we have been warned by the match last year. All of us who were there know how quickly things can go wrong.
"We need to be alert from the first minute once again and will try not to make the same mistakes again."
Arsenal Manager Arsene Wenger, ruing the dismissal of his goalkeeper for a 38th-minute foul on Arjen Robben and an early missed penalty by Mesut Ozil, was able to take some comfort from what happened in Munich last year.
"We went there and won and we will try and do at least that again," he said. "It is not over and we will fight to the end, like we did last year."
Wednesday's match was full of drama and incident virtually from the first minute to the last. Arsenal battered Bayern with a series of early dangerous raids and were only denied by some excellent saves from goalkeeper Manuel Neuer.
The most important one came after eight minutes, when he stopped a penalty from his great boyhood friend and former Schalke 04 teammate Ozil.
Wenger admitted afterwards that Arsenal's record 42.1 million pounds ($70.36 million) signing was lacking in confidence after some recent poor displays.
It was Ozil's second penalty miss in the competition this season after failing from the spot against Olympique Marseille in the group stage, and his contribution was minimal as Bayern gradually took control of midfield and the match.
Whether he should be rested until he rediscovers his form is something for Wenger to ponder in the weeks ahead.
The turning point came when Szczesny was sent off for clattering Robben, although David Alaba also missed the ensuing penalty, cracking his left-foot attempt against the left-hand post.
Bayern did score through the superb Kroos, who thundered in a right-foot curler early in the second half, and they wrapped up the match with an 88th minute header from substitute Mueller before Kroos hit a post in the last minute.
If that attempt had gone in, there surely would have been no way back for Arsenal in Munich on March 11, but trailing by two goals — as they did last year, albeit without scoring at home — gives the Gunners some hope.
However, the result also gives Bayern plenty of belief that they can become the first club in the Champions League era to retain the European Cup, a feat no team has achieved since AC Milan won it in 1989 and 1990.
Related Articles
Mar 10,2014
Arsenal and Manchester City face monumental tasks when they visit European powerhouses Bayern Munich and Barcelona looking to overturn 2-0 deficits in the second legs of their Champions League last-16 ties.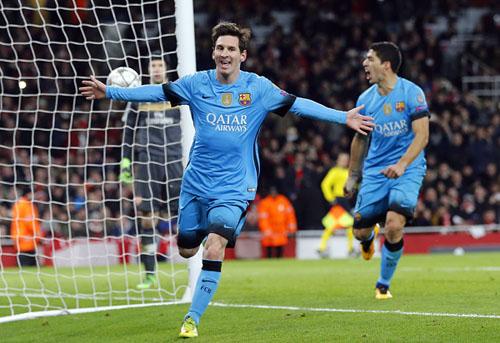 Feb 24,2016
LONDON — Barcelona's Lionel Messi broke free from Arsenal's shackles to score two late goals and put the Champions League holders on the bri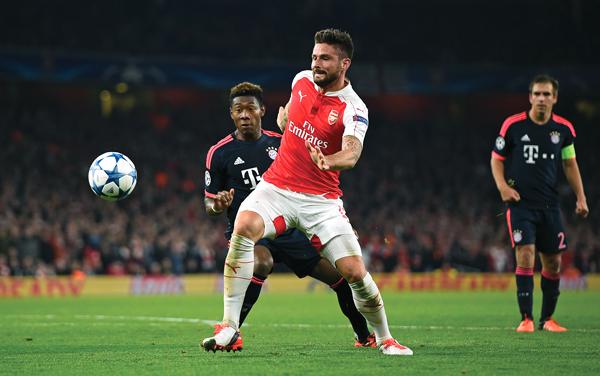 Oct 21,2015
PARIS — Arsenal remains bottom of Group F in the Champions League but the Gunners finally got their campaign under way with a 2-0 win over B
Newsletter
Get top stories and blog posts emailed to you each day.