You are here
Cavaliers, Wizards and Bucks even series
LeBron James hits 12 of 22 field-goal attempts, grabs a team-high 13 rebounds
By Reuters - Apr 23,2018 - Last updated at Apr 23,2018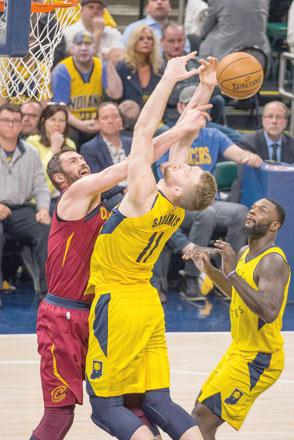 Cleveland Cavaliers centre Kevin Love fouls Indiana Pacers centre Domantas Sabonis during their NBA game in Indianapolis, Indiana,on Sunday (Reuters photo by Trevor Ruszkowski)
LeBron James scored 32 points and Kyle Korver hit two clutch 3-pointers late in the fourth quarter to lead the Cleveland Cavaliers to a 104-100 victory over the Indiana Pacers, evening their first-round play-off series at two games apiece Sunday night in Indianapolis.
James, who hit 12 of 22 field-goal attempts, grabbed a team-high 13 rebounds. Korver scored 18 points, including eight in the final three-plus minutes. JR Smith and Jordan Clarkson each scored 12 points for the Cavaliers.
Game 5 in the best-of-seven Eastern Conference quarter-final series is Wednesday night in Cleveland.
Victor Oladipo sank a 3-pointer to cut Indiana's deficit to 103-100 with 11.9 seconds to go. Pacers guard Lance Stephenson was called for foul after taking Jeff Green down trying to tie the ball up. Green hit one free throw. Bojan Bogdanovic missed a 3-pointer with 3.9 seconds left, and James sealed it by grabbing the rebound.
Domantas Sabonis came off the bench to lead the Pacers with 19 points on 9-of-12 shooting. Myles Turner contributed 17 points on 7-of-9 shooting. Thaddeus Young added 12 points and a team-high 16 rebounds. Oladipo scored 17 but hit just 5 of 20 shots from the floor. Boganovic, who scored 30 in Game 3 victory, had 10 points, making just 4 of 13 field-goal attempts.
Korver put Cleveland ahead for good at 94-93 with a 3-pointer with 3:48 to play. Following a Pacers miss, James hit a driving layup. After Oladipo's basket, Korver hit another 3-pointer to make it 99-95.
The Cavaliers shot 44.9 per cent from the field to the Pacers' 43 per cent. The 3-point shooting was nearly identical with Indiana making 12 of 33 and Cleveland 12 of 34.
The Pacers cut the Cavaliers' 10-point halftime lead to 80-78 heading to the fourth quarter, the fourth time Indiana trimmed the Cavaliers' lead to two points in the second half.
Stephenson tied it at 80-all on the first basket of the final quarter. After a James layup, Sabonis drilled a 3-pointer to give the Pacers their first lead since the first quarter.
After the Pacers took a 91-89 lead on Young's put-back, James got called for a technical foul for shoving Stephenson. Oladipo hit the free throw.
James scored 23 in the first half, and Cleveland held a 60-50 halftime lead.
The Cavaliers' largest first-half lead was 49-33 midway through the second quarter.
Smith sank a 3-pointer from beyond half-court at the buzzer to give the Cavaliers a 30-24 lead at the end of the first quarter.
Kevin Love picked up his second foul with one-and-a-half minutes gone in the first quarter and was replaced by Tristan Thompson, who saw his first action since Game 1. Love was scoreless in nine-plus minutes in the opening half. He wound up five points on 2-of-10 shooting, though he added 11 rebounds.
The Cavaliers had to play without starting point guard George Hill, who was sidelined due to back spasms. Jose Calderon started in his place and contributed five points and two assists.
Wizards 106, Raptors 98
Bradley Beal scored 31 points before fouling out, and John Wall recorded 27 points, 14 assists, six rebounds and three steals as Washington posted a victory over visiting Toronto to even their Eastern Conference first-round series at two games apiece.
Beal made 5 of 7 3-point attempts before his exit as his teammates closed out the victory in impressive fashion. Marcin Gortat and Otto Porter Jr. added 12 points apiece and Kelly Oubre Jr. scored 10 for the eighth-seeded Wizards. Shortly after Beal's exit, the Wizards took control with a 12-2 burst to take a 104-96 lead with 21.9 seconds left.
DeMar DeRozan had 35 points, six rebounds and six assists for the top-seeded Raptors, who were outscored 66-47 in the second half. Kyle Lowry made four 3-pointers, while scoring 19 points for Toronto. Game 5 is Wednesday in Toronto.
Bucks 104, Celtics 102
Giannis Antetokounmpo tipped in Malcolm Brogdon's missed floater for the game-winning bucket with 5.1 seconds remaining as host Milwaukee beat Boston to even the series at 2-2.
Antetokounmpo had 27 points and Khris Middleton had 23 to power Milwaukee, who lost the first two games of its Eastern Conference quarterfinal series in Boston before coming to life with two home wins. Game 5 is Tuesday in Boston.
Boston's Marcus Morris missed a fadeaway jumper at the buzzer that would have tied it. The Celtics have never lost a play-off series when leading 2-0. Milwaukee, who won 116-92 in Game 3, have never won a series after starting in an 0-2 hole.
Spurs 103, Warriors 90
LaMarcus Aldridge banked in a 3-pointer to stave off a Golden State rally in the fourth quarter, allowing host San Antonio to avoid a sweep in its first-round play-off series.
Game 5 in the best-of-seven series will take place on Tuesday night at Golden State, with the Warriors leading 3-1, one win away from a second-round matchup with the New Orleans Pelicans.
The Spurs never trailed, leading by as many as 10 in the first quarter and 17 in the second as Ettore Messina coached the Spurs in the season-saving win as head coach Gregg Popovich missed his second straight game following the death of his wife Erin. Aldridge scored a team-high 22 points. Kevin Durant led the Warriors with 34 points and 13 rebounds.
Related Articles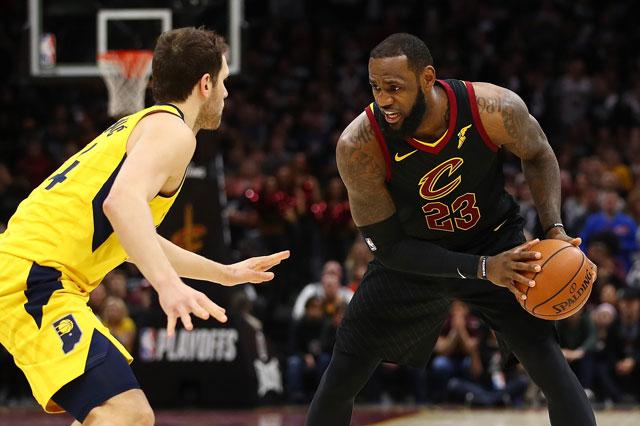 Apr 30,2018
LeBron James scored 45 points as the Cleveland Cavaliers beat the Indiana Pacers 105-101 in the decisive seventh game of their first-round p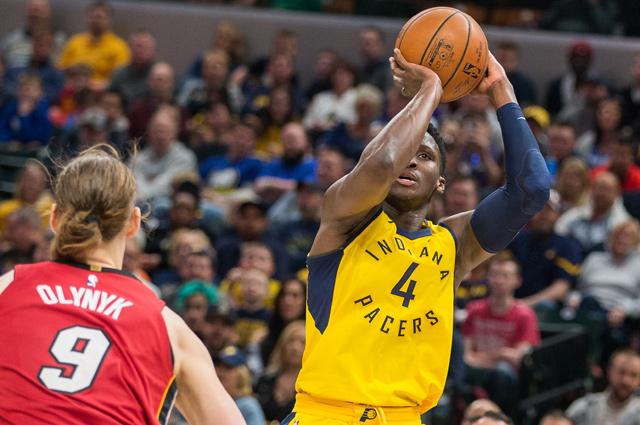 Mar 26,2018
Victor Oladipo scored 23 points, including a key overtime 3-pointer, to lead the Indiana Pacers to a 113-107 victory over the Miami Heat on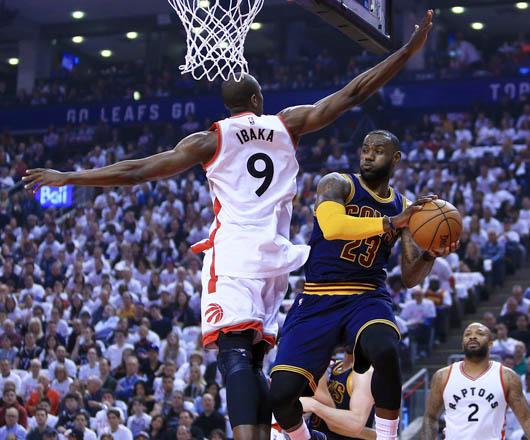 May 08,2017
TORONTO — The Cleveland Cavaliers remain undefeated in their first eight play-off games this season.That does not mean it has been easy, eve
Newsletter
Get top stories and blog posts emailed to you each day.