You are here
Cavs loss puts LeBron's finals streak in jeopardy
By Reuters - May 24,2016 - Last updated at May 24,2016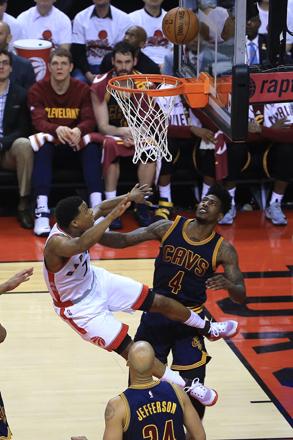 Kyle Lowry of the Toronto Raptors falls as he shoots in the fourth quarter against Channing Frye and Iman Shumpert of the Cleveland Cavaliers in Game 4 of the Eastern Conference finals during the 2016 NBA play-offs in Toronto, Ontario, Canada, on Monday (AFP photo by Vaughn Ridley)
TORONTO — LeBron James has had a standing reservation with the NBA finals for five consecutive years, but the best player of his generation is suddenly in jeopardy of seeing his remarkable streak come to an end.
James has been playing some of the best basketball of his career during the 2016 play-offs but was unable to rally the Cleveland Cavaliers to a victory on Monday that would have all but punched their ticket to the championship round.
Instead, the Cavaliers fell 105-99 to the Toronto Raptors, who tied up the best-of-seven Eastern Conference final at 2-2 with a second consecutive home victory.
James, determined to bring a maiden NBA championship to the Cavaliers and snap a city-wide title drought in all major sports that dates back to the National Football League-winning Cleveland Browns in 1964, had a team-high 29 points in the loss.
"It wasn't enough because we got off to a horrible first half once again in this building and you're playing catch-up again," James told reporters of his team's 57-41 deficit after two quarters.
"We are not starting off games the right way. The second quarter has been really bad for us here, so we got to do a better job of that and we can't dig ourselves such a deep hole."
Knowing his legacy will be measured by the number of titles he wins, the next few days could be among the most important of the two-time NBA champion's career.
Gave everything
Getting to the NBA finals in five consecutive years is no easy feat and at 31, James needs to take advantage of every opportunity to add a third title to his resume, especially when his team has ventured this deep into the play-offs.
But since James knows more than most about what it takes to reach the NBA finals, he is not ready to panic with his Cavs heading home for Wednesday's pivotal Game 5.
In fact, James, playing his second season back in Cleveland after winning two championships in four seasons with the Miami Heat, was very satisfied with his performance in the loss.
"For me, I gave everything that I had in the 46 minutes that I played," James said. "Both offensively and defensively I felt great. I tried to get my guys involved and get myself involved so my individual gameplan was pretty good."
The defeat marked the first time since 2010 that Cleveland, who were coming off a 15-point Game 3 defeat in Toronto, lost consecutive play-off games to an Eastern Conference foe.
Toronto opened up an 18-point lead late in the second quarter but Cleveland battled back and pulled ahead with eight minutes to play.
But Toronto, powered by a combined 67 points from Kyle Lowry and DeMar DeRozan, took advantage of a handful of defensive mistakes by Cleveland to regain the lead and breathe new life into the series.
"Even at the end of the day, as well as they played, we still had a chance to win the ball game," James added. "What we can't do is a dig a hole like we did in the first half."
Related Articles
May 30,2018
Carrying the Cleveland Cavaliers to this year's NBA finals is among the most impressive feats of LeBron James' career but the challenge that
May 28,2016
TORONTO — LeBron James is not just going back to the NBA finals.
May 16,2016
TORONTO — Less than two weeks ago, Kyle Lowry was a struggling so badly that he stayed past midnight to work on his game after a tough play-
Newsletter
Get top stories and blog posts emailed to you each day.