You are here
Children's Race of Samsung Amman Marathon concludes
By Roufan Nahhas - Oct 22,2016 - Last updated at Oct 23,2016
Kids take-off at the start of the Samsung Amman Marathon on Friday (Photo courtesy of Run Jordan)
AMMAN — The Children's Race of the 8th Samsung Amman Marathon concluded on Friday with the participation of 2,700 children representing various schools in the Kingdom.
There where more than 500 children from the Junior Runners Programme participated in the Children's Race for free, representing the various governorates where this programme is successfully being implemented.
Lina Kurd, Run Jordan General Manager, told The Jordan Times that this programme is an excellent initiative.
"The programme is one of Run Jordan's new activities that was established to improve the health of children by providing them the tools, motivation, and support to live happier, healthier lifestyles," she said.
"It also promotes long-distance running at both private and government schools all through the Kingdom, a sport we saw that is very popular among students, that is why we believe that empowering boys and girls aged 6-12 to achieve things that they never thought possible is a great idea," she added.
Each year there is an increasing in the number of children participating in the Samsung Amman Marathon Children's Race, which is a healthy indication that we are facilitating a healthy change in our kids' attitude towards sports in general and running in particular, Kurd said.
"This in turn will make our vision at Run Jordan a reality in creating a nation of healthy athletes who will bring glory to our Kingdom. We encourage families to join us and take advantage of this great opportunity to start a tradition of regular physical activity that is fun, exciting, rewarding and great for self-confidence," she added.
Prizes were distributed to winners while all participants received medals for finishing the race.
HH Princess Dana Firas, deputised for HH Prince Firas Bin Raad, Run Jordan chairman.
Children's Race results:
6-8 years
Males Females
Mahmoud Tumaizi 9:18:11m Malak Abu Salem 9:20:13m
Qasem Tabaa' 9:18:36m Sewar Weshah 9:20:46m
Saleh Karajah 9:19:16m Razan Mahmoud 9:21:30m
9-11 years
Males Females
Suleiman Abu Shabab 9:17:06m Ayat Shatnawi 9:18:08m
Yousef Hlayyel 9:17:08m Laila Tabaa' 9:18:08m
Odeh Fakhoury 9:17:14m Yara Saleh 9:18:10m
12-14 years
Males Females
Mubarak al Da'ajah 9:16:17m Nasiba Oshaibat 9:17:33m
Hamzeh Rahhal 9:16:35m Hanan Oshosh 9:17:58m
Mohammad Gtaish 9:16:53m Karma Al Aloul 9:17:58m
Related Articles
Mar 28,2015
The Children's Porto Dead Sea Ultra Marathon concluded on Friday with the participation of a record number of children aged 6-14 years at the King Hussein Park.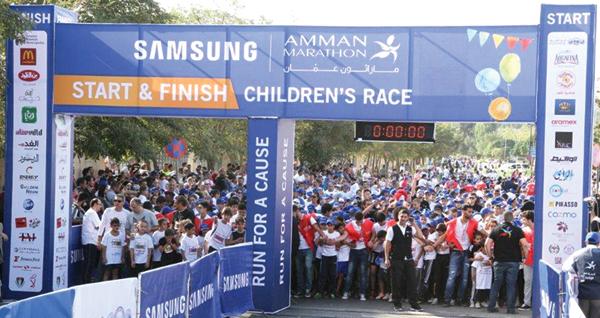 Oct 03,2015
AMMAN — The 4.2km Amman Marathon Children's Race concluded on Friday with the participation of 1,500 children between the ages of 6-14 at Ki
Jan 31,2016
AMMAN — Run Jordan, the sole entity dedicated to bringing together different marathon events and races in Jordan under one umbrella, will ha
Newsletter
Get top stories and blog posts emailed to you each day.