You are here
Faisali impressive in Arab Clubs Championship
By Aline Bannayan - Aug 07,2017 - Last updated at Aug 07,2017
AMMAN — Faisali lost a hard-fought final and conceded the title to Tunisia's Esperance (Tarajji) in the final of the Arab Clubs Championship which ended in Alexandria, Egypt, on Sunday.
The Jordan Professional Football League and Jordan Cup champs came from 2-0 down to tie the game 2-2 and forced extra time. They seemed determined to win the Arab title for the first time, but eventually lost 3-2 in extra time. However, commentators seemed to agree that the winning goal was offside and that the referee left a Faisali player injured on the pitch with Tarajji players continuing to play.
"I do not know how to congratulate the winning team," Faisali's Montenegrin coach Nebojsa Jovovic told at a press conference. " I know my guys played so well, and the match will provide a chance for lessons for many sides," he said alluding to controversial officiating in the final.
Things got out of hand as Faisali fans took offence going on to the pitch to vent their frustration and complain about the "unjust" result of the match.
It was the second time Faisali played for the title of the elite Arab competition.
They were impressive throughout the event. In the first round they topped Group A, after beating the UAE's Wihdeh 2-1 and scoring 1-0 wins over Algeria's Hussein Dey and hosts Egypt's champion Ahli. In the semis, Faisali again beat Egyptian giants Ahli 2-1 while two-time champs Esperance beat Morocco's Rabat also 2-1 to advance in the other semifinal.
No Jordanian team has won the competition that kicked off in 1980 and had different format under five different editions. Faisali were runners up to ES Setif in the Arab Clubs Championship in 2007, and were also runners up in the Arab Super Cup in 1996.
Twelve teams played in three groups, with Egypt's Ahli finishing best runner up behind Faisali in Group A as Group B was led by Morocco's Rabat which included Egypt's Zamalek, Saudi Arabia's Nasser and Lebanon's Ahed while Tunisia's Esperance topped Group C which included Sudan's Marrikh, Saudi Arabia's Hilal and Iraq's Naft Al Wassat.
Faisali are twice winner of the Asian Football Confederation (AFC) Cup. In the 2016/17 season they won the Pro League and Jordan Cup titles, while Ahli beat Wihdat to win the 34th Super Cup and Shabab Urdun won the Jordan Football Association Shield.
Wihdat this year finished third in the league and failed in any of the four local competition titles. They were eliminated from the 14th Asian Football Confederation (AFC) Cup semifinals and the preliminary round of 2017 AFC Asian Champions League (ACL). Jordanian teams have never before made it past the ACL preliminary round. Wihdat were knocked out in 2016 and 2015, and Shabab Urdun in 2014.
The Arab Clubs Championship is an annual regional club football competition organised by the Union of Arab Football Associations and contested by elite clubs, all of which are either winners or runners-up of their country's league or cup competition.
After being put on hold for three seasons, the tournament returned for the 2017 season.
up
235 users have voted, including you.
Related Articles
Aug 05,2017
AMMAN — Faisali play Esperance Tunis (Tarraji) in the final of the Arab Clubs Championship, which concludes in Alexandria, Egypt on Sunday.I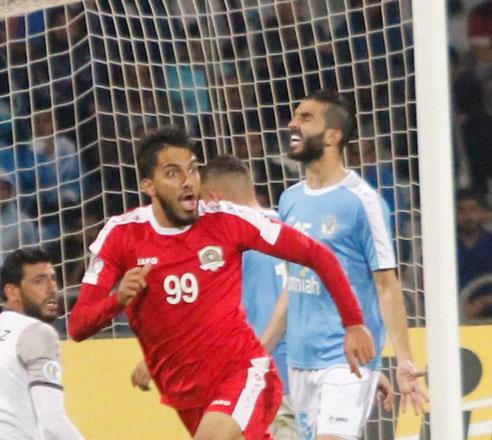 May 16,2018
AMMAN — Jazira will play the Iraqi Air Force Club in the 15th Asian Football Confederation (AFC) Cup West Asia Zone final set for September
Feb 25,2018
AMMAN — Jazira host Bahrain's Malikieh on Monday while Faisali play Lebanon's Ansar on Tuesday in Beirut in stage 2 of the 15th Asian Footba
Newsletter
Get top stories and blog posts emailed to you each day.