You are here
Federer fends off British 'mirror' Evans to advance
By Reuters - Jan 16,2019 - Last updated at Jan 16,2019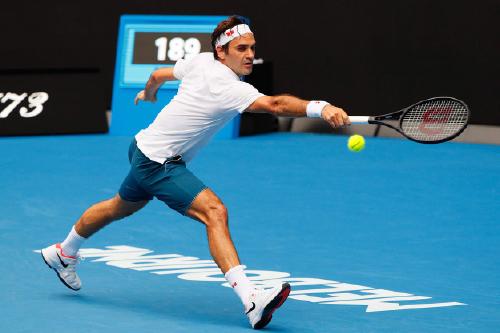 Switzerland's Roger Federer hits a return against Britain's Daniel Evans during their men's singles match at the Australian Open tournament in Melbourne on Wednesday (AFP photo by David Gray)
MELBOURNE — Double defending champion Roger Federer weathered a stern test from the impressive Dan Evans and paid the British battler the ultimate compliment after prevailing 7-6(5), 7-6(3), 6-3 to reach the third round of the Australian Open on Wednesday.
Having thrashed Denis Istomin in his Melbourne Park opener, third seed Federer faced a different beast in world number 189 Evans, who made a mockery of his ranking and pushed the Swiss hard throughout a high-quality duel at Rod Laver Arena.
"It feels like playing a mirror a little bit and that was my mindset going in," 20-times Grand Slam champion Federer said of qualifier Evans, who is rebuilding his career after serving a year-long drug ban.
"He has a lot of slice and more serve and volley, my size can help me a bit more."
Showcasing a sturdy defence and counter-punching gamely, Evans broke Federer for the first time in the tournament, dragging the former World No. 1 into a second tiebreak to cheer British fans after Andy Murray's first round elimination.
But the Birmingham man lacked the edge in the clutch points while Federer was clinical.
He broke Evans in the fourth game of the third set and served out the match to love, sealing the win with an imperious backhand winner down the line.
"He was feeling it today, I thought," said Federer, who will play Taylor Fritz for a place in the fourth round.
"He was very sort of cat and mouse a bit. Very interesting. I liked the match. I thought he was playing well. It was enjoyable."
Evans sparkled in a run to the fourth round at the 2017 tournament but missed last year's action at Melbourne Park, after testing positive for cocaine at the Barcelona Open.
He entered Rod Laver Arena for his Federer match-up to a soundtrack of Blur's Britpop anthem "Parklife".
There was nothing hazy about his game, however, as he attacked the lines with abandon and rushed the net with conviction.
He saved a set point at 6-5 with a punchy backhand volley down the line and had Federer on the ropes in the tiebreak.
But instead of volleying into an open court to prise a set point off the Swiss, he pushed the forehand well wide.
Reprieved, Federer took full advantage and closed out the set when a scrambling Evans missed a desperate backhand passing short.
The Briton was clearly gutted by the lost chance and promptly threw away his next service game in the second set while still in a funk.
Yet, he regathered his wits quickly.
He battled to save two set points at 5-3 down and then broke back to 5-5, outpointing Federer with an elegant one-handed backhand passing shot that the former World No. 1 would have been proud to call his own.
Once again, Federer lifted in the tiebreak, bringing up three set points in a trice and converting the first with an ace.
From there it was a formality for one of the game's most ruthless front-runners as Federer cruised to victory to keep his bid for a hat-trick of Melbourne titles alive.
Federer has given cold comfort to the next generation of men's players hoping for Grand Slam glory, saying he, Novak Djokovic and Rafa Nadal are still deserving favourites to claim the game's biggest trophies.
The top three seeds at Melbourne Park raffled all four of the majors between them last year, with Federer winning his sixth Australian Open, Nadal claiming his 11th French Open and World No. 1 Djokovic sweeping Wimbledon and the US Open.
Before the tournament, top seed Djokovic declared the three should be favourites to win the Slams, and Federer agreed when asked after his Evans match.
"Yes, I guess so," the third seed told reporters.
"I mean, look, I think we know how to win Slams, Novak, Rafa, myself. I mean, Rafa has to be the number one favourite, I don't care how he feels, before the French.
"Novak is always a favourite on the hard courts, basically any court if he's feeling 100 per cent, if he plays like last year.
"Maybe just because of my amount of titles I have at Wimbledon and other places, maybe also have to put me in the mix every time, as well."
The last time a player not named Federer, Djokovic or Nadal won a Grand Slam was at the 2016 US Open where Swiss Stan Wawrinka claimed his third Grand Slam trophy.
Pundits have decried the younger generation's failure to break into the Grand Slam cartel enjoyed by the old guard, but have some tipped change at the top this year.
"There are other guys, no doubt about it," said 37-year-old Federer. "I think also with Sascha [Alexander Zverev] holding the World Tour Finals, I think it's fair to say that even though he has not ripped through those Slams yet, he will go deep this year definitely at one of them.
Newsletter
Get top stories and blog posts emailed to you each day.