You are here
Guardiola banking on 'angry Ribery' to pip Real
By Reuters - Apr 28,2014 - Last updated at Apr 28,2014
MUNICH –– Bayern Munich coach Pep Guardiola is counting on Frenchman Franck Ribery's anger to power them past Real Madrid in their Champions League semifinal second leg on Tuesday despite the winger's recent slump in form.
Ribery had a sparkling season until Bayern clinched the Bundesliga title with seven games to spare.
The team has since looked like a pale shadow of its former scintillating self that broke record after record en route to the league title with Ribery having lost his spark down the left wing as Bayern notched just two wins in their last five league games.
"Franck Ribery is extremely important for this club, for the team," Guardiola told reporters on Monday ahead of the second leg following their 1-0 defeat in Madrid last week.
"He was playing angry against Bremen [in Bayern's 5-2 win on Saturday]. Franck needs this aggression, he needs to play angry.
"He keeps fighting and that is why fans love him. He is one of the best players in Bayern history, he has always performed at the highest level and we need the best Ribery."
Bayern were again unconvincing for much of the game against Bremen before an explosive second half saw them charge past their opponents with Ribery also on target.
Guardiola, in his first season in charge, is looking to lead Bayern to an unprecedented back-to-back Champions League win and should they make the final they would equal Juventus' record of having reached three consecutive finals in this competition (1996-98).
They will, however, need to score against a team that last week successfully managed to keep the Bayern attack under complete control despite the Germans' overwhelming possession.
"I cannot imagine that [Real coach] Carlo Ancelotti will set up his team in such a way as to just keep the result," said the Spaniard. "That would be difficult to maintain. Obviously it is clear what we need to do. We need to score more than one goal."
"Real are a quick team so we always have to be positioned well when we lose possession. The best is to keep them a long way away from our goal."
Guardiola refused to speculate on the participation or not of Real's Cristiano Ronaldo and Gareth Bale, with the former twice on target in Saturday's 4-0 win over Ossasuna following a minor knee injury and the Welshman missing that game with a flu.
"To me it makes no difference whether Real have Cristiano Ronaldo and Bale available," he said.
Ribery's teammate Arjen Robben said they would not be surprised again by a defensive Real formation.
"Real are coming here with a lot of confidence but they also know that nothing is for free here," Robben told reporters.
"It will not be easy for them. We have to play quickly forward and score but we have to be careful of their counterattacks. We were a bit surprised by how defensive they were in the first leg."
"We are still hungry and we want to make history and reach the final," he said.
Related Articles
Aug 12,2015
BERLIN — Bayern Munich have set their sights on a record fourth consecutive Bundesliga title when the league gets under way this week, with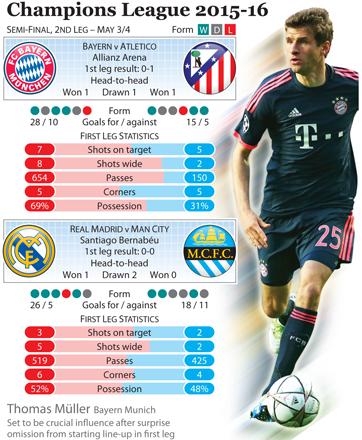 May 02,2016
Bayern Munich are desperate to avoid losing a third consecutive Champions League semifinal to Spanish opponents when they host Atletico Madr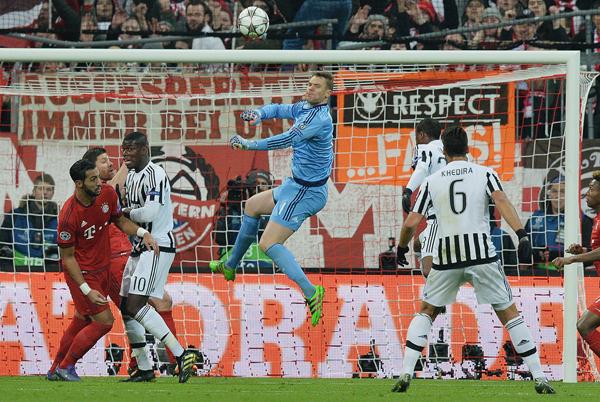 Mar 17,2016
MUNICH — Thomas Mueller equalised in the first minute of injury time and Bayern Munich scored two more goals in extra time to complete a thr
Newsletter
Get top stories and blog posts emailed to you each day.