You are here
Jazira, Faisali play tough matches in AFC Cup
By Aline Bannayan - Feb 25,2018 - Last updated at Feb 25,2018
AMMAN — Jazira host Bahrain's Malikieh on Monday while Faisali play Lebanon's Ansar on Tuesday in Beirut in stage 2 of the 15th Asian Football Confederation (AFC) Cup.
Both Jordanian teams will be facing the group leaders after the second-tier Asian club competition kicked off around the continent with both Jazira and Faisali held to draws. Jazira held Iraqi Air Force Club 2-2 in Group A in which Malikieh beat Oman's Suweiq 4-1.
On the other hand, Faisali held Syria's Wihdeh by the same score in Group C in which Ansar beat Oman's Dhofar 2-0. The top teams from each group in addition to the best second placed team will move to the second round of the competition.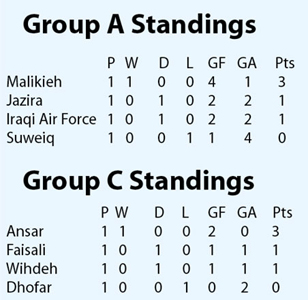 Earlier this season, Faisali lost their 2018 AFC Champions League play-off match to Uzbekistan's Nasaf Qarshi 5-1 and failed to reach the group stages of Asia's elite club competition. They have now settled to play the AFC Cup alongside their compatriots Jazira. Jordanian teams have never before made it past the ACL preliminary round. Wihdat were knocked out in 2017, 2016 and 2015, while Shabab Urdun were eliminated in 2014.
Reigning Jordanian Professional Football League and Cup champs Faisali finished runner-up to Tunisia's Tarajji in the last edition of the Arab Clubs Championships after an impressive performance which included two wins over Egyptian veterans Ahli. This year, they are so far fourth in the league and hope to make up on the regional scene.
Last season, Ahli played the AFC Cup for the first time and Wihdat reached the West Asia zone semifinals the winner of which faced the winner from the rest of the Asian zones to decide the AFC Cup champion, won by Iraqi Air Force Club for the second year running. The AFC Cup was previously won three times by Jordanian teams: Faisali won titles in 2005 and 2006, and Shabab Urdun won in 2007. Other Jordanian teams that competed are Wihdat, Jazira, Ramtha, Hussein and That Ras.
Locally, so far this season, reigning league and Jordan Cup champs Faisali beat Jazira to win the 35th Jordan Super Cup. Wihdat beat Jazira to win the Jordan Football Association Shield. In the Jordan Cup, Jazira ousted Faisali while Shabab Urdun eliminated Wihdat to reach the final.
Related Articles
Mar 04,2018
AMMAN — Jazira play Oman's Suweiq, while Faisali host Oman's Dhofar on Monday in Stage 3 of the 15th Asian Football Confederation (AFC) Cup.
Mar 12,2018
AMMAN — Jazira face Oman's Suweiq, while Faisali play Oman's Dhofar on Tuesday, in Stage 4 of the 15th Asian Football Confederation (AFC) Cu
Feb 11,2018
AMMAN — Jazira kick off the 15th Asian Football Confederation (AFC) Cup on Monday when they play titleholders Iraqi Air Force Club in Group
Newsletter
Get top stories and blog posts emailed to you each day.