You are here
Jordan hosts Saudi in 2026 World Cup qualifiers
By Aline Bannayan - Nov 20,2023 - Last updated at Nov 20,2023
AMMAN — Jordan hosts Saudi Arabia on Tuesday in its second qualifier for the 23rd World Cup 2026 which also serve as qualifiers for the 2027 Asian Cup,
Jordan was held 1-1 with Tajikistan last week in the first match of Group G qualifiers, while Saudi beat Pakistan 4-0 to lead the group as 36 Asian teams are playing in 9 groups with the top two teams from each group advancing to Round 3.
As Jordan preps up for the 7:00pm match at Amman International Stadium, the national team is facing an uphill battle of getting off to a good start in the qualifiers with the hope of advancing Jordan to the 2026 World Cup with Asia allotted 8 slots in the next edition in additional to a zonal qualifier after expanding the number to include 48 nations.
However, under new Moroccan coach Hussein Amouta, Jordan is yet to score a win in five matches played so far. Jordan so far lost 6-0 to Norway and 2-1 to Azerbaijan, 3-1 to Iran and tied Iraq 2-2 before losing on penalties in a friendly tourney leading Amouta to drop 9 players from the last lineup and recall six new players.
In official match records with Group G teams, Jordan, now ranked 86th, had upset now 108th ranked Tajikistan twice in the qualifiers for the 2018 World Cup. While Jordan has beaten now 53rd ranked Saudi three times.
Goalie Yazeed Abu Laila underlined the lineup was getting more coherent and adapting to new coach's strategy and style who has announced his eventual aim would be "to have a younger competitive group who can serve the national team for upcoming years".
Jordan also hopes for an advanced spot in the upcoming Asian Cup 2023 slated for Qatar in January 12, 2024, where they will play in Group E alongside Bahrain, Malaysia and South Korea.
Related Articles
Nov 15,2023
AMMAN — Jordan's national football team is set to meet Tajikistan on Thursday as it starts qualifiers for the 23rd World Cup 2026 which also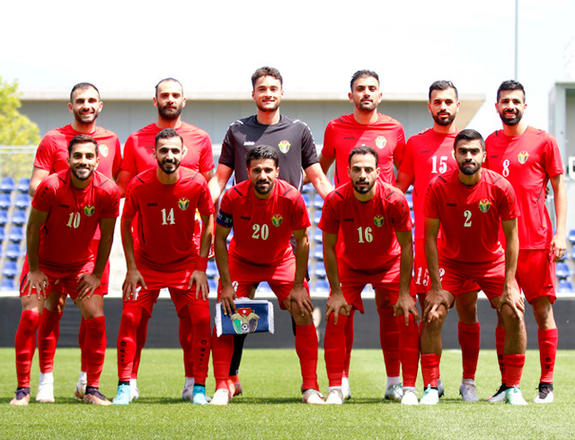 Nov 28,2023
AMMAN — The national football teams seem to have an uphill journey ahead as they start the countdown to their respective i
Oct 12,2023
AMMAN — Jordan hosts a four nation tourney on the weekend as national football teams prepare for the 23rd World Cup 2026 qualifiers set to k