You are here
Jordan Olympic Committee urges Olympians to 'make us proud'
By JT - Jul 27,2016 - Last updated at Jul 27,2016
AMMAN — Jordan will compete in six sports at the Olympic Games taking place in Rio de Janeiro from August 5, according to the Jordan Olympic Committee (JOC) News Service.
The role of the Kingdom's athletes will be much more important than going for gold, according to Lana Al Jaghbeer, the secretary general of the JOC.
The delegation is flying to Brazil in good spirits following intensive training camps over the past month and they received their final briefing session at the JOC on Tuesday ahead of their long journey to South America.
Jordan will feature in swimming, athletics, taekwondo, boxing, judo and triathlon during the two-week multi-sport extravaganza and the delegation has received a strong message of support from the JOC.
"On behalf of the entire Jordanian sporting family, I wish these athletes well in representing us on the world's greatest sporting stage," Jaghbeer told the news service.
"The Olympic Games represents the highlight in any athlete's career and I urge our young men and women to cherish every moment and make positive memories that will last a lifetime.
"The only expectations we place on them is to be excellent ambassadors for Jordan. To reach an Olympic Games is a huge achievement in itself and I can only ask them to try their very best and to make us proud."
The JOC has worked closely with its federations over the past four years to firstly identify, and then to support potential Olympians in their bids to secure spots for Rio.
The delegation will see Talita Baqlah, 20, become the first swimmer to compete at two Olympic Games, while her brother Khader, 17, is the first Jordanian swimmer to compete at a Games having achieved a B qualification time.
Ahmad Abu Ghaush, 20, continues Jordan's great Olympic tradition in taekwondo, while Hussein Ishaiash, 20, and Obada Al Kesbeh line-up in the boxing. Lawrence Fanous, 30, will become the first Jordanian to take part in the triathlon while Ibrahim Khalaf, 30, will compete in judo. Mithqal Abu Drais, 32 will take part in his second Olympic marathon.
The team departs for Rio over the coming days to help them acclimatise to the conditions. They will be based in the Olympic Village, along with their Chef de Mission Nadin Dawani, herself a three-time Olympian in taekwondo.
The Olympic Games will welcome 10,500 athletes from 206 National Olympic Committees to compete in 28 sports. The event will launch with the Opening Ceremony on August 5 and run through to the Closing Ceremony on August 21.
Kingdom's 2016 Olympians?
Khader Baqlah
Sport: Swimmer (200m freestyle)
DOB: September 17, 1998
Born: Amman
Achievements: Olympic B times in 100m and 200m; three silvers in Asian Youth Championships; Black Iris Sports Awards Young Achiever 2015
Rio hopes: Improve my worldwide ranking and set a new personal best.
Ahmad Abu Ghaush
Sport: Taekwondo (-68kg)
DOB: February 1, 1996
Born: Syria
Achievements: 2012 World Junior Champion; 2012 Asian Junior Champion; 2016 Asian Olympic qualifying gold; 2012 Black Iris Sportsman of the Year
Rio hopes: I will do my best and hope that it is good enough to secure a medal.
Ibrahim Khalaf
Sport: Judo (90kg)
DOB: July 9, 1986
Born: Amman
Achievements: 2016 Asian Bronze, 2013 Arab Championship Silver, 2003 Arab Youth Champion
Rio hopes: I hope to represent Jordan in the best way possible.
Mithqal Abu Drais
Sport: Marathon
DOB: December 12, 1983
Born: Al Salt
Achievements: Second time Olympic qualifying with new Jordan record
Rio hopes: I hope to finish as high as possible to represent Jordan in the best way I can.
Talita Baqlah
Sport: Swimming (50m freestyle)
Birthplace: Romania
Date of birth: October 27, 1995
Achievements: Second Olympic Games; Arab Champion in 50m, 100m, and 50m fly; Jordan record holder for 50m
Rio hopes: To improve worldwide ranking and to try and set a new 50m Jordan record.
Lawrence Fanous
Sport: Triathlon
DOB: August 27, 1985
Born: Amman
Achievements: Arab Champion (twice), International Triathlon Podiums (three time), 7th at Asian Games 2014
Rio hopes: Finish in the top 30.
Hussein Ishaiash
Sport: Boxing (+91kg)
DOB: August 6, 1995
Born: Al Salt
Achievements: 2014 Asian Games bronze, 2016 Olympic qualifiers Bronze
Rio hopes: I will try my best and take it one fight at a time.
Obada Al Kesbeh
Sport: Boxing (64kg)
DOB: July 30, 1994
Born: Amman
Achievements: 2013 Asian Silver; 2014 Asian Games Bronze
Rio hopes: To take it one fight at a time and make Jordan proud.
Related Articles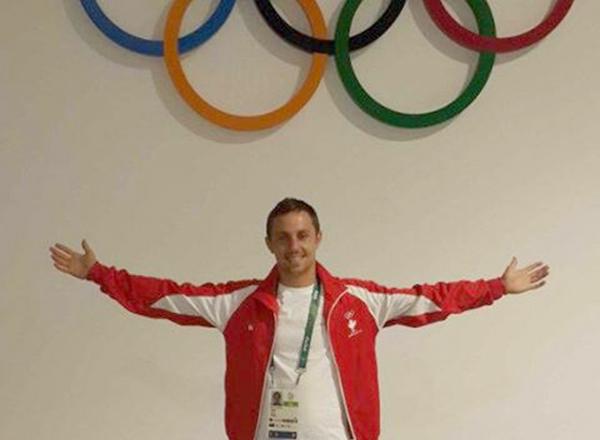 Sep 05,2016
AMMAN — Olympian Lawrence Fanous says Rio experience has persuaded him to push back retirement plans, according to the Jordan Olympic Commit
Nov 19,2016
AMMAN — Jordan's Olympian Lawrence Fanous finished second in the ASTC West Asian Triathlon and Duathlon's Elite Men's category held at the A
Aug 20,2016
AMMAN — A single athlete made history for Jordan after winning its first ever Olympic medal and entering Olympic history early Friday mornin
Newsletter
Get top stories and blog posts emailed to you each day.