You are here
Khaled Juma' wins Mount Nebo National Rally and Jordan Rally Championship title
By Roufan Nahhas - Oct 29,2016 - Last updated at Oct 30,2016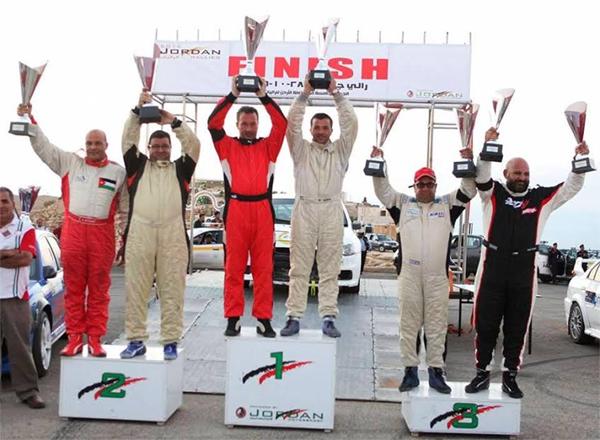 Driver Khaled Juma' and co-driver Imad Juma' (centre), driver Ihab Shurafa and co-driver Hazem Ateyat (left) and driver Salameh Qamaz and co-driver Gaith Wraikat on the podium of the Mount Nebo National Rally on Friday (Photo courtesy of Jordan Motorsport)
MADABA — Khaled Juma' on Friday captured the Jordan Rally Championship title after winning the final round of the championship — the Mount Nebo National Rally — held with the participation of 11 drivers in an event that was dedicated to the late Ahmad Zidan, who passed away from a heart attack last week.
Zidan's son Abdullah, with a sign written saying "We will never forget you", gave the start signal for the rally which witnessed a short video on the life of Zidan, who was a dedicated rally driver with a passion to learn and give.
Khaled Juma' and co-driver Imad Juma' clocked 40m21s in their Mitsubishi Evo 10 followed by Ihab Shurafa and co-driver Hazem Ateyat with 42m38s in their Mitsubishi Evo 9, while Salameh Qamaz and co-driver Gaith Wraikat settled in third place with 42m49s in their Mitsubishi Evo 5.
Asem Aref and co-driver Musa Jehrian came fourth with 48m 22s in their Renault Clio.
The event witnessed the retirement of Basheer Azar, Sami Flaifel, Amar Qaisi, Ahmed Shaban and Fares Tell while Amjad Sheikh did not start the rally.
With this win Juma' topped the standings with 137.5 points followed by Qamaz with 87 points and Shurafa in the third spot with 67.5 points.
Meanwhile, Imad Juma' won the co-driver champion for the 2016 season with 100 points, followed by Ateyat with 70.5 points and the late Zidan in third place with 69 points.
After the event, Juma' expressed his happiness for winning the last round but said that this win was clouded by the death of one of the best drivers in Jordan.
"I am happy that I won the title but at the same I am sorry for the loss of one of our friends and colleagues. I thank everyone who took part in this year's championship and my condolences to Zidan's family," he said.
"The last rally saw the retirement of several drivers and this might give us the edge to apply more pressure and win the rally. Next year we will continue to develop our participation and hopefully everything will go as planned," he added.
Drivers had to cover Bahra (9.76km), Kroum (5.00km) and Ghernata (6.08km) three times each with a total distance of 185.86km including 64.11km of special stages.
Related Articles
Sep 16,2017
AMMAN — Khaled Juma' on Friday was crowned champion of the fourth round of the Jordan National Rally Championship held at the Dead Sea area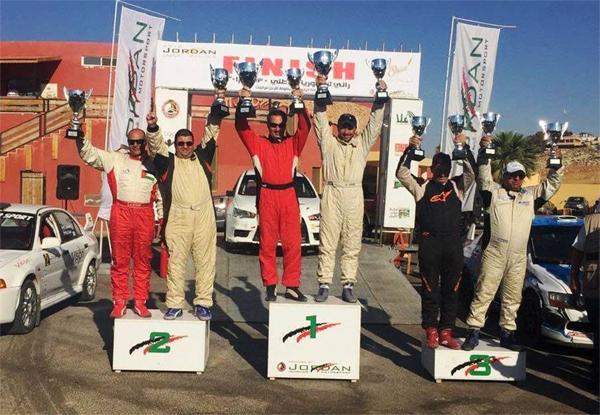 Oct 01,2016
MADABA — Khaled Juma's reign continued on Friday as he was crowned champion of the fourth round of the National Rally Championship "La Stori
Oct 27,2016
AMMAN — Mount Nebo National Rally, the last round of the Jordan National Rally Championship, kicks off on Friday with the participation of 1
Newsletter
Get top stories and blog posts emailed to you each day.