You are here
Platini has big decision in great game for FIFA throne
By AP - Jun 21,2015 - Last updated at Jun 21,2015
UEFA President Michel Platini (Photo courtesy of supersport.al)
GENEVA — After years of waiting, Michel Platini's destiny with FIFA is coming faster than he thought.
Platini had his 60th birthday on Sunday with much to celebrate and a big decision to take.
Long seen as the heir apparent to FIFA President Sepp Blatter, his former mentor now embattled adversary, it is open question if the elected leader of European football and former France great truly wants the duties that come with the top job.
The opportunity is certainly open like never before to Platini, whose path had seemed blocked until at least 2019.
"I will be 64, there is a last thing to do," Platini said of his unfulfilled ambitions in March, when Blatter's grip on the FIFA throne looked as inevitable as death and taxes.
All that changed on May 27 when the US Department of Justice unleashed a bribery and racketeering indictment on some of world football's top officials, sending FIFA into near-meltdown.
Blatter has not been targeted — yet — and even won another four-year presidential term two days later, after ignoring Platini's personal plea to resign for the good of the sport.
Still, the federal investigation has FIFA firmly in its sights, so the 79-year-old Blatter announced on June 2 that he would not be a candidate at a new election to be held within months.
Now Platini is expected to enter a presidential race one campaign later than some of his European voters thought was right. Either because they believe Blatter should have kept a 2011 promise to step aside this year, or that Platini should simply have gone head-to-head with him
"Now is not my time, not yet," Platini said in Monaco last August when justifying his decision not to stand against Blatter. Instead, a UEFA proxy, HRH Prince Ali, was sent into gallant defeat.
It sounded to most observers then like a frustrated acceptance of Blatter's mastery: Both of FIFA politics and loyal voters from countries far away from the elite European game that Platini dominated as a player and now leads as UEFA president.
Platini does not like to lose and, as one of the greatest No. 10s in football history, lifted two of the three biggest team prizes open to him.
He captained host nation France to win the 1984 European Championship — his nine-goal tally ranks among the finest individual tournament performances — and scored the winning goal for Juventus in the 1985 European Cup final.
Only FIFA's World Cup eluded him. France lost semifinals to West Germany in 1982 and 1986.
Becoming FIFA president would neatly complete Platini's achievements in football, and he clearly covets a job that Blatter once groomed him for before their falling out.
However, when Platini talks of being reluctant to walk away from UEFA it is more than just a politicians' answer to deflect attention from his real ambition.
Platini would give up much involvement in actual football matches if installed at FIFA, which peaks only every four years at the World Cup.
As UEFA president since 2007, Platini has seen European teams win the past two World Cups and oversees a four-yearly European Championship, whose global TV ratings rival the Summer Olympics, plus the season-long Champions League which showcases the highest quality football played anywhere.
People familiar with Platini's thinking have noted to The Associated Press that becoming FIFA president would take him away from the Euro 2016 hosted by France.
The tournament is even more personal as it is the first with 24 teams instead of 16 — a campaign promise that lifted Platini to the UEFA helm in a tight election against Blatter's old enemy Lennart Johansson of Sweden.
In private conversations, people linked to UEFA have also questioned if Platini wants to trade relatively relaxed duties working in a French-speaking region of Switzerland for the greater global travel and scrutiny working from FIFA's home in German-speaking Zurich.
Blatter has relished turning the FIFA presidency into a quasi-political role similar to a head of state. Platini is more at ease with his top shirt button undone and tie askew.
A FIFA election campaign, in the current anti-corruption climate, would also likely bring intense renewed questions on Platini's links with Qatar, the 2022 World Cup host.
Platini has repeatedly said that a November 2010 meeting in Paris with then-state president Nicolas Sarkozy and Qatar's crown prince, now Emir, Tamin Bin Hamad Al Thani did not influence his vote for Qatar less than two weeks later.
The fact that Platini's lawyer son, Laurent, was later hired by sovereign wealth-backed Qatar Sports Investment is rarely mentioned in the context of UEFA meetings, but will surely be revived in a FIFA campaign.
Platini will not decide his plans before the FIFA Executive Committee meets on July 20 in Zurich to decide an election timetable, Platini's spokesman Pedro Pinto said.
Related Articles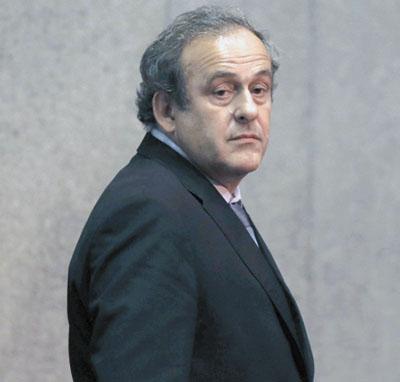 May 09,2016
LAUSANNE — Suspended European football boss Michel Platini will resign as head of governing body UEFA after losing a top level appeal agains
Jul 28,2015
ZURICH — Michel Platini, the head of European football's governing body UEFA, is to announce in the next few days that he will stand for the
May 30,2015
ZURICH — Emboldened by his fresh mandate to lead world football, Sepp Blatter made it clear there may be consequences for European leaders w
Newsletter
Get top stories and blog posts emailed to you each day.