You are here
PSG or Barca will be team to avoid in next round
By AP - Apr 14,2015 - Last updated at Apr 14,2015
PARIS/ PORTO — One team won nothing last season. The other is closing in on winning everything this season.
Barcelona and Paris Saint-Germain both have points to prove in the Champions League quarter-finals. But on Wednesday, PSG will be without Zlatan Ibrahimovic's goals, Marco Verratti's midfield zest and David Luiz's forays from the back against the most potent attacking trio in European football: Lionel Messi, Luis Suarez and Neymar.
Barcelona aren't worry-free. They squandered a run of nine consecutive wins with a 2-2 draw at Sevilla on Saturday. Neymar's show of dissatisfaction at his second-half substitution also showed that coach Luis Enrique doesn't have complete authority and is prone to lapses in strategy and personnel management.
And France is tough territory for Barcelona: The four-time European champions haven't defeated a French team on French soil since goals from Patrick Kluivert, Rivaldo and Gerard beat Lyon in the group stage of the 2001 Champions League.
PSG and Barcelona lost in the quarter-finals last season. Advancing this time will turn the victor into the team to avoid in the April 24 semifinal draw and a possible favourite for victory in the June 6 final in Berlin.
After their first season in six years without a major trophy in 2014, Spain's league leaders want silverware again while four-time world player of the year Messi is still at his best.
After winning France's League Cup last weekend and qualifying for the French Cup final, the French league leaders remain on track for a mega-haul of four trophies.
Missing stars
Red-carded against Chelsea, Ibrahimovic's one-match suspension deprives PSG of the scorer of 104 goals in three seasons, five shy of Pedro Pauleta's club scoring record and leaves Edinson Cavani as the focal point of the attack.
"It's like Barca playing without Messi or Real Madrid without Cristiano Ronaldo," said Verratti, also suspended.
The Italy international scored one of PSG's three goals in a group-stage victory the last time Barcelona visited Paris in September.
Luiz scored the opener that night and a header at Chelsea in March that sparked PSG's comeback with 10 men. With Luiz injured and former Barcelona midfielder Thiago Motta uncertain, France international Yohan Cabaye could play in front of PSG's defence to break up the Neymar-Suarez-Messi trident, supported by Blaise Matuidi and, possibly, 20-year-old homegrown talent Adrien Rabiot.
Under siege
Back against the wall, PSG can still be dangerous, as Chelsea learned.
A four-match French league ban for Ibrahimovic, for a salty rant at referees last month, heightened the siege mentality at PSG. They retaliated by barring players and staff from talking to broadcaster Canal Plus, which broadcast Ibrahimovic's outburst, for the rest of the season.
Ibrahimovic's teammates appear determined to prove that they are competitive without him, as they were after his expulsion against Chelsea and when he was injured for the win over Barcelona last September.
"It's going to be tough without Ibra, because he's our reference on the field," PSG midfielder Lucas Moura said. "Even without Ibra we can do a great job, like the last time here against Barcelona."
Chinks of weakness
Luis Enrique needs to quickly fix weaknesses that Sevilla exposed.
Unconvincing defence from Gerard Pique and goalkeeper Claudio Bravo allowed Barcelona's opponents to claw back from a 2-0 deficit. In attack, Suarez was sloppy, missing three clear chances.
Continued frailty in defence or attack could compromise Barcelona's push for a Champions League-Spanish league-Copa del Rey triple.
The good news for Barcelona: Messi sounds up to the task.
"I was inconsistent last season. I was out for a while due to injury, missing quite a few games. When I came back I didn't feel right. It was a year that I have tried to quickly forget," Messi said in an interview on the team website. "Now, fortunately, I feel very good."
Lucky charm
PSG have been unbeatable this season with Marquinhos on the field, not losing one of the Brazil defender's 34 matches, most recently the 4-0 win on Saturday against Bastia in the League Cup final.
That streak of invincibility eclipsed George Weah's record of 33 matches without defeat for PSG in 1993-94.
Bayern-Porto
Even without a handful of players, Bayern Munich will be favoured when they face FC Porto on Wednesday in the Champions League quarter-finals.
The German powerhouse travels to Portugal as a five-time tournament champion and a finalist in two of the last three seasons.
Porto have won the trophy twice and are unbeaten in the competition this season, but are into the quarter-final stage for only the first time since 2004 — when they won the title under then-coach Jose Mourinho.
Bayern injuries
Bayern will have to do without winger Franck Ribery and midfielder Bastian Schweinsteiger as they pursue their fourth straight semifinal appearance. Ribery is nursing an ankle injury and Schweinsteiger is out with the flu.
Bayern, who are unbeaten in Portugal, were already missing Arjen Robben, David Alaba, Mehdi Benatia and Javi Martinez.
Bayern chairman Karl-Heinz Rummenigge said the match in Porto "won't be easy, but we don't have a problem with being the favourite and I think we can reach the semifinals".
Porto's problem
While Bayern have a comfortable 10-point lead in the German championship, Porto are fighting to make up lost ground in domestic competition where they lie second, three points behind Benfica.
Porto coach Julen Lopetegui, in his first Champions League campaign, said he envies Bayern coach Pep Guardiola for having the luxury of resting some players last weekend.
"Bayern changed a lot of players because they are 10 points ahead. We did what we had to do and we'll try to recover as best we can," Lopetegui said.
The Spaniard is also worrying about the fitness of forwards Jackson Martinez, the Portuguese league's top scorer, Adrian Lopez and Cristian Tello.
Good memories
Porto are dreaming of a repeat of the 1987 Champions League final, when they beat Bayern with a 2-1 comeback win that was sealed by Madjer's backheel.
Porto are unbeaten in the Champions League this season.
Related Articles
Apr 20,2015
Barcelona's lethal attack has put them on course for a seventh Champions League semifinal place in eight years but their shaky defence gives Paris Saint Germain a glimmer of hope on Tuesday.
Apr 22,2015
Neymar scored two goals as Barcelona beat Paris Saint-Germain 2-0 on Tuesday to seal their return to the Champions League semifinals, joining Europe's elite four teams for the seventh time in eight seasons.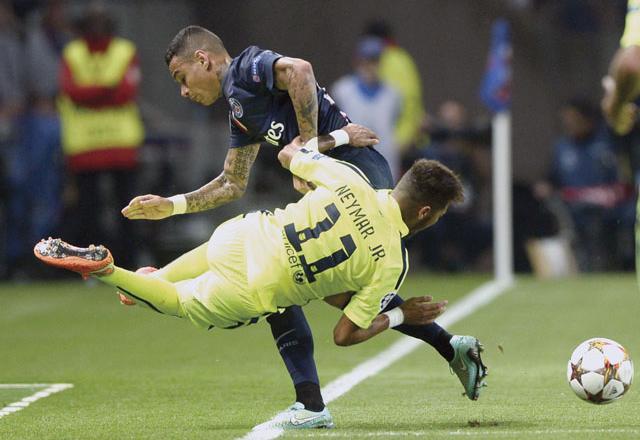 Oct 01,2014
Paris Saint-Germain overcame goals from Lionel Messi and Neymar to inflict Barcelona's first loss of the season on Tuesday.
Newsletter
Get top stories and blog posts emailed to you each day.