You are here
Real Madrid coast into Club World Cup final
Dec 17,2014 - Last updated at Dec 17,2014
MARRAKECH, Morocco — Goals from Karim Benzema and Gareth Bale helped Real Madrid coast to a 4-0 victory over Cruz Azul of Mexico on Tuesday and a place in the final of the Club World Cup.
Sergio Ramos and Benzema made it 2-0 at halftime, with further strikes from Bale and Francisco "Isco" Alarcon putting the result beyond doubt after the break.
Madrid's opponents in Saturday's final will be either South American champion San Lorenzo of Argentina or Auckland City, a New Zealand team of amateurs and semi-pros that is the Oceania champion.
Cruz Azul, the
CONCACAF champion, proved no match for the pace and penetration that Cristiano Ronaldo, Benzema and Bale provided for Madrid up front. Daniel Carvajal also was exceptional, marauding with Bale down the right.
Cruz Azul captain Gerardo Torrado missed a chance to make the score more respectable when Iker Casillas saved his first-half penalty that lacked conviction.
A win on Saturday would secure Madrid their first Club World Cup and cap an exceptional year when they also won the Champions League and Copa del Rey, while Ronaldo collected his second World Player of the Year award.
"Only a match away from a new opportunity, we'll be ready 100 per cent," Madrid coach Carlo Ancelotti said. "I think the team deserves this title."
Ronaldo did not add to his total of 56 goals in 2014 for Madrid, including 32 this season. But the match was so comfortable for Madrid that their star player allowed himself a showboat second-half shot so cheeky that Ancelotti's assistants were laughing behind him on the bench.
Ronaldo tried flicking in Bale's cross from the left by wrapping his right foot around his left ankle to connect with the ball. Cruz Azul goalkeeper Jose Corona easily scooped up the attempt that would have been another fine addition to Ronaldo's highlight reel had it gone in.
"I've never seen a shot like this, but from Ronaldo we have to expect everything," Ancelotti said.
Conceding that Madrid were "highly superior", Cruz Azul manager Luis Fernando Tena had no complaints.
"It's been a joy to play such a skilful team, individually and collectively," he said.
Down Madrid's right, Bale and Carvajal gave a torrid lesson in speed, guile and mobility to Fausto Pinto, the Cruz Azul left-back at fault for three of the goals.
Pinto's first-half body-check on Carvajal, who winced and rolled away convincingly enough to get referee Enrique Osses to blow his whistle, gifted Madrid a free kick that Toni Kroos curved in with venom. Ramos decisively headed it past Corona, who was made to work hard all night, for Madrid's opener.
Pinto was then guilty of ball-watching as Carvajal wriggled past him and sent in a looping short cross for Benzema. The striker hared onto the ball and poked it home with an outstretched tip of his right foot after 36 minutes.
Five minutes into the second half, Pinto left Bale too much space and time to head in Ronaldo's cross from the left.
After tormenting his markers with multiple step-overs, Ronaldo fed the ball to Isco, who dribbled through the defence to complete the scoring on 72 minutes.
This was Madrid's 21st consecutive victory in all matches, a record run that has seen it score 79 goals to just 10 in reply. Ancelotti's men have not lost since September 13, a 2-1 defeat by Atletico on day three of La Liga.
Saturday's final will be Madrid's last competitive match of 2014. And what a year: Madrid ended their 12-year wait for a 10th European Cup title, beating Atletico 4-1 in the Champions League final, and lifted its 19th Copa del Rey with a 2-1 win over Barcelona.
In January, Ronaldo broke down in tears when he picked up the World Player of the Year award for 2013. In the crowd of 34,862 in Marrakech, some held up signs saying he should retain the Ballon d'Or again this year against Lionel Messi and Manuel Neuer, the other finalists.
After a December 30 friendly against AC Milan, the La Liga leader picks up its domestic campaign again on January 4 against Valencia.
Related Articles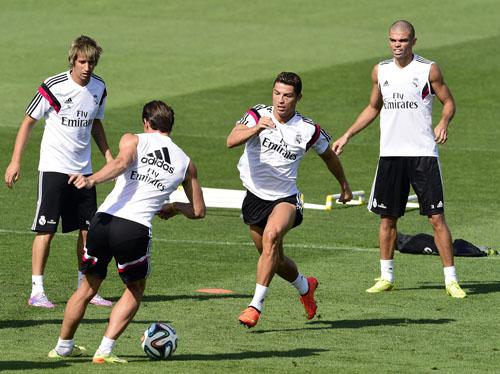 Aug 19,2014
Real Madrid were set to place an even greater emphasis on winning the Spanish league title after ending their quest for an elusive 10th European Cup last season.
Mar 11,2015
Cristiano Ronaldo rescued Real Madrid in the Champions League on Tuesday with two goals in a pulsating 4-3 defeat to Schalke that saw the holders squeeze through to the quarter-finals with a 5-4 victory on aggregate.
Apr 30,2014
In mild-mannered Italian Carlo Ancelotti, Real Madrid president Florentino Perez may finally have found the man capable of sculpting his expensively assembled squad into a unit capable of delivering an elusive 10th European crown.
Newsletter
Get top stories and blog posts emailed to you each day.