You are here
Runners-up spot more important than Cup triumph — Mourinho
By Reuters - Apr 22,2018 - Last updated at Apr 22,2018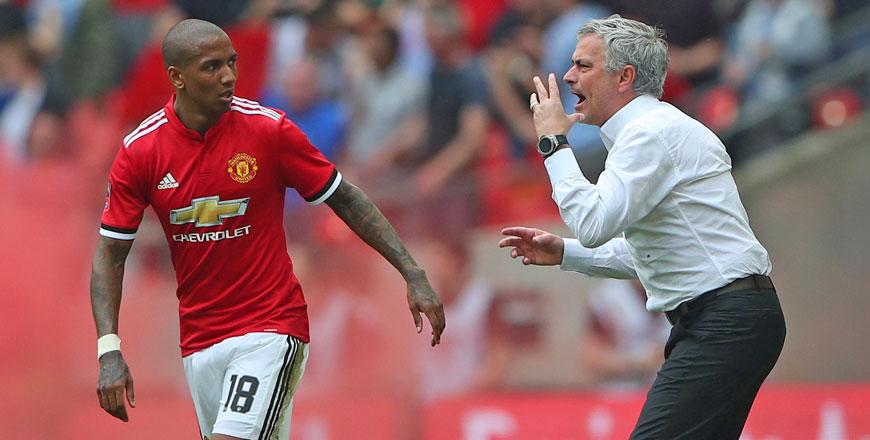 Manchester United manager Jose Mourinho talks to Ashley Young during their FA Cup semifinal match against Tottenham Hotspur at Wembley Stadium in London on Saturday (Reuters photo by Hannah McKay)
LONDON — Jose Mourinho can become the third manager to win the FA Cup with two different clubs next month, but says finishing runners-up in the Premier League will be more important in the final analysis of Manchester United's season.
Mourinho's side hit back from conceding early at Wembley to beat Tottenham Hotspur 2-1 in the semifinal on Saturday and will claim a record-equalling 13th FA Cup triumph if they overcome Chelsea or Southampton in the final.
Victory next month would be a third trophy in two seasons for Mourinho's United and the Portuguese would join Herbert Chapman (Huddersfield in 1922 and Arsenal in 1930) and Billy Walker (Sheffield Wednesday in 1935 and Nottingham Forest in 1959) in winning the knockout competition for two clubs.
Despite being a serial trophy-collector during his glittering career, Mourinho only has eyes on the seven points his team need to guarantee finishing as runners-up to an "untouchable" Manchester City in the Premier League.
"I think the feeling now is we need two victories and one draw to finish second with 81 points," Mourinho, who won the FA Cup with Chelsea in 2007, told a news conference after Saturday's deserved victory.
"The season is successful if we finish second, if we do a better Premier League season than Spurs, Liverpool, Chelsea and Arsenal. If we do that I think it's a successful season because 81 points is to break the 80-point target and to finish second against an untouchable winner is good.
"To make a lot more points than last season, to win more matches, to score more goals, to concede less goals, to have much better results against the top teams."
"The [FA Cup] final is the final and obviously we have to try and win it but I don't think it's because of one game that the team is good or bad, a player is good or bad, a manager is good or bad or a season is good or bad."
United won the League Cup and Europa League in Mourinho's first season in charge but finished sixth in the Premier League.
They are favourites to finish second this time and the FA Cup would crown a season of improvement at Old Trafford.
"To do that with all the fantastic teams we play against will be an achievement for a club that couldn't do it for a few years now," Mourinho said.
For a while on Saturday it appeared Mourinho's side might be swept away by Tottenham who scored in the 10th minute through Dele Alli and threatened to add to their lead.
But Alexis Sanchez levelled and they controlled the second half in which Ander Herrera scored the winner.
While Tottenham manager Mauricio Pochettino still awaits his first trophy in English football, Mourinho proved again that he remains a tactical master as he closed in on a 10th.
"They had a period when they were better than us after they scored and we lost a little bit of control in midfield but we had a good reaction," Mourinho said.
"In the second half we had a good brain, good organisation, confident and calm and very much in control. We felt it would be very difficult to lose the game."
Meanwhile, Mourinho once called Arsene Wenger a "specialist in failure" but on Friday, after the Arsenal manager announced he was stepping down at the end of the season, there was only respect.
Asked by reporters whether he regretted some of his behaviour towards the Frenchman over the years, the Manchester United boss suggested the question betrayed a lack of understanding.
"You are not a manager, you are not a player of course," he said. "You do not know the way we respect each other, even when sometimes it looks like in some moments we don't."
"In the end, probably the ones that respect each other more are the ones that have the problems," added the Portuguese.
"It is power against power, it is quality against quality, it is ambition against ambition."
Related Articles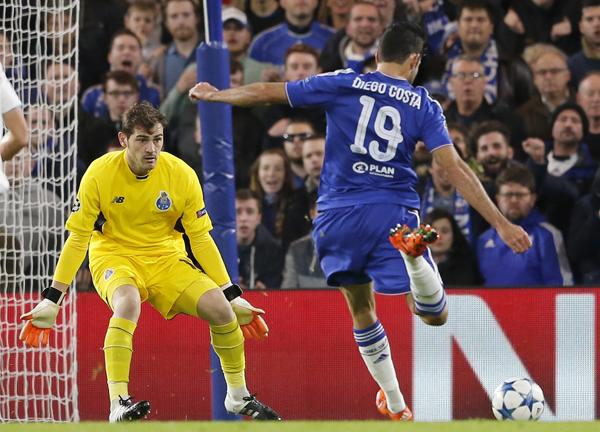 Dec 10,2015
Arsenal left their best performance for the last game of the Champions League group stage, advancing to the Round of 16 with a remarkable 3-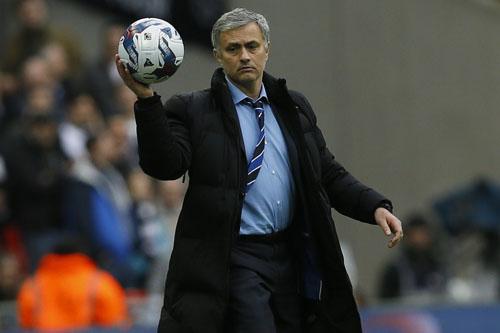 Mar 02,2015
A decade on from the first trophy from the Roman Abramovich-era, Chelsea collected the League Cup with just three survivors from the 2005 matchday squad.
May 21,2018
WEMBLEY — Manchester United Jose Mourinho bemoaned old foe Antonio Conte's tactics as his side failed to breakdown Chelsea's defensive wall
Newsletter
Get top stories and blog posts emailed to you each day.