You are here
Samsung Amman Marathon runners take off on Friday
By Roufan Nahhas - Oct 22,2014 - Last updated at Oct 22,2014
AMMAN — The Samsung Amman Marathon kicks off on Friday with the participation of thousands of runners in the 42km, the 21km half marathon and 10km Fun Run.
Lina Kurd, vice director general of Run Jordan, told The Jordan Times that it will be a great event this year.
"Everyone is excited to be part of the event which gives a great opportunity to know more about Amman and creates a unique opportunity to run through the streets of downtown Amman unhindered by traffic and enjoy the beauty of that area," she said.
"We have started distributing tags on runners who represent various nationalities living in the Kingdom on daily basis and we believe that this year the event is exceptional," she added.
According to Kurd, sports is for everyone.
"Run Jordan shares the vision of HRH Prince Firas [chairman of the board of Run Jordan] that sports is for everyone and that is why we have created this year a professional section which is the 21 km half marathon so people would really enjoy competing and have fun at the same time," she said.
"The popularity of running events in the Kingdom has grown significantly in the past years and this gives us a great chance to present what we have and to give the people of Jordan the opportunity to practice a healthy lifestyle," she added.
The 42km marathon starts at 6:00am from the main building of Greater Amman Municipality while the 21km half marathon departs from Raghadan Bridge and the 10km (Fun Run) takes off at 8:30am from the Royal Cultural Centre.
Last year, Jordanian runner Suhail Nashash registered a new record in the Middle East visually impaired category, after clocking 3h27m16s.
Meanwhile, Ethiopia's runners reigned with Tewodros Asfaw finishing first at the men's 42km and Mihiret Antoiyos winning the women's 42km marathon.
Jordanian men and women did well with Methqal Abady and Razan Mokbeal finishing third in the 42km while Deifallah Matar and Sojood Alkhotabah Khanazreh finished first in the 10km marathon.
Run Jordan is dedicated to bringing together different marathon events and races under one umbrella and promoting healthy lifestyles.
Related Articles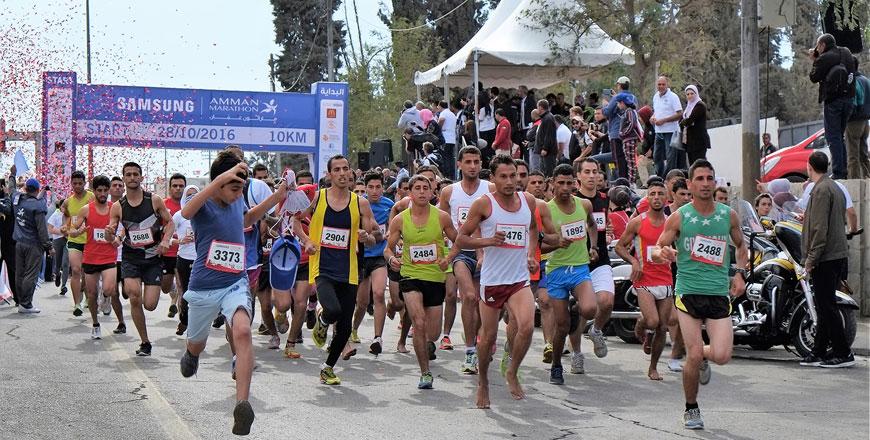 Sep 19,2017
AMMAN — The 9th edition of the Samsung Amman Marathon will be held October 13 under the slogan "Run to The Heart of The City of Amman"
Oct 08,2015
AMMAN — The Samsung Amman Marathon, the most popular running event in the Kingdom, kicks off on Friday with the participation of more than 1
Sep 07,2016
AMMAN — The 8th edition of the Samsung Amman Marathon, organised by Run Jordan, will be held October 28 with the expected participation of t
Newsletter
Get top stories and blog posts emailed to you each day.