You are here
Warriors shrug off Curry absence to beat Rockets
By Reuters - Apr 19,2016 - Last updated at Apr 19,2016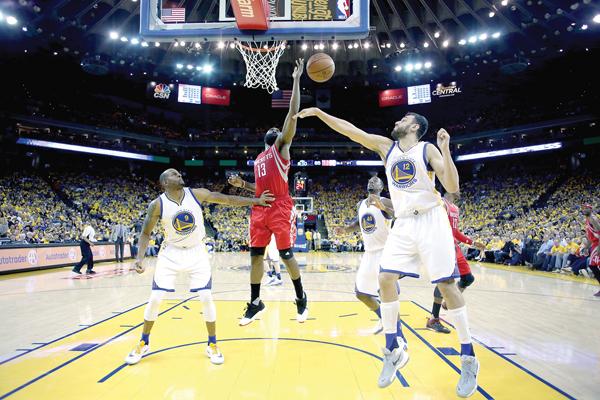 Houston Rockets guard James Harden is unable to make a shot between Golden State Warriors guard Andre Iguodala and centre Andrew Bogut in their NBA play-off game in Oakland on Monday (Reuters photo by Cary Edmondson)
Shaun Livingston, subbing for injured Stephen Curry, began and ended a key fourth-quarter spurt with baskets Monday night as the Golden State Warriors won a second straight from the Houston Rockets in their best-of-seven series, 115-106.
Golden State, now 2-0 in the postseason after a record-setting, 73-win regular season, was able to win without Curry, who injured his right ankle late in the second quarter of the Warriors' blowout win in Game 1 on Saturday. He had been listed as questionable for Game 2.
The reigning NBA Most Valuable Player, who scored 24 points in just 20 minutes in Game 1, was declared out shortly after cutting short a pregame warmup that was designed to test the ankle.
Curry sustained the injury while pivoting late in the second quarter Saturday, and he played less than three minutes in the second half before being benched for the remainder of the Warriors' 104-78 win.
His status for Game 3, which is scheduled for Thursday night in Houston, is unknown.
Livingston started in Curry's place and complemented guard Klay Thompson's 34 points with 16 of his own. He also found time for six assists in 29 minutes.
Livingston's two biggest hoops came in an 11-1 flurry in the fourth quarter after the Rockets, trying to put Saturday's 26-point debacle behind them, clung within 88-85 with 9:51 to play.
Livingston began the key run with a jumper, after which the Warriors made seven consecutive free throws, including five by Thompson.
Rockets interim coach J.B. Bickerstaff got nailed with a technical foul along the way, accounting for one of Thompson's foul shots.
Livingston then capped the burst with a fastbreak hoop that created the Warriors' biggest lead of the game to that point, 99-85, with 6:48 left.
Golden State were never threatened the rest of the way, beating Houston for a sixth consecutive meeting and the 14th time in their past 15 matchups.
Thompson, hitting three 3-pointers and 15 of 16 from the free-throw line, led all scorers.
Draymond Green recorded a 12-point, 14-rebound double-double, and backup Andre Iguodala dropped in four 3-pointers en route to 18 points for the Warriors, who shot 49.4 per cent from the field and hit eight of their 23 3-point attempts.
Green, who earlier in the day found out he finished in second place in the NBA Defensive Player of the Year balloting, also had a team-high eight assists, and centre Andrew Bogut helped out with 10 points (on 5-for-6 shooting) and seven rebounds.
James Harden led the Rockets with 28 points, 13 coming from the line on 15 free throws. However, he shot just 7-for-19 from the field, including 1-for-8 from 3-point range. Harden also had 11 assists.
Dwight Howard posted a 12-point, 10-rebound double-double for the Rockets, who bettered Golden State in 3-pointers, making 10 of 25, but fell well short from shorter range, finishing at 44.3 per cent overall.
Patrick Beverley and Jason Terry added 13 points apiece for the Rockets, who also will host Game 4 of the series on Sunday.
Down by as many as 11 points in the first half, the Rockets got seven third-quarter points from Harden and rallied within three late in the period.
An interior hoop by Warriors reserve guard Leandro Barbosa extended the lead back to 88-79 in the first minute of the fourth quarter. But as occurred all night, the Rockets wouldn't go away.
Harden hit a tough jumper and Terry added a hoop and two free throws to make it a three-point game.
However, each then missed interior attempts that could have gotten Houston within one, and the Warriors followed with Livingston's hoops and a parade to the free-throw line, finally pushing the visitors an arm's length away.
The Rockets managed to stay within striking distance at halftime, down 66-58, despite getting just four total field goals from Harden and Howard.
Harden did have 12 free throws, accounting for three-quarters of his team-high 16 points.
The Warriors countered with seven 3-pointers from Thompson and Iguodala. Thompson had three in six attempts on his way to 20 first-half points; Iguodala had 12 of his 14 points on four 3-pointers in six tries.
Related Articles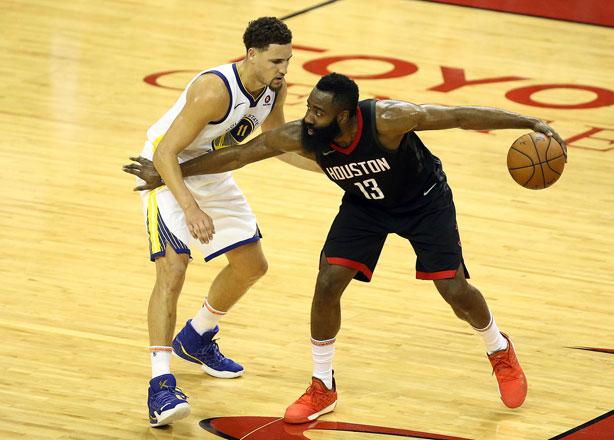 May 17,2018
May 23,2018
Eric Gordon's first 3-pointer of the game gave Houston a late five-point lead, and the Rockets held on from there to defeat the Golden
May 17,2016
Oklahoma centre Steven Adams converted an errant pass by teammate Russell Westbrook into two critical free throws with 1:01 left on Monday t
Newsletter
Get top stories and blog posts emailed to you each day.