You are here
World Cup rush leaves gaps in Brazil cell network
By Reuters - Apr 23,2014 - Last updated at Apr 23,2014
SAO PAULO/RIO DE JANEIRO –– Rio de Janeiro's legendary Maracanã Stadium was in a frenzy. Brazil had trounced the Spanish world champions. Yet 73,000 football fans could scarcely send a text message to celebrate.
The final of the 2013 Confederations Cup, a dress rehearsal for this year's World Cup, was a promising 3-0 victory for Brazil's national team but a bad omen for its cellphone network.
Despite costly investments and another year to prepare, phone companies are still struggling to provide adequate coverage of key sites for the tournament starting in June.
Several stadiums were delivered months late and work at major airports remains unfinished, forcing the telecoms industry to cut back and in some cases even cancel planned investments.
"Where we don't have much time, we probably won't be able to give complete coverage for the stadiums," said Eduardo Levy, head of a Brazilian industry group tasked with preparing cellphone coverage at World Cup venues.
If the problems from last year recur, it may be hard for fans to make a phone call at a big game, let alone upload photos or peruse social media.
Jerome Valcke, secretary general of football's governing body FIFA, said recently he was deeply worried that in most cases communications for fans and media will not be fully tested before the tournament begins.
"We don't want Brazil to be remembered as the worst World Cup of all time because the journalists could not get their stories out to the rest of the world," Valcke said.
The risk of an embarrassing World Cup outage is just one consequence of an explosion in mobile data use outpacing the growth of Brazil's cell network.
That pattern of soaring demand and stagnant investment has dogged much of Brazil's economy, leading to logjams on major highways and airport tarmacs as well as phone networks.
Carriers already have a reputation in Brazil for spotty coverage and lousy service, making them one of the most resented industries judging by consumer complaints.
Chastened by the fallout from the Confederations Cup, the telecoms industry asked for 120 days to install and calibrate networks in six new stadiums delivered this year.
It got less than 70 days in the southern city of Curitiba and in Sao Paulo, which will host the World Cup's prestigious opening match on June 12 and a semifinal in early July.
Teams of 100 technicians are now working day and night to set up stable coverage in the seating sections of those stadiums, but there will likely be dead spots in surrounding concourses, parking garages and temporary structures, Levy said in an interview.
"At the airports, our intention was to carry out exactly the same project designed for the stadiums," he said. "But many airports won't be ready in time. We'll do external coverage."
Related Articles
Jul 13,2014
It's the day of the last World Cup finale in Brazil. Pele is nine years old. Back then, he's just Edson Arantes do Nascimento.
May 29,2014
Millions of Brazilians will be cheering like crazy during the World Cup, but not all of them for Brazil.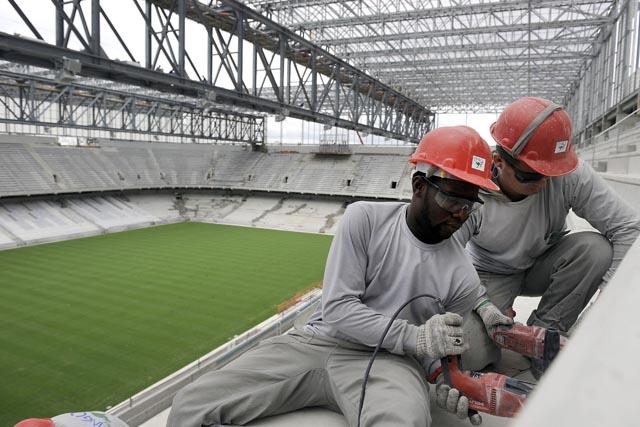 Feb 19,2014
FIFA says it will not pay some of Brazil's World Cup bills even though it admits the local organisers' failure to fulfill their commitments may jeopardise the tournament's success.
Newsletter
Get top stories and blog posts emailed to you each day.