You are here
'Jordan Internet for All' project launched
By Mohammad Ghazal - May 21,2017 - Last updated at May 21,2017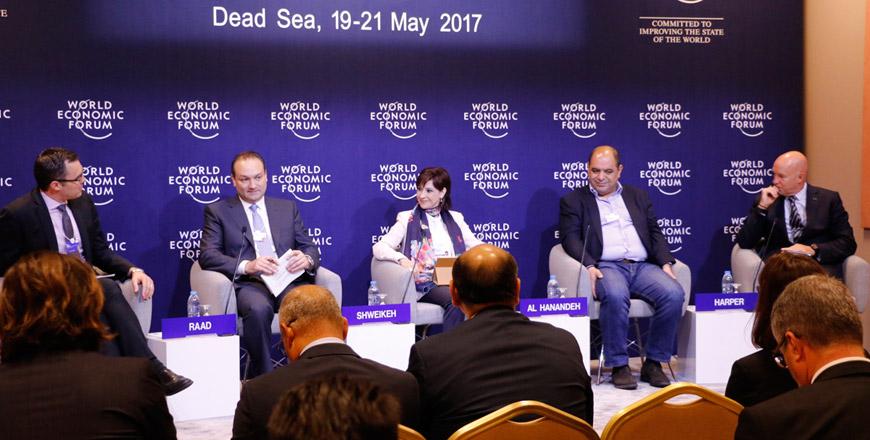 Attendees at the launch event of a new platform project called 'Jordan Internet for All' by Jordan and the World Economic Forum at the Dead Sea on Sunday (Petra photo)
DEAD SEA — Jordan and the World Economic Forum (WEF) on Sunday launched a new platform project called "Jordan Internet for All", which aims to bring Internet access to millions of Jordanians, including women and isolated communities for the first time through new models of public-private collaboration, a senior government official said.
The project, which is aligned with Jordan's Digital Transformation Strategy, will focus on addressing the barriers that prevent universal Internet access, in particular promoting demand for Internet use, Minister of ICT Majd Shweikeh said at a press conference Sunday.
This will be implemented by focusing on empowering women to use the Internet, facilitating the development of more relevant online content in Arabic and improving e-government services, she said.
There will also be a work stream in the project which will focus on helping refugees to integrate into Jordanian society through use of the Internet, the minister said, adding that the initiative will be of a great value to both the Jordanian economy and society.
Shweikeh said the initiative will foster Jordan's process of digitisation and will help improve the performance of the public sector, noting that Internet penetration in Jordan stands at about 85 per cent, while mobile penetration is around 150 per cent.
The initiative will help in efforts to empower women, adopt e-government services and support entrepreneurship, the minister said.
Internet for All is a global project of the WEF to accelerate Internet access and adoption through a multi-stakeholder platform, according to a WEF statement.
Companies such as Cisco, Ericsson, Huawei, Microsoft and Zain work together on this platform with government, civil society, academia and international organisations to develop and scale new Internet access models, attract and coordinate investments, and align programming, the statement said.
Andrew Harper, former UNHCR representative to Jordan, stressed the importance of the scheme.
"Refugees are here and empowering them by providing them with connectivity will help them contribute to the countries of the region," Harper said.
Harper added that refugees can contribute to the digital transformation as well, saying that such initiatives will help refugees move away from the dependency model.
Commenting on the initiative, Ahmed Hanandeh, chief executive officer of Zain Jordan, said: "Everyone deserves access to the opportunities of the Internet. At Zain, we are well aware of the transformational power connectivity plays in improving the quality of life of people and communities, and we look forward to this latest public-private partnership bolstering our efforts to foster the growth of Jordan's digital and general economy.
"We see this initiative acting as a catalyst in accelerating socio-economic growth and creating more jobs and entrepreneurial opportunities for the growing youth population, while enhancing the livelihoods of the many refugees residing in Jordan."
Hanandeh added that telecommunications companies in Jordan are investing heavily in the development of infrastructure to meet the rising consumption of data.
Country-level Internet for All platforms are already operating in Argentina, Rwanda, South Africa and Uganda, where they have so far succeeded in developing major projects such as Rwanda's Digital Ambassadors Programme, a skills development activity that will train 5,000 trainers who will work in rural Rwanda to teach digital skills to 5 million people, according to the statement.
Related Articles
May 23,2015
DEAD SEA — With seemingly no end in sight to the problems in neighbouring war-hit countries, refugees need help to "restart" a new life, a U
Mar 14,2015
ICT Minister Majd Shweikeh on Saturday met with members of the ICT Association of Jordan ([email protected]) and discussed ways to activate a partnership council with the private sector and speed up the implementation of e-government programmes.
Jul 05,2015
AMMAN — ICT Minister Majd Shweikeh met on Sunday with UK Ambassador to Jordan Edward Oakden to discuss bilateral cooperation in the ICT sect
Newsletter
Get top stories and blog posts emailed to you each day.