You are here
Region's 'Social Entrepreneur of the Year' honoured at WEF
By JT - May 23,2015 - Last updated at May 23,2015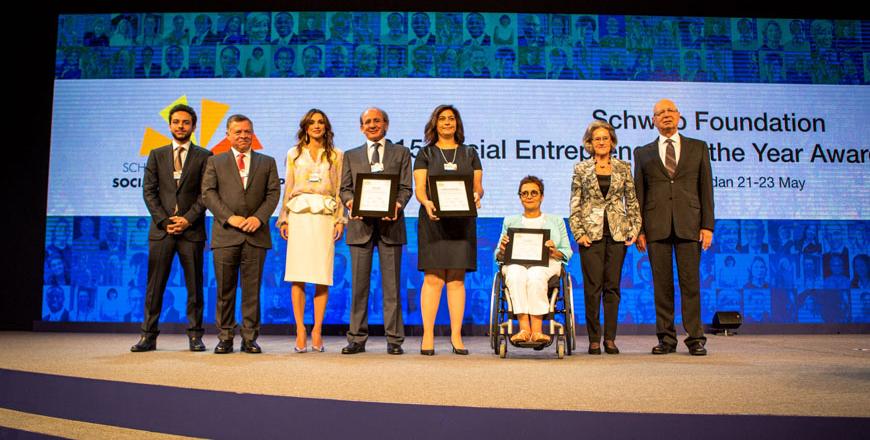 Their Majesties King Abdullah and Queen Rania, HRH Crown Prince Hussein and Klaus and Hilde Schwab with the 2015 Social Entrepreneur of the Year awardees at the World Economic Forum on Friday (Photo courtesy of the Royal Court)
AMMAN — The Schwab Foundation on Friday recognised three social entrepreneurs from the Middle East and North Africa (MENA) as 2015 Social Entrepreneur of the Year awardees for MENA.
At a ceremony at the Dead Sea, Hilde Schwab, co-founder and chairperson of the Schwab Foundation for Social Entrepreneurship, honoured the winners at the World Economic Forum (WEF) meeting's opening plenary in the presence of Their Majesties King Abdullah and Queen Rania, and HRH Crown Prince Hussein.
World leaders and other distinguished guests from the MENA region and beyond were also present, according to a WEF statement.
The 2015 Social Entrepreneur Awardees for MENA are Amina Slaoui of Groupe AMH from Morocco, Maysoun Odeh Gangat of NISAA Radio Broadcasting from Palestine and Pierre Issa of Arc en Ciel from Lebanon.
"The three outstanding social entrepreneurs from MENA we selected this year are designing transformative models to create more inclusive societies," the statement quoted Schwab as saying.
"As businesses and governments alike try to embrace a creative spirit of disruptive innovation and develop business models that generate truly inclusive growth — the hallmarks of any social entrepreneur — social-enterprise models are increasingly understood and respected."
The 2015 awardees will become part of the broader Schwab Foundation community of Social Entrepreneurs, which includes more than 300 outstanding social entrepreneurs from 60 countries.
Schwab Foundation Social Entrepreneurs are fully integrated into WEF events and initiatives. They contribute actively to and benefit from peer-to-peer exchanges with other social entrepreneurs, as well as interactions with top leaders in business, government, civil society and the media, according to the statement.
Slaoui was honoured for her efforts towards the inclusion of people with disabilities through "high social impact products and services".
She launched "the first-ever disability rehabilitation centre in Morocco", according to WEF. Today, the Groupe AMH provides care for 1,400 patients and runs six ongoing projects and companies, with 200 employees and 25,000 beneficiaries.
Odeh Gangat was recognised for her efforts in voicing gender equality across the region.
"NISAA Broadcasting is using media as a tool to debate taboos, challenge traditional roles assigned to women, and present women as capable and assertive actors in society," the statement said.
The third winner, Issa was recognised for "creating win-win situations across the region" by empowering people with disabilities.
His company, Arc en Ciel, runs 13 service centres throughout Lebanon, providing healthcare, waste management and education, and producing disability aids.
"In 2014 alone, 80,000 people were reached by Arc en Ciel's 500 staff members.
The Schwab Foundation, co-founded by Klaus and Hilde Schwab in 1998, manages a network of "late-stage social enterprises in the world" — more than 320 organisations with operations in 70 countries.
Related Articles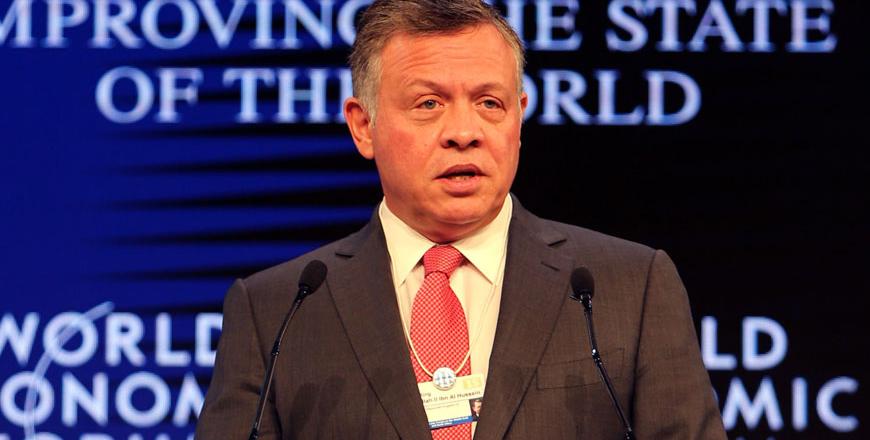 May 23,2015
DEAD SEA — Jordan's economy has continued to grow despite the surrounding challenges, which is "a sign of ongoing strengths", His Majesty Ki
May 05,2016
AMMAN — Nisaa Broadcasting Corporation and the Womanity Foundation on Tuesday launched Nisaa Network in Amman.Nisaa Network's new website is
May 18,2017
AMMAN — His Majesty King Abdullah on Thursday discussed cooperation and partnership between Jordan and the World Economic Forum (WEF) with i
Newsletter
Get top stories and blog posts emailed to you each day.