You are here
17 people killed in Bangui
Violence marks a fresh escalation between MINUSCA, militia groups
By AFP - Apr 11,2018 - Last updated at Apr 11,2018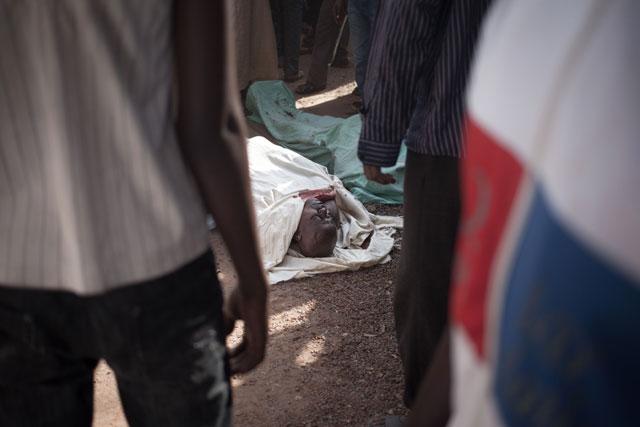 Residents of the mainly Muslim PK5 neighbourhood lay out the bodies of victims of Tuesday's clashes during a demonstration in front of the headquarters of MINUSCA, the UN peacekeeping mission in the Central Africa Republic, in Bangui, on Wednesday (AFP photo)
BANGUI, Central African Republic — Seventeen people were killed in a flashpoint Muslim enclave of Bangui, capital of the Central African Republic (CAR), where a UN soldier also reportedly died, an AFP reporter saw on Wednesday.
Residents of the PK5 district laid out the bodies of 17 men in front of the headquarters of the United Nations mission (MINUSCA) in Bangui, saying they had been killed in clashes on Tuesday between local armed groups and UN peacekeepers.
"Yesterday they killed lots of people. Here are the dead, which we have brought here," one man told AFP, as the bodies, draped in white, were laid before the closed door of the mission.
Several UN armoured vehicles were stationed around the MINUSCA base.
A security source late Tuesday said a UN soldier was killed and eight others wounded in the violence, which came when their patrol was ambushed on the outskirts of the neighbourhood.
"A Rwandan patrol supported by Central African forces was shot at and then pursued the attackers into PK5," the source had told AFP.
The violence marks a fresh escalation between MINUSCA and militia groups that control most of the CAR's territory.
The CAR spiralled into bloodshed after longtime leader Francois Bozize was overthrown in 2013 by the mainly Muslim Seleka rebel alliance.
France intervened militarily to push out the Seleka alliance, but the country — one of the poorest in the world — remains plagued by violence between ex-rebels and vigilante militias.
Many armed groups are nominally organised along religious lines, but often fight for control of revenue from extortion, roadblocks or mineral resources.
The PK5 was once a Muslim rebel bastion, but is now home to several criminal groups that have taken advantage of the weakness of the state.
The UN recently threatened to dismantle all the armed groups' bases in the area unless they hand over their weapons, according to sources.
A series of clashes began on April 1, when UN peacekeepers on patrol in PK5 came under attack and returned fire. A security sweep began in the area on Sunday, which was followed by Tuesday's bloodshed.
Related Articles
Apr 27,2014
The world's largest bloc of Islamic countries is sending 14 delegates to the Central African Republic on Tuesday to lead a fact-finding mission, express solidarity with Muslims and contribute to any peace talks in the country, wracked by sectarian bloodshed.
Jan 19,2014
Attackers armed with automatic rifles and machetes ambushed a convoy of Muslims fleeing sectarian violence in the Central African Republic, killing 22 people and leaving survivors with gashes spurting blood, Save the Children said Sunday. Three children are among the dead.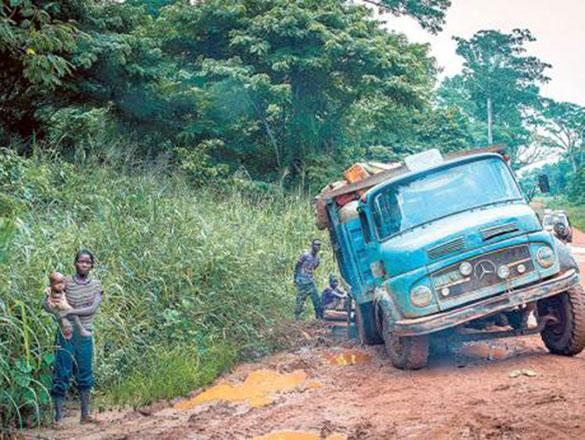 Aug 26,2015
ZONGO, DR Congo — Imagine living in a place bigger than Germany and Belgium combined but with few or flooded roads, broken bridges and unnav
Newsletter
Get top stories and blog posts emailed to you each day.