You are here
Argentines vote in cliffhanger election with economy at stake
By AFP - Nov 20,2023 - Last updated at Nov 20,2023
A man prepares to cast his vote at a polling station in Buenos Aires, during the presidential election runoff on Sunday (AFP photo)
BUENOS AIRES — Argentines voted Sunday in a nail-biter election pitting Economy Minister Sergio Massa against outsider Javier Milei, polar opposite candidates that have divided the country as it reels from triple-digit inflation.
Voters were gripped by fear, uncertainty and resignation as they cast their ballots, with few confident either candidate could put an end to decades of economic decline.
Massa, 51, is a charismatic and seasoned politician seeking to convince Argentines to trust him despite his performance as economy minister which has seen annual inflation hit 143 per cent.
His rival Milei is an anti-establishment outsider, who has vowed to halt Argentina's unbridled spending, ditch the peso for the US dollar, and "dynamite" the central bank.
Argentines are "on the edge of a nervous breakdown", said political analyst Ana Iparraguirre of GBAO Strategies, describing tensions over what comes next.
"You simply have to choose from what is available. I took a decision, I didn't choose," said 33-year-old architect Sofia Speroni, who came to vote with her two toddlers.
She went with Milei, "simply to say no to corruption and the current situation we are in".
Milei's rants against the "thieving and corrupt" traditional parties have fired up voters tired of the Peronist coalition that has long dominated Argentine politics and whom they blame for the country's misery.
"One has to vote for the lesser evil," said doctor Maria Paz Ventura, 26, who cast her ballot for Milei in her scrubs.
"I think we are currently doing badly, so a change can't be bad. You have to take a bet," she said.
'Change for the worse'
Polls show the candidates in a dead heat, with Milei holding such a slight advantage that no one wants to predict an outcome.
Turnout will be crucial with polls showing about 10 per cent of voters still undecided, and the election taking place on a long weekend.
Milei, a 53-year-old economist, is a political newcomer who stunned observers by surging to the front of the electoral race just months ago.
However, Massa scored the most votes in a first-round election in October, coming seven points ahead of Milei.
Both have scrambled to shore up millions of votes from the three losing candidates.
Massa has sought to distance himself from the deeply unpopular outgoing President Alberto Fernandez and his Vice President Cristina Kirchner, who was last year convicted of fraud. Both have vanished from the public eye.
"I voted for Massa. The situation in the country is horrible, the economy is very bad. People want a change but it would be a change for the worse with Milei," said 16-year-old Trinidad Bazan, voting for the first time.
Analysts accuse Massa of abusing state resources to boost his electoral chances, slashing income taxes for almost the whole population and granting cash payouts to millions.
'I feel like crying'
Milei, whose abrasive style and controversial comments have drawn comparisons with former US president Donald Trump and Brazil's Jair Bolsonaro, is opposed to abortion, pro-gun, and does not believe humans are responsible for climate change.
He has rubbed many Argentines up the wrong way by insulting Pope Francis and questioning the official toll of 30,000 disappeared under the country's brutal 1976-1983 dictatorship.
"I feel like crying over the risk that Milei could win. His ideas scare me. I trust Massa," said Maria Carballo, 40, an architect.
Milei has toned down his rhetoric to appeal to more moderate voters, imploring the public not to give in to fear stoked by Massa's campaign.
There has been no mention from him of abortion, guns, selling human organs, or ditching the ministries of health and education, and he has even walked back some previous comments he has made.
In recent weeks there has been no sign of the powered-up chainsaw he used to wield at rallies — a symbol of cuts he wanted to make to public spending.
Some 36 million Argentines will be able to vote until 6:00pm (2100 GMT), with results expected a few hours later. The new president will take office on December 10.
'Unbelievably deep hole'
Whoever wins, analysts warn Argentina is in for a tough road ahead.
Analysts say the strictly controlled peso is long overdue for a devaluation, and a lack of dollars has led to shortages in fuel, medicine and even bananas in recent weeks.
With central bank reserves in the red and no credit line, the next government "will be digging Argentina out of an unbelievably deep hole with very few resources to do so", said Benjamin Gedan, director of the Argentina Project at the Washington-based Wilson Centre.
Related Articles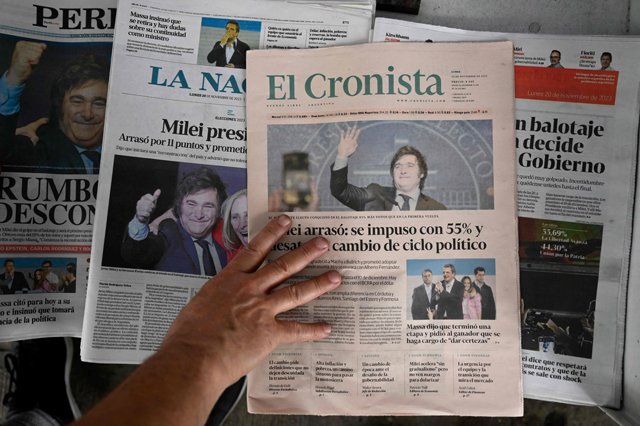 Nov 20,2023
BUENOS AIRES — Thousands of rapturous supporters of Argentina's President-elect Javier Milei took to the streets of Buenos Aires on Monday,
Dec 11,2023
UENOS AIRES — Argentina's President Javier Milei took office on Monday with a stark warning to citizens to brace themselves for painful aust
Aug 17,2019
BUENOS AIRES — Argentina's peso ended a tumultuous week on Friday having shed 20 per cent in its value against the US dollar as both Fitch a