You are here
Around 7,000 Europe-bound migrants rescued; baby girl born on Italian navy ship
By Reuters - May 04,2015 - Last updated at May 04,2015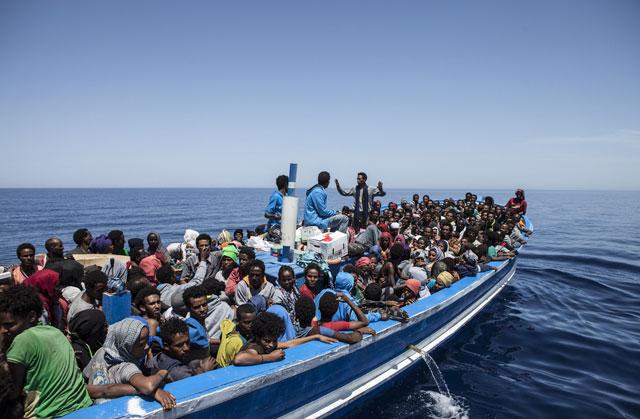 ROME — Around 7,000 migrants were rescued from overcrowded boats crossing the Mediterranean to Europe over the weekend and on Monday, including a woman who gave birth to a baby girl on an Italian navy ship, the coast guard said.
Numbers risking the journey in search of a better life have continued to rise two weeks after as many as 900 people drowned in the worst Mediterranean shipwreck in living memory.
Crew from the Italian navy ship Bettica found the woman in labour on a boat overnight — one of 34 vessels intercepted over the weekend. A photo posted online showed her daughter, called Francesca Marina, sleeping in a makeshift cradle decorated with a pink bow. Marina, a common name in Italy, also means navy in Italian
"Both mother and daughter are in good health," the navy said. The two, whose nationalities were not given, were taken ashore at Pozzallo, a port in southern Sicily.
Navy ships were en route to another rubber boat with 89 people on board on Monday, and the privately funded Phoenix rescue ship said it had already picked up 104 migrants.
The 40-metre Phoenix, based in Malta and run by the Migrant Offshore Aid Station (MOAS) and Doctors Without Borders, rescued 369 people, most of them Eritreans aboard a large wooden vessel on Sunday.
Among them was one pregnant woman and about 45 children, including babies, MOAS said.
"The scale of this crisis is just heartbreaking," Will Turner, Emergency Coordinator for Doctors Without Borders, said in a statement.
Growing lawlessness and anarchy in Libya — the last point on one of the main transit routes to Europe — is giving free hand to people smugglers who make an average of 80,000 euros ($90,000) from each boatload, according to an ongoing investigation by an Italian court.
Mild spring weather and calm summer seas are expected to push total arrivals in Italy for 2015 to 200,000, an increase of 30,000 on last year, according to an Interior Ministry projection.
Police in Spain said they had rescued 21 immigrants in a boat off the southern coast of the country on Monday.
On Sunday, seven bodies were found on two large rubber boats packed with migrants and three others died after jumping into the water when they saw a merchant ship approaching, the Italian coast guard said.
About 1,800 people are estimated to have perished during the crossing already this year, the UN refugee agency said. Some 51,000 have entered Europe by sea, with 30,500 coming via Italy.
Shocked by last month's record disaster, European Union leaders agreed to triple funding for the EU sea patrol mission Triton, but there is still disagreement on what to do with the people fleeing conflict and poverty in various parts of Africa and the Middle East.
Italy has coordinated the rescues by its own navy and coast guard, a French ship acting on behalf of the European border control agency, merchant ships of various nationalities and one vessel run by the privately funded Migrant Offshore Aid Station.
up
18 users have voted, including you.
Related Articles
May 24,2017
ROME — More than 30 migrants, mostly toddlers, drowned on Wednesday when about 200 people without life jackets fell from a boat into the sea
Jun 14,2014
Ten migrants drowned after the boat they were travelling in sank off the Libyan coast, Italy's navy said on Saturday, reporting the latest deaths among thousands of migrants trying to reach Europe from Africa and Syria.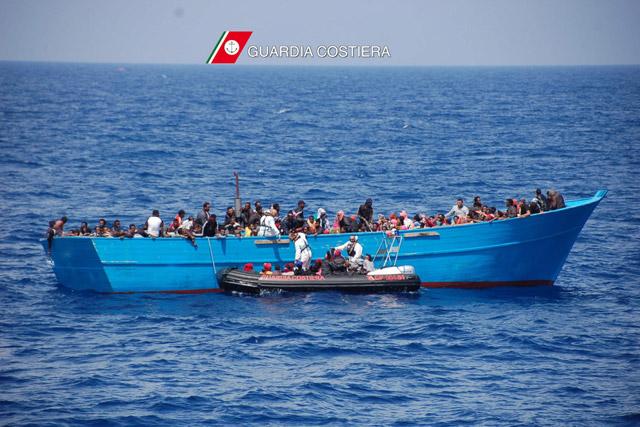 May 25,2017
ROME — Around 2,300 migrants were rescued off the coast of Libya on Thursday and two others were found dead in operations carried out by NGO
Newsletter
Get top stories and blog posts emailed to you each day.