You are here
Azerbaijan, Karabakh separatists hold peace talks
By AFP - Sep 22,2023 - Last updated at Sep 22,2023
In this video grab taken from a handout footage and released by Russian Defence Ministry on Thursday, a Russian peacekeeper stands guard as Armenian civilians enter a Russian military base near Stepanakert in the Nagorno Karabakh region (AFP photo)
YEVLAKH, Azerbaijan — Azerbaijan and Armenian separatists from the disputed territory of Nagorno-Karabakh held their first direct peace talks on Thursday, after Baku claimed to have regained control over the breakaway region in a lightning military operation.
The separatists agreed to lay down their arms on Wednesday as part of a Russian-brokered ceasefire plan that halted Azerbaijan's 24-hour offensive to retake land at the centre of decades of conflict.
Azerbaijani state media reported the talks aimed at reintegrating the Armenian population of Karabakh into Azerbaijan ended after several hours and the separatist delegation departed without making a statement.
While the meeting was happening, gunfire rang out in the separatist stronghold of Stepanakert on Thursday despite the truce deal.
The breakaway authorities accused Azerbaijan of violating the ceasefire, but Baku denied the allegation.
"There was a small exchange of fire outside the city. We are sitting at home and waiting for the results of the talks," Arutyun Gasparyan, a businessman and father of two, told AFP.
"All the residents are sitting either at home or in their gardens, waiting."
Since the collapse of the Soviet Union, Armenia and Azerbaijan have fought two wars over the region.
The years of conflict have been marked by abuses on both sides, and there are concerns of a fresh refugee crisis as Karabakh's Armenian population fears being forced out.
Armenia warned the United Nations on Thursday that Azerbaijan was carrying out "ethnic cleansing" and committing a "crime against humanity" as it regained control of the breakaway Nagorno Karabakh region.
The UN Security Council was holding an emergency session later Thursday to discuss the situation in Karabakh after the Azerbaijani assault that separatists said killed 200 people.
Putin talks to Aliyev
The collapse of separatist resistance represents a major victory for Azerbaijan's President Ilham Aliyev in his quest to bring the Armenian-majority region back under Baku's control.
Aliyev said his country had restored its sovereignty over the region for the first time in decades and Baku insists it now wants to see the "peaceful reintegration" of Karabakh Armenians.
A separatist official said more than 10,000 people had been evacuated from Armenian communities in Nagorno Karabakh.
Russian President Vladimir Putin on Thursday urged Aliyev in a call to ensure the security of the 120,000 Armenians living in the territory.
Russia, the traditional regional powerbroker, sent peacekeepers to mountainous Nagorno Karabakh in 2020 as part of a deal to end a six-week war there and they are mediating the ceasefire deal.
Under the truce, the separatists said they had agreed to fully dismantle their army and that Armenia would pull out any forces it had in the region.
Azerbaijan's defence ministry said all weapons were to be surrendered.
After the Soviet Union fell apart, Armenian separatists seized the region, internationally recognised as part of Azerbaijan, in the early 1990s.
That sparked a war that left 30,000 people dead and displaced hundreds of thousands.
In 2020, Azerbaijan recaptured swathes of territory in and around the region.
The latest flare-up comes as Moscow is bogged down by its war against Ukraine and after the United States and European Union ramped up attempts to find a lasting peace between Armenia and Azerbaijan.
The Kremlin said Aliyev had apologised to Putin over the death of several Russian peacekeepers during the fighting on Wednesday.
Turkish President Recep Tayyip Erdogan, whose has helped Baku bolster its military might, on Thursday expressed "wholehearted support" for traditional ally Azerbaijan in a call with Aliyev.
'Path is not easy'
The apparent capitulation of the separatists has sparked jubilation among Azerbaijanis hoping this now heralds a definitive victory and the end of the decades-long conflict.
But the loss in Karabakh ratchets up domestic pressure on Armenian Prime Minister Nikol Pashinyan, who has faced stinging criticism at home for making concessions to Azerbaijan since losing swathes of territory in 2020.
Clashes broke out Wednesday in the capital Yerevan, where cand riot police guarded official buildings.
Pashinyan said in a televised address on Thursday that a road to peace with arch-rival Azerbaijan was difficult but must still be pursued.
"This path is not easy, it goes through internal and external shocks, and we must pursue it," he said.
Aliyev had said this week's events would have a "positive impact" on attempts to negotiate a lasting peace between the two feuding Caucasus neighbours.
But mutual distrust remains sky-high and finding a lasting settlement to a dispute that has divided the region for decades is a major task.
Armenia's defence ministry late on Wednesday said Azerbaijan had fired on its positions along the border between the arch-foes. Such frontier skirmishes are frequent.
Related Articles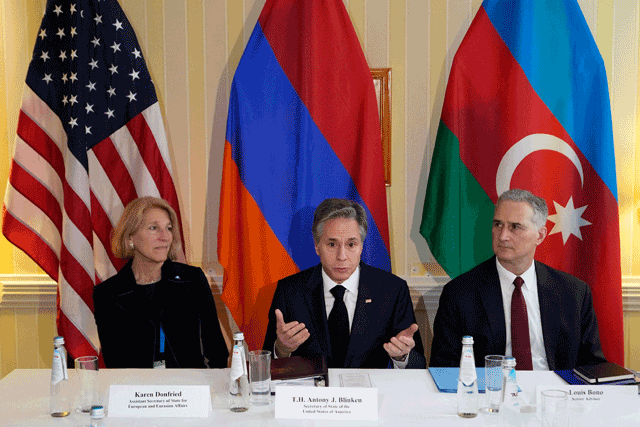 Feb 18,2023
MUNICH, Germany — US Secretary of State Antony Blinken on Saturday called on Armenia and Azerbaijan to seize a "historic opportunity" to end
Oct 04,2020
STEPANAKERT, Azerbaijan — Armenian and Azerbaijani forces exchanged rocket fire as fighting intensified over Nagorno-Karabakh on Sunday, wit
May 14,2023
BRUSSELS — Armenia and Azerbaijan's leaders met Sunday for talks in Brussels amid heightened tensions on the tense border between the two co