You are here
Beatings in Ukraine as Putin stays defiant
By AFP - Mar 09,2014 - Last updated at Mar 09,2014
KIEV — Pro-Russian activists attacked supporters of Kiev's new leaders with clubs and whips as thousands rallied across Ukraine in rival demonstrations Sunday, while Russian President Vladimir Putin dug in his heels in the escalating standoff with the West.
German Chancellor Angela Merkel delivered a strong rebuke to the Russian strongman, telling him a planned Crimea referendum on joining the Russian Federation was "illegal" and bemoaning the lack of progress on creating an international diplomatic group to try to resolve the crisis.
In phone conversations with Merkel and British Prime Minister David Cameron, Putin in turn accused Ukraine's new leaders of failing to rein in "ultra-nationalist and radical forces".
He also defied Western condemnation of the March 16 referendum, saying the pro-Russian authorities in Crimea organising the vote were legitimate and acting "based on international law".
But in a clear sign of support for Ukraine's new leaders in the gravest post-Cold War crisis between Russia and the West, US President Barack Obama is to meet interim prime minister Arseniy Yatsenyuk on Wednesday.
Separatist tensions were running high Sunday on the strategic Black Sea Peninsula which is now under Moscow's de facto control.
In Sevastopol, pro-Moscow militants wearing balaclavas and bullet proof vests, joined by Cossacks wielding whips, attacked a small rally for Ukrainian unity.
Thousands of supporters of integration with Russia also seized regional government headquarters in the eastern city of Lugansk and hoisted a Russian flag outside a security service building in Donetsk.
In Kiev, Putin's top foe Mikahil Khodorkovsky, a former Russian oligarch who spent a decade in Russian prisons, addressed a crowd of thousands on Independence Square — the epicentre of the protests.
An emotional Khodorkovsky said Russia had colluded with the former Ukrainian authorities in violence that claimed 100 lives over three months of demonstrations against ousted president Viktor Yanukovych.
"They told me what the authorities did here. They did this with the agreement of the Russian leadership," Russia's former richest man said from a stage.
"I wanted to cry. It is terrifying. This is not my leadership. I want you to know — there is a different Russia," he said, holding back tears, adding that Russia and Ukraine "have a common European future".
Yatsenyuk, who heads to Washington this week, vowed Ukraine would not cede "an inch" of its territory to Moscow.
"It is our land," he told a crowd of several thousand in Kiev.
A senior Russian lawmaker, meanwhile, said Moscow had set aside $1.1 billion (790 million euros) in aid for Crimea.
The tensions in Ukraine have stretched diplomatic relations between Moscow and Washington nearly to breaking point and regular talks have brought little except mutual accusations and grave warnings.
US Secretary of State John Kerry warned Saturday following his latest talks with Russian counterpart Sergei Lavrov that continued Russian military defiance "would close any available space for diplomacy".
Important to be united
Illustrating the divisions in Ukraine, interim president Oleksandr Turchynov led a minute of silence at the Kiev rally for slain demonstrators.
In contrast, pro-Moscow activists in Donetsk paid tribute to a feared riot police unit accused of shooting at protesters in the explosion of violence in Kiev last month.
"Russia! Russia!" the activists, waving Russian flags, shouted in Donetsk, the heartland of the former president who fled to Russia after his overthrow.
Former boxer turned politician Vitali Klitschko was also in the industrial city and called for unity.
"It's very important today to be united. It's not important where people live — east or west of Ukraine, south or north," Klitschko said, although he later cancelled a rally for fear of violence.
In Kharkiv in the northeast — a city almost evenly split between Ukrainian speakers and Russian speakers — hundreds of Orthodox believers gathered to pray for peace, kneeling in a city centre square.
In Odessa, local media said some 3,000 people sang Ukraine's national anthem on the Potemkin Stairs made famous by the silent film "The Battleship Potemkin".
'Illegal occupation'
Rival protesters in the Crimean capital Simferopol vented their anger at each other but their rallies were peaceful on Sunday, as Ukrainians celebrated the 200th anniversary of 19th-century poet and national unity figure Taras Shevchenko.
"They cannot seize Crimea, [it's an] illegal occupation," said Svyatoslav Regushevsky, a 46-year-old who attended the unity rally with his two-year-old son, wearing a ski jacket in the colours of the Ukrainian flag.
Around 1,000 people joined the demonstration, while some 10,000 turned out for a rival rally across town on Lenin Square in a sea of Russian tricolours.
A number of security incidents in Crimea point to the situation worsening, with Ukrainian border guards reporting the arrival by land and sea of 60 Russian military lorries on the rugged peninsula of two million people.
The border service said Sunday that "Russian extremists" had attacked a radar post, in the latest move by Russian forces surrounding Ukrainian military bases in the region.
Ukrainian authorities have also accused Russia of deliberately sinking three of its own ships into a lake off the Black Sea to block the Ukrainian navy.
There were also Ukrainian troop movements from the west with 50 armoured personnel carriers seen rolling out of the city of Lviv on Saturday in what the defence ministry said were pre-planned exercises.
Sanctions and threats
As the crisis has escalated, Washington has imposed visa bans on targeted Russians and Ukrainians and warned of wider sanctions against Russia, while the EU has halted visa and other talks with Moscow.
Russia has warned that any sanctions would "inevitably have a boomerang effect" and a defence official said Saturday Moscow may halt foreign inspections of its nuclear arsenal in response to "threats" from the US and NATO.
Adding to the tensions, state-run energy giant Gazprom has warned debt-stricken Ukraine it may cut off gas supplies over an unpaid $1.89-billion bill — a move that could have knock-on effects across Europe.
Moscow continues to insist it has sent no extra troops to Crimea, despite parliament giving Putin the greenlight to do so, and says it is only deploying units from its Black Sea Fleet already stationed there.
Erik Nielsen, chief economist at UniCredit bank, predicted that with Crimea under Russia's "de facto control", Moscow will no longer be a member of the G-8 by the end of the year and will have suffered political isolation and economic fallout.
Related Articles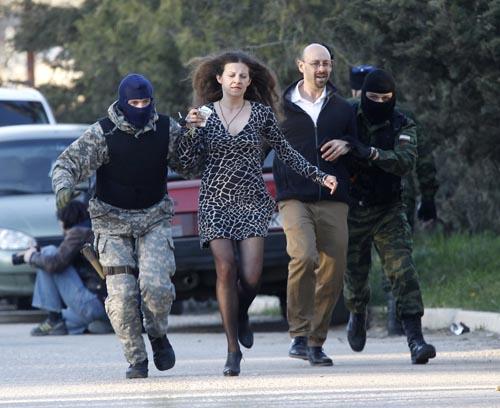 Mar 22,2014
Pro-Russian forces stormed a Ukrainian air force base in Crimea, firing shots and smashing through concrete walls with armoured personnel carriers. At least one person was wounded, the base commander said.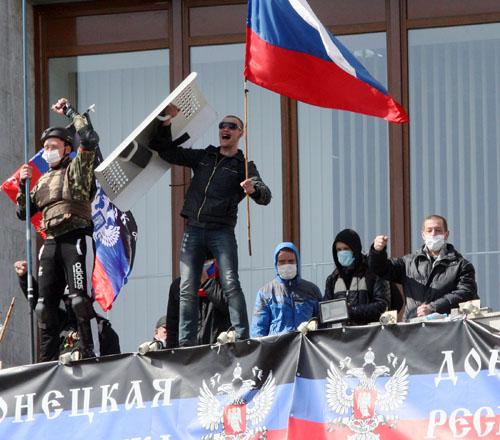 Apr 07,2014
Pro-Moscow protesters in eastern Ukraine seized arms in one city and declared a separatist republic in another, in moves Kiev described on Monday as part of a Russian-orchestrated plan to justify an invasion to dismember the country.
May 05,2014
Pro-Russian rebels shot down a Ukrainian helicopter in fierce fighting near the eastern town of Slaviansk on Monday, and Kiev drafted police special forces to the southwestern port city of Odessa to halt a feared westward spread of rebellion.
Newsletter
Get top stories and blog posts emailed to you each day.