You are here
Blast kills at least 25, injures dozens in Lahore
By AFP - Jul 24,2017 - Last updated at Jul 24,2017
Pakistani rescue workers move the body of a victim at the site of an explosion in Lahore, on Monday (AFP photo)
LAHORE — An explosion claimed by the Pakistani Taliban killed at least 25 people and injured dozens in a busy vegetable market in the Pakistani city of Lahore on Monday, officials said, but the cause of the blast was not immediately clear.
The powerful explosion hit a bustling main road in the south of Lahore and blew out windows in nearby buildings.
"A suicide bomber of Tehreek-e-Taliban Pakistan (TTP) used a motorcycle bomb to kill dozens of policemen," TTP spokesman Muhammad Khurasani said in a statement e-mailed to local media.
"Our message to frontline allies of enemies of Islam is to get out of our way or be ready to suffer this fate," Khurasani added.
Initial police investigations suggested it might be a suicide bomb attack.
"Apparently, according to our initial findings, he was a suicide bomber, who used a motorcycle," deputy chief of police operations branch, Haider Ashraf told reporters in Lahore.
The city's commissioner Abdullah Khan Sumbul said the blast targeted police.
Lahore police spokesman Syed Hammad Shah put the toll at 25 dead with 40 injured. Senior local administration official Sumair Ahmad Syed confirmed the death toll, though he put the number of injured at 35.
Interior Minister Chaudhry Nisar Ali Khan told a press conference held minutes after the blast that most of the casualties were police officers, but was unable to confirm the nature of the explosion.
Haider Ashraf told AFP that at least 10 police officers were among the dead.
The area was busy with police at the time because officers had been sent to the market to clear stalls that had illegally spilt onto the road.
Provincial law minister Rana Sanaullah said the blast had appeared to target the vegetable market, which was crowded with shoppers.
Eyewitness Sher Dil, who works at an office close to the site of the explosion, said it blew out the windows of his office building.
"I was in my office when it all happened. It was a deafening blast, which shook the entire Arfa Karim Towers," Dil told AFP.
Pakistan's president, prime minister and army chief all issued statements expressing condolences for the loss of life.
Lahore has been hit by significant militant attacks in Pakistan's more than decade-long war on extremism, but they have been less frequent in recent years.
At least 26 killed in Kabul car bomb claimed by Taliban
KABUL (AFP) — At least 26 people were killed and 41 wounded on Monday after a Taliban-claimed car bomb struck a bus carrying government employees through a Shiite neighbourhood in Kabul, raising fears of sectarian violence in the Afghan capital.
The assault came as a presidential spokesman said the Taliban also killed at least 35 civilians in an attack on a hospital in central Ghor province over the weekend.
The deadly attacks underscore spiralling insecurity in Afghanistan as the resurgent Taliban ramp up their offensive across the country, while security forces struggle to contain them.
In Monday's blast the bus was carrying employees of the ministry of mines, passing from western Kabul to the downtown ministry during rush hour, Interior Ministry spokesman Najib Danish told AFP.
It was struck by the car bomb as it passed through a busy area of the capital that is home to many Shiite Hazaras, a persecuted ethnic minority.
"It was a huge explosion, my house nearly collapsed," a neighbourhood resident who gave his name as Mostafa told AFP, adding that the street was "filled with human flesh and blood".
The Taliban claimed responsibility for the blast, which came just before 7am. The group rarely claims attacks with high civilian casualties, but does frequently target government employees.
Afghan presidential spokesman Shah Hussain Murtazawi put the toll at 26 dead and 41 wounded.
At a press conference, Murtazawi also said at least 35 people were killed in the hospital attack over the weekend.
All the victims were civilians, Murtazawi said, without specifying if they were patients or staff. "This is a cruel crime against humanity," he added.
He did not elaborate, and officials say phone lines are down in Taywara district, captured by the militants over the weekend.
The Taliban have denied the claim and reports they torched the hospital, though a spokesman said parts of the building were damaged in fighting.
Ghor is a poor, mountainous province that has been relatively safe in the past but shares a border with the Taliban-infested provinces of Helmand and Farah.
Related Articles
Nov 02,2014
A suicide bomber killed at least 55 people Sunday at the main Pakistan-India border crossing, the blast tearing through crowds of spectators leaving after the colourful daily ceremony to close the frontier.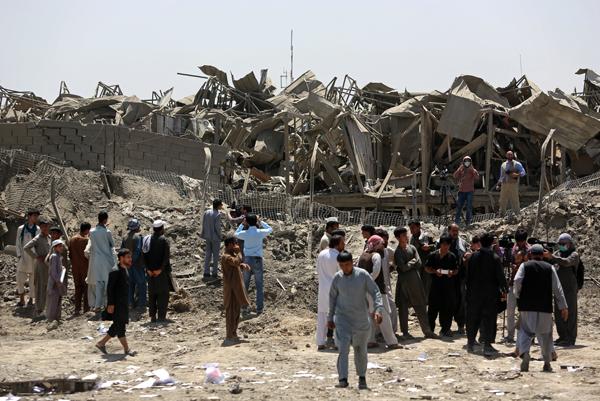 Aug 01,2016
KABUL — A Taliban truck bomb exploded outside a protected hotel compound used by foreign service contractors in Kabul on Monday, ripping a d
Jan 10,2017
KABUL — Bombings across three Afghan cities including Kabul killed around 50 people and wounded 100 others on Tuesday, in a day of carnage a
Newsletter
Get top stories and blog posts emailed to you each day.