You are here
Chechen leader denies sending troops to Ukraine
By AP - May 28,2014 - Last updated at May 28,2014
DONETSK, Ukraine — As the fighting becomes more ferocious in eastern Ukraine, Chechnya's Moscow-backed leader is denying that he has sent in some of his famously ruthless troops to help the pro-Russia insurgents battling government forces.
Scores of rebel fighters have been killed this week around the major eastern city of Donetsk, and Ukrainian border guards have reported at least one gunbattle as they blocked groups of armed men trying to cross into Ukraine from Russia. Ukraine and the West have accused Moscow of fomenting the unrest, but Russian President Vladimir Putin has denied sending any troops or intelligence agents to help the insurgents.
Still, fighters who looked like Caucasus natives have been seen among the pro-Russia rebels who have seized government buildings, declared independence from Ukraine and are fighting government forces.
In a statement posted Wednesday on his Instagram, Chechen leader Ramzan Kadyrov said two-thirds of the 3 million Chechens live outside his province in Russia's North Caucasus mountains, so he can't "know where each of them goes".
But he said it was possible that some pro-Russia Chechen fighters went to Ukraine on their own.
"If someone saw a Chechen in the zone of conflict, he's there on his own," he said.
Kadyrov's forces, known for their warrior spirit and deadly efficiency, helped Russia win a quick victory in a 2008 war with neighbouring Georgia. The 37-year-old leader has vowed unswerving fealty to Putin and has hailed his policy in Ukraine.
In the most furious battle yet, rebels in Donetsk tried to take control of the city airport Monday, but were repelled by Ukrainian forces using combat jets and helicopter gunships. Dozens of men were killed and some morgues were overflowing Tuesday. Some insurgent leaders said up to 100 fighters may have been killed.
The city remained tense Wednesday, with Ukrainian fighter jets flying overhead. Some gunshots were heard.
In Slovyansk, a city 90 kilometres north of Donetsk that has seen constant clashes over the past few weeks, residential areas came under mortar shelling Wednesday from government forces. A school was badly damaged and other buildings were hit. Residents told The Associated Press that several people were wounded.
Kadyrov, a former rebel who fought Russian forces in the first of two devastating separatist wars, switched sides during the second campaign when his father became Chechnya's pro-Moscow leader. Following his father's death in a rebel bombing, Kadyrov rebuilt the region with generous Kremlin funding and squelched the rebel resistance with his ruthless paramilitary forces, which have been blamed for extrajudicial killings, torture and other abuses.
Putin praised Kadyrov last week after he negotiated the release of two Russian journalists arrested by Ukrainian forces and accused of assisting the rebels. The Chechen leader has not said how he got the journalists freed, but has directed threats at Ukrainian authorities.
"If the Ukrainian authorities want so much to see 'Chechen units' in Donetsk, why go to Donetsk if there is a good highway to Kiev?" he said in Wednesday's statement.
However, he added that he fully supports Putin's policy to help restore peace in Ukraine.
Putin has denied Ukraine's allegations that Russia has sent its special forces to foment the mutiny. On Tuesday, Russia's Federal Security Service rejected the Ukrainian claim that a convoy of vehicles loaded with weapons attempted to break through the border and engaged in a gunbattle with Ukrainian border guards.
Russia, which annexed Crimea in March, has ignored the requests of eastern insurgents to join Russia following controversial independence referendums. The Kremlin also welcomed Ukraine's presidential election and said it was ready to work with the winner, billionaire candy magnate Petro Poroshenko, trying to deescalate the worst crisis in relations with the West since the cold war and avoid a new round of Western sanctions.
"It's necessary to use the situation after the election to immediately end using the military and launch a broad all-Ukraine dialogue involving all regions and political forces," Russian Foreign Minister Sergey Lavrov said Wednesday.
Russia has supported a plan by the Organisation for Security and Cooperation in Europe that calls for ending hostilities and opening a political dialogue. It has sought to cast the rebels' actions as a response to the heavy-handed use of force by the central government.
Putin's foreign affairs adviser, Yuri Ushakov, said Ukrainian military action in the east was "pushing the situation into a deadlock, making it increasingly difficult to organise a dialogue".
He said the Kremlin hadn't received a letter from the insurgents asking Russia for assistance.
Ushakov said Putin will visit Paris on June 5, where he would meet with French President Francois Hollande and then travel to Normandy the next day for the 70th anniversary of the allied landing in Normandy. It will be Putin's first meeting with President Barack Obama and other Western leaders since the start of Ukraine's crisis.
Ushakov said there are no plans for any formal meetings but Putin would likely have informal contacts with the other leaders.
Related Articles
May 31,2014
Ukraine accused Russia on Saturday of unleashing a mass propaganda campaign to persuade global powers not to recognise an election that gave the presidency to a pro-Western tycoon.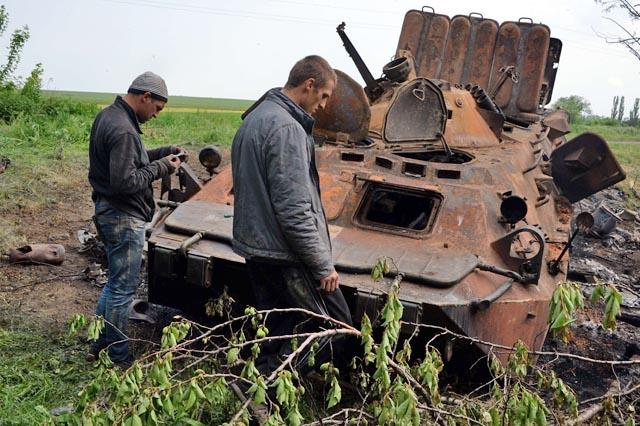 May 14,2014
Ukraine's government launched talks Wednesday on decentralising power as part of a European-backed peace plan but didn't invite its main foes, the pro-Russia insurgents who have declared independence in the east.
Aug 20,2014
After days of street battles and weeks of shelling, Ukrainian troops made significant gains Wednesday into rebel-held territory, capturing a large part of the city of Luhansk and nearly encircling Donetsk, the largest rebel-held city, in fighting that left at least 52 dead.
Newsletter
Get top stories and blog posts emailed to you each day.