You are here
China ships sail near disputed isles after Mattis visit — Japan
By AFP - Feb 06,2017 - Last updated at Feb 06,2017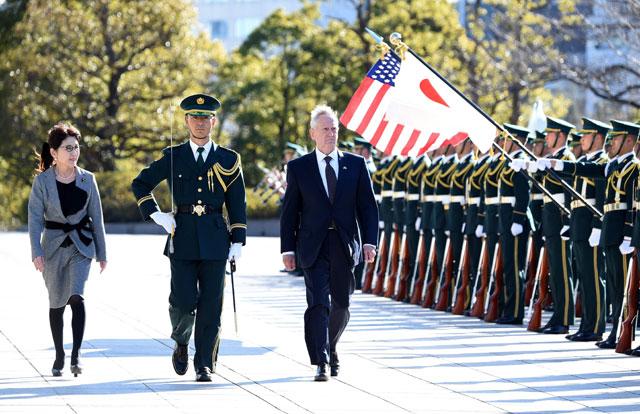 US Defence Secretary Jim Mattis reviews an honour guard during a welcoming ceremony at the defence ministry in Tokyo on Friday (AFP photo)
TOKYO — Japan said Chinese coast guard vessels sailed on Monday into its territorial waters around disputed islands in the East China Sea, days after the new US defence chief vowed to defend Tokyo's control of them.
Three ships entered the waters surrounding the uninhabited chain, the Japan Coast Guard said in a statement. The isles are controlled by Japan as the Senkakus but claimed by China as the Diaoyus.
The incursion came at around 2:00 pm and the ships were cruising in a south-southwesterly direction, according to the statement.
The ships left about two hours later, the coast guard said in a separate statement.
The incident came two days after James Mattis, US President Donald Trump's new defence secretary, said in Tokyo that the island chain was subject to a longstanding Washington-Tokyo defence treaty.
The islets are at the centre of a festering row between Tokyo and Beijing, which is also involved in a widening dispute with several Southeast Asian countries over islands in the South China Sea.
China was quick to accuse the United States of stirring up trouble in Asia with the comments by Mattis.
Its foreign ministry spokesman said Washington should "stop making wrong remarks... and avoid making the issue more complicated and bringing instability" to the region.
China and Japan have repeatedly clashed diplomatically over ownership of the islands, and both sides regularly send ships to nearby waters to assert their claims.
Mattis also had strong words over the South China Sea, saying Beijing "has shredded the trust" of regional countries with the military fortification of islands it controls.
He balanced that message, however, with a call for disputes to be settled through arbitration and diplomacy and ruling out any immediate military response.
China, Taiwan and a handful of Southeast Asian states have claims in the area.
Besides Japan, Mattis also visited South Korea last week as he sought to assure the key allies of continued US commitment to their security.
Trump rattled them last year while he was a candidate, with calls for them to pay more for defence support.
But Japanese and South Korean officials said Mattis never raised the issue of cost-sharing during the talks.
Related Articles
Aug 09,2016
TOKYO/WASHINGTON — Japan warned China on Tuesday that ties were deteriorating over disputed East China Sea islets, and China's envoy in Toky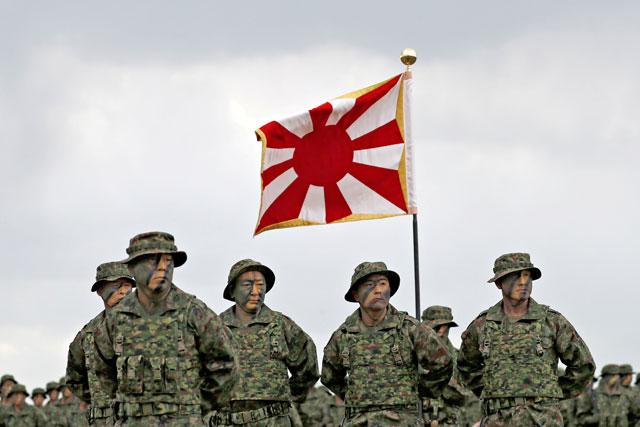 Apr 07,2018
SASEBO/TOKYO, Japan — Japan on Saturday activated its first marine unit since World War II trained to counter invaders occupying Japanese is
Apr 24,2014
US President Barack Obama assured ally Japan on Thursday that Washington was committed to its defence, including of tiny isles at the heart of a row with China, but denied he had drawn any new "red line" and urged peaceful dialogue over the islands.
Newsletter
Get top stories and blog posts emailed to you each day.