You are here
Clinton faces FBI probe as race enters final 10 days
By AFP - Oct 29,2016 - Last updated at Oct 29,2016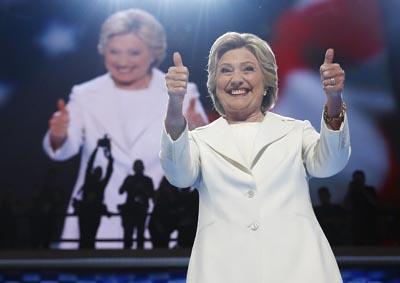 In this photo taken July 28, Democratic presidential nominee Hillary Clinton gives her thumbs up as she appears on stage during the final day of the Democratic National Convention in Philadelphia (AP photo)
DES MOINES, United States — Hillary Clinton embarks this weekend on the frenetic final 10 days of her White House campaign, determined to shake off renewed controversy over the FBI probe into her private e-mails.
The 69-year-old Democrat — vying to become America's first female president — is still the frontrunner to win the November 8 election over her Republican rival Donald Trump.
Clinton has a clear lead in the polls, and voting has already begun in 34 of 50 states to choose a successor to President Barack Obama, who will hit the campaign trail again next week in defence of his onetime secretary of state.
But her momentum was threatened on Friday by a renewed eruption in a scandal that has long dogged her in the race: investigations into her use of a private e-mail server while at the State Department.
Trump gleefully seized on news that FBI agents are investigating a newly discovered group of e-mails sent to Clinton's private address, to see if they exposed any US secrets.
The probe had been thought finished in July, when the FBI had recommended that no charges be filed against Clinton, although it found her to have been "extremely careless" in her use of a private server.
But FBI Director James Comey's letter to US lawmakers announcing that inquiries had been renewed shocked the campaign and rocked world markets.
Clinton cried foul, demanding that Comey reveal more information about the probe, and declared herself "confident" that voters, and the FBI, would conclude that she had done nothing wrong.
"The American people deserve to get the full and complete facts immediately," she said. "We don't know the facts, which is why we are calling on the FBI to release all the information that it has."
Clinton's defiant words came after Trump — himself dogged by scandal over alleged sexual misconduct — declared her unfit for office as a jubilant crowd of supporters in New Hampshire chanted: "Lock her up!"
Concern that the renewed probe would damage Clinton's formerly impressive momentum spooked the markets, with US stocks, the dollar and oil prices tumbling lower on the prospect of a close vote.
'Appear to be pertinent'
Comey dropped his bombshell in a letter to lawmakers, revealing that "in connection with an unrelated case, the FBI has learned of the existence of e-mails that appear to be pertinent to the investigation", and would take "appropriate investigative steps".
Clinton's campaign was outraged and implied that Comey's intervention could be politically-tinged because, in Clinton's words, the letter was only sent to "Republican members of the house".
"I'm confident, whatever they are, they will not change the conclusion reached in July," she added.
According to The New York Times, the newly discovered e-mails emerged after agents seized electronic devices used by Clinton's closest aide, Huma Abedin, and her husband, Anthony Weiner.
Weiner, a Democratic former congressman who resigned in 2011 after he was exposed for sending explicit online messages, is under investigation over allegations he sent sexual messages to a 15-year-old girl.
NBC News said the newly discovered e-mails were sent by Abedin to Clinton from a laptop used by Weiner, whose bid to become mayor of New York foundered over similar "sexting" claims in 2013.
'Criminal scheme'
Meanwhile, Trump, trailing in polls both nationally and in the swing states he must win to secure the White House, seized triumphantly on the news.
"We must not let her take her criminal scheme into the Oval Office," the 70-year-old billionaire told cheering crowds at a campaign rally in Manchester, New Hampshire.
"I have great respect for the fact that the FBI and the Department of Justice are now willing to have the courage to right the horrible mistake that they made," he added.
Republicans on Capitol Hill also seemed jubilant over Clinton's latest travails.
"Everything that has happened... is the natural, probable consequence of deciding you're going to have a rogue e-mail system," Trey Gowdy, chairman of the congressional committee that first uncovered the existence of Clinton's private server, told Fox News late Friday.
Several leading newspapers on Saturday faulted Comey for being overzealous in announcing that the FBI will be scouring the newly-discovered e-mails.
"By revealing it, he inevitably creates a cloud of suspicion over Ms Clinton that, if the case's history is any guide, is unwarranted," The Washington Post wrote on its editorial page Saturday.
News of the probe took the shine off what should have been a good day for Clinton on Friday, with the Obama administration announcing stronger than expected economic growth numbers.
Clinton was due to campaign in Miami on Saturday in the most important potential swing state in terms of electoral votes, Florida.
Trump was due to make stops in Colorado and Arizona before heading to Nevada for a Sunday rally in Las Vegas.
Next week, both candidates will continue to barnstorm battleground states.
Trump's campaign was rocked this month by the release of 2005 footage showing him bragging about his groping women, followed by a string of accusations of sexual misconduct — which he denies.
As he faltered, Trump piled on the defiant rhetoric, claiming the allegations were part of a plot to rig the election, and threatening not to recognise the outcome if he loses.
Related Articles
Oct 30,2016
MIAMI — Donald Trump stepped up his attacks against Hillary Clinton, seeking to exploit the FBI's decision to reopen an investigation into h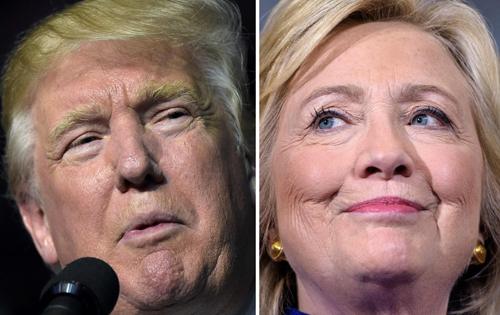 Nov 01,2016
CINCINNATI, Ohio — With one week to go until Election Day, Hillary Clinton and Donald Trump were barnstorming battleground states Tuesday, a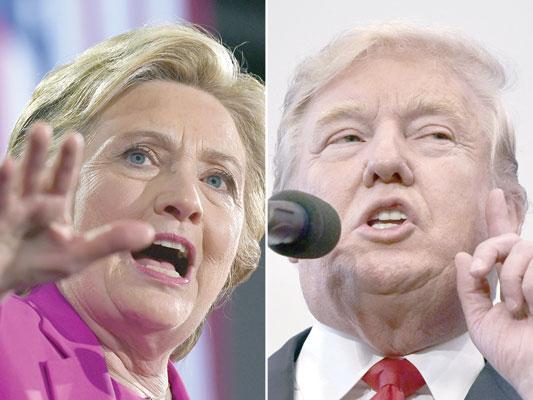 Nov 07,2016
PITTSBURGH — A campaign shadow lifted by the FBI, Hillary Clinton on Monday promised to build a "big-hearted" America out of the wreckage of
Newsletter
Get top stories and blog posts emailed to you each day.