You are here
Erdogan dares US-based cleric: 'Do your politics in Turkey'
By Reuters - Feb 27,2014 - Last updated at Feb 27,2014
ANKARA — Turkish Prime Minister Recep Tayyip Erdogan on Thursday accused a US-based cleric of conspiring against him with the opposition by faking recordings and dared him to "stand up in the squares" and do his politics in Turkey.
An audio track purporting to be of Erdogan giving his son business advice was posted anonymously on YouTube on Wednesday, following one earlier in the week that fuelled a simmering government corruption scandal and unnerved markets.
Addressing his first campaign rally for March's local elections since the recordings appeared, a combative Erdogan said Islamic cleric Fethullah Gulen had collaborated with the secularist Republican People's Party (CHP) to spread the fabricated "montage".
"Hodja (scholar), if you have not done anything wrong, then don't live in Pennsylvania. If your country is Turkey, then come back to your country," Erdogan told thousands of supporters in the southern town of Burdur, using Gulen's honorific title.
"If you want to go into politics, then stand up in the squares and do politics," he said to cheers, throwing down the gauntlet to a cleric widely held to have considerable sway over parts of the state bureaucracy but less influence at the ballot box.
Gulen, whose followers say they number in the millions, is believed to have built up influence in the police and judiciary over decades, and leads a powerful worldwide Islamic movement from a forested compound in Pennsylvania's Pocono mountains.
Erdogan's supporters accuse the cleric of orchestrating the corruption investigation, which erupted in mid-December with the arrest of businessmen close to him and of three ministers' sons, in a bid to unseat him.
Opinion polls taken before Monday's posting showed Erdogan's popularity little affected by the corruption scandal. Political analysts suggest followers of Gulen's Hizmet (Service) movement account for around 3-5 per cent of voters.
Through his lawyer, Gulen has described the accusation of complicity in the tapes as unjust and contributing to an atmosphere of "hatred and enmity" in Turkish society.
Erdogan's rift with a man who long supported the rise of his Islamist-rooted AK Party has grown into one of the greatest challenges of his 11 years in power. CHP leader Kemal Kilicdaroglu played the first recording during his weekly group meeting at parliament on Tuesday.
"CHP's Hodja from overseas has handed a montage to the general manager of CHP and assigned this mission to him," Erdogan said. "He told him... we will prepare montages from here and you will talk about our montages in your group meetings."
Erdogan has said the recording posted on Monday, in which he allegedly tells his son Bilal to dispose of large sums of cash as the corruption detentions begin, was faked by his political enemies.
The audio track posted on Wednesday under the pseudonym "Haramzadeler" purported to be of Erdogan advising Bilal to hold out for a better offer in an unspecified business deal.
"The others are bringing. Why can't he bring? What do they think this business is?... But don't worry, they will fall into our lap," says the voice on the recording.
Reuters could not verify the authenticity of either recording and one of Erdogan's four deputy prime ministers told reporters that Wednesday's recordings were also fabricated.
"On yesterday's developments, almost everyone agrees that they are a montage," Emrullah Isler said at a ceremony in Sudan, describing those responsible as an "illegitimate gang".
"A sort of political engineering is planned in Turkey through blackmail and tapes," he said.
Government officials say the Hizmet network has been illegally tapping thousands of telephones in Turkey for years to concoct criminal cases against its enemies and try to influence government affairs.
"Can you imagine this? The police officer who works for me... places a bug in the most private part of my office," Erdogan said, adding that the officer in question had been identified and legal proceedings started.
Related Articles
Apr 29,2014
Prime Minister Recep Tayyip Erdogan said on Tuesday he would ask the United States to extradite an Islamic cleric he accuses of plotting to topple him and undermine Turkey with concocted graft accusations and secret wire taps.
Feb 24,2014
The network of a US-based cleric illegally tapped thousands of telephones in Turkey to blackmail and concoct criminal cases as part of a campaign of covert influence over government, a top adviser to Prime Minister Recep Tayyip Erdogan said on Monday.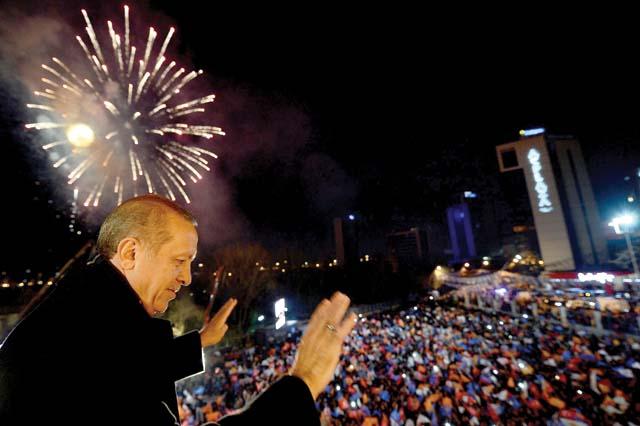 Mar 31,2014
Turkish Prime Minister Recep Tayyip Erdogan looked a step closer to a presidential bid and to gaining the upper hand in a bitter power struggle on Monday, casting strong local election results as a mandate to hunt down enemies within the state "in their lair".
Newsletter
Get top stories and blog posts emailed to you each day.